My cousin Jill wrote this recipe for our Oven Freezer Meals eCookbook and the sauce was so delicious that I wanted to drink it with a spoon. We didn't end up including the recipe in the eCookbook because we'd rather make roasts in our crockpots than ovens, but I'm excited to share it with you today. It's delicious, healthy, and so easy to make!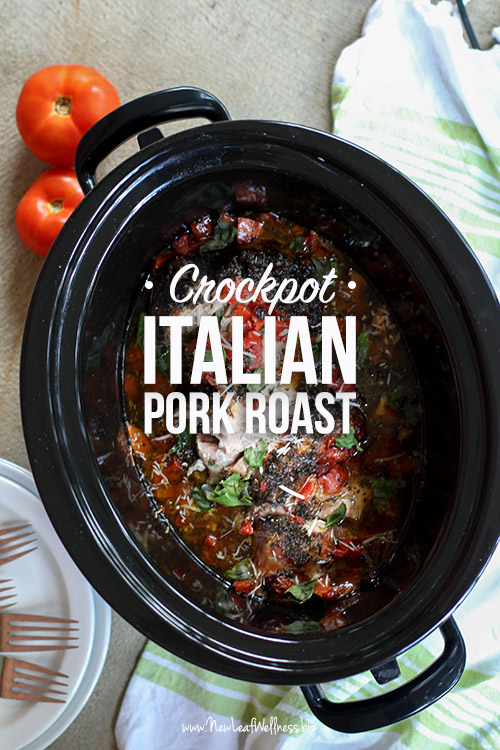 What's so great about this recipe?
It's healthy.
It's delicious – everyone from your kids to your grandparents will love it!
It smells amazing.  Seriously amazing.
It might seem odd to share a roast recipe in the heat of August, but I tried replacing the canned tomatoes with fresh garden tomatoes and it worked perfectly.  Grab six tomatoes, scoop out the seeds and juice, and dice them up.  If you have extra tomatoes, I recommend freezing a bag or two for later (instructions below).

Crockpot Italian Pork Roast Recipe
Servings: 4 servings (increase roast to 3 pounds to feed more people)
Ingredients
2-pound boneless pork roast

28oz can diced tomatoes, undrained (You can sub 6 medium-sized tomatoes, cored, seeds and juiced removed, and chopped – about 3 cups)

1/2 cup grated Parmesan cheese

2 tablespoons olive oil

4 cloves garlic, minced

1 tablespoon parsley

1 teaspoon basil

1 teaspoon oregano

1/2 teaspoon black pepper

1/4 teaspoon salt, optional (I only add salt if I'm using fresh tomatoes and want to bring out the flavor)
Directions
Combine all ingredients in crockpot and cook on "low" setting for 6 hours in a 6-quart crockpot or 8-10 hours in a 4-quart crockpot.
To Freeze and Cook Later
Label a gallon-sized freezer bag with the name of the recipe, cooking instructions, and "use-by" date (which should be three months from when you prepped the meal).  Add all ingredients to freezer bag, seal, and freeze.  When ready to eat, thaw overnight in refrigerator or in water.  Cook on low setting for 6 hours in a 6-quart crockpot or 8-10 hours in a 4-quart crockpot.
Serve over spaghetti with a side of broccoli or green beans. YUM.

Thoughts or questions?  Please leave a comment below. I'd love to hear from you.