Do you have a fresh fruit or veggie on-hand that you want to use in a crockpot recipe?  Here's a great list of recipe ideas.  After trying thousands of healthy crockpot recipes myself I decided to organize my favorites by ingredient.  Enjoy!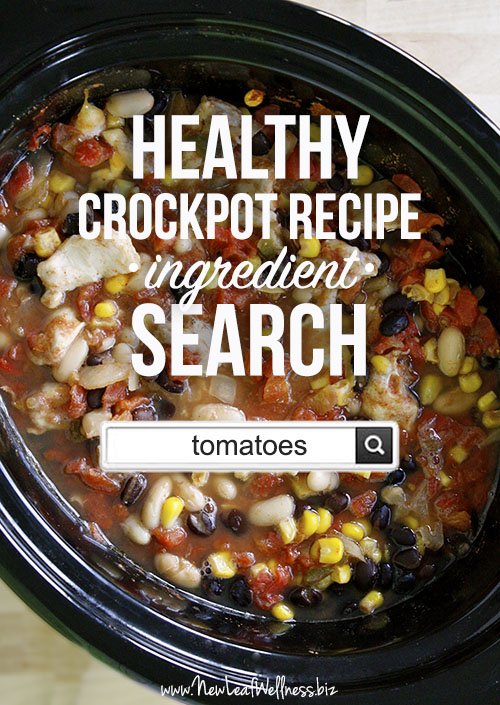 We joined a farm share with a local organic farm this summer and I'm loving it.  Every Tuesday we pick up a crate of fresh produce at a neighbor's home and try to figure out how to eat it (or freeze it) before it goes bad.  We've been trying lots of new recipes and making some old favorites that we haven't had in a while.
I've been freezing a lot of veggies raw (see this list for items that can be frozen without any cooking ahead of time), but I thought it might be helpful to make a list of seasonal produce and how I would use them in crockpot recipes.  These are all recipes that we love and make over and over again.
If you see these fruits and veggies on sale at the grocery store or farm stand, stock up!  You can use the list below to pick recipes for dinner this week or combine the ingredients in a gallon-sized plastic freezer bags to freeze and cook later.  Yum!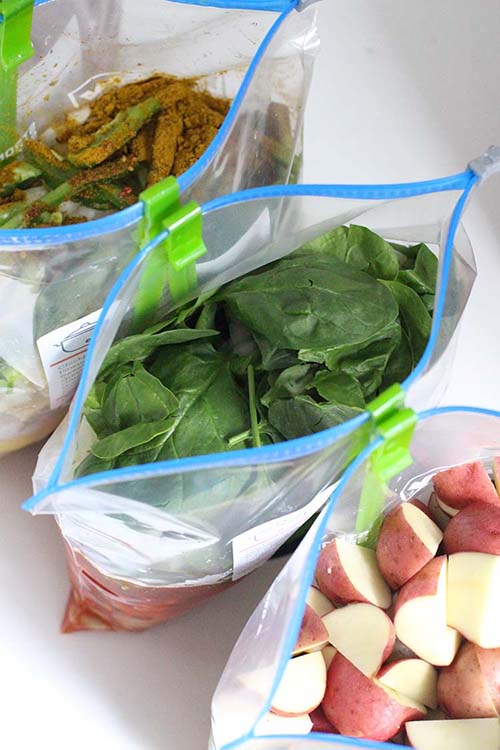 What Crockpot Recipes Can I Make with This Fruit or Vegetable?
Apples – cinnamon applesauce
Asparagus – light 'n healthy chicken soup
Banana Peppers – stuffed peppers or spicy shredded beef sandwiches
Berries – overnight oats, crockpot jam
Cabbage – cabbage casserole (yum!)
Cauliflower – add to this chicken curry, vegetarian coconut chick pea curry, or stove-top veggie lo mein
Carrots – pot roast, Mississippi roast, the best-ever beef roast, sausage spinach tomato soup, vegetarian curried lentils
Corn (cut off the cob) – chicken and corn chowder, Mexican chicken chili with cornbread topping, any soup or chili recipe (like this one made with steak)
Eggplant – slice thinly and substitute for zucchini in this lasagna recipe
Fennel – chop and add to this cranberry pork roast
Green Beans – meatball veggie soup,vegetarian pesto soup, apricot-ginger chicken
Greens (kale, spinach, escarole, chard) – greens and beans, wedding soup
Green Onions (scallions) – use as a substitute for diced onions in any soup recipe (1/2 – 1 cup per small onion)
Green Peppers – stuffed peppers, easy chicken cacciatore, Mexican chili with cornbread topping (even the topping cooks in the crock!), Thai pineapple curry
Herbs – use parsley, basil, and/or oregano in this honey garlic chicken (I also love using basil to make freezer-friendly pesto)
Jalapeño peppers – jalapeño popper chicken chili
Kale – Zuppa Toscana soup, greens and beans
Onions – meatball veggie soup, French onion soup
Peaches – peach dump cake, peach jam
Potatoes –pot roast, ham and potato soup in this freezer post, substitute for sweet potatoes in this soup recipe
Radishes – make crockpot Korean beef tacos with this simple radish slaw
Red Peppers (orange and yellow peppers work well too) – red pepper chicken, beef fajitas, southwestern pork chili
Spinach – mushroom spinach stroganoff, vegetarian pesto soup, this Italian chicken in this crockpot freezer post
Sweet Potatoes – Zuppa Toscana soup
Tomatillos – chicken tomatillo soup, turn into tomatillo salsa verde for this chicken salsa verde recipe
Tomatoes – chicken chili or any of the other 4 recipes in this post
Zucchini – zucchini "lasagna", vegetarian pesto soup, or meatball veggie soup
Yellow Squash – meatball veggie soup
Other recipe ideas?  Please share in a comment below!!  XO, Kelly