This is THE BEST recipe for slow cooker cinnamon applesauce.  It's so delicious and so easy to make.  Simply combine the ingredients in your slow cooker and let it do all the work for you.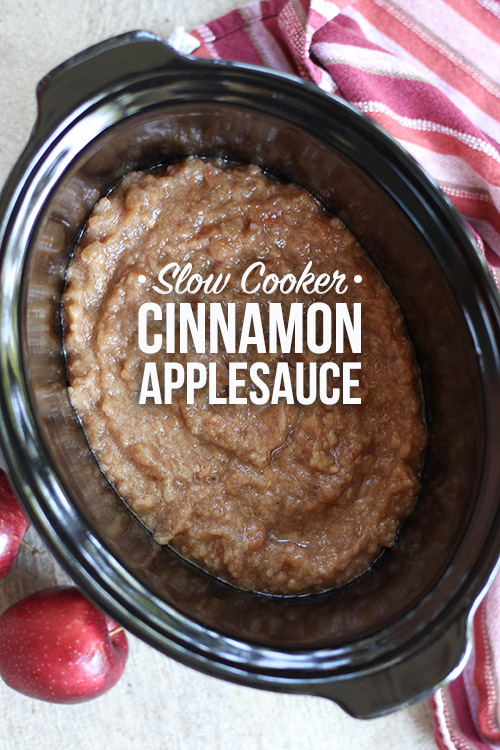 What makes this applesauce so great?
It's delicious.
It only requires four simple ingredients.
It smells like apple pie while cooking and will totally make you drool.
The base of the applesauce is three pounds of fresh apples.  We love to go apple picking in the fall, but feel free to grab a bag of apples from the grocery store. I think tart apples work best (like granny smith and mcintosh), but this is a fool-proof recipe that should work with golden delicious, jonathan, or any combination.  I can't tell you how many times I've made this recipe over the years.

Slow Cooker Cinnamon Applesauce Recipe
Yields: 3 cups
Ingredients
3 pounds tart apples (granny smith and macintosh work great), peeled and roughly chopped
2 tablespoons honey
1 tablespoon brown sugar
1 tablespoon ground cinnamon
Directions
Combine all ingredients in your slow cooker.
Cover, and cook on "low" for 6-8 hours. (A shorter cooking time will result in a chunkier applesauce.)
Mash to desired consistency. (I use a simple hand potato masher.)
Since this is one of the recipes in my Easy & Healthy Slow Cooker Recipes eCookbook, I even have the nutritional info:

Eat plain out of a bowl, serve as a side dish with a savory pork roast (we love this recipe), or dig in while it's warm with a scoop of vanilla ice cream.  YUM.

Thoughts or questions?  Please leave a comment below.  I'd love to hear from you.