French onion soup has always been one of my favorites.   It's very inexpensive to make, but it's such a process.  That is, it used to be until I came up with this quick and easy crockpot recipe!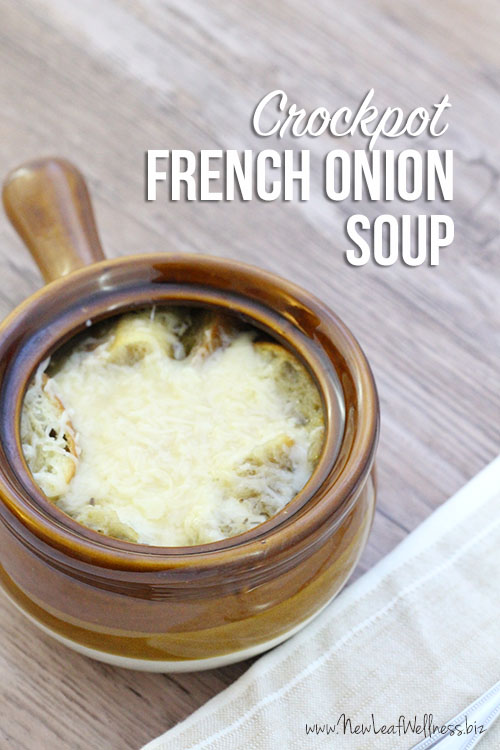 Growing up, my parents made French Onion Soup in traditional single-serve crocks…you know the ones!  It was thick and it was delicious and I loved scraping the cheese off of the side of the bowl.  I'm a pretty nostalgic person, so when it was time to register for our wedding (nearly ten years ago…how did THAT happen?!) we decided we HAD to have those crocks.
Remember that sweet memory of scraping the cheese off the side of the bowl?…Well, it's not so sweet when you're scraping the baked-on cheese with your fingernails because not even your abrasive kitchen sponge will do the trick.  Have I convinced you to pull out your crockpot yet?!  Good.
This crockpot recipe is super simple.  Caramelize the onions in a skillet, throw everything in the crockpot, and top with croutons and grated cheese.  Done, done, and done.
If you're obsessed with our crockpot soup recipes that don't require any cooking ahead of time, you don't have to caramelize the onions.  However, the caramelizing adds an extra layer of richness, so if you do have a few extra minutes before throwing the ingredients into your crockpot or freezer bag you won't be sorry.  Bon Appétit!
French Onion Soup
Yields 6-8 servings
Ingredients
5 large yellow onions; 1/4″ slices
4 tablespoons butter
1/2 cup dry red wine
8 cups beef stock
2 bay leaves
1 teaspoon thyme
1/2 teaspoon black pepper
Toppings: croutons and finely grated swiss cheese (I make my own croutons by cubing a day-old French baguette and mixing it with 2T olive oil and a pinch of salt and pepper.  Bake for 45 minutes at 250°.)
Directions
Place onions and butter in a skillet; caramelize.
Place onions and remaining ingredients in the crockpot.
Cover, and cook on "low" for 8 hours.
Remove bay leaves, add toppings, and serve.
To Freeze and Cook Later
Label your freezer bag. Caramelize onions and cool.  Add all ingredients to bag (except toppings).  Remove as much air as possible, seal and lay flat in your freezer for up to three months. When ready to cook, thaw, add ingredients from freezer bag.  Cook on "low" setting for 8 hours and then remove bay leaves.
Feel free to serve your French Onion Soup in those traditional crocks. You might as well use them if you have them!

---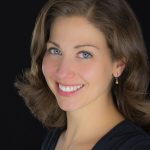 Jill Petrush Rogers is an artist and former bookbuyer/seller. Jill recently moved back to her hometown of Pittsburgh, PA with her husband, Tom, and their two energy-filled boys. Jill loves to channel her creativity by coming up with recipes as a contributing writer for New Leaf Wellness.
Thoughts or questions?  Please leave a comment below.