Did I tell you that I'm writing a new cookbook with freezer-to-skillet recipes?  Just like the recipes in my best-selling cookbooks, the ingredients are frozen without any cooking ahead of time and then cooked later. The only difference is that these recipes are cooked in a skillet instead of a crockpot. So fun!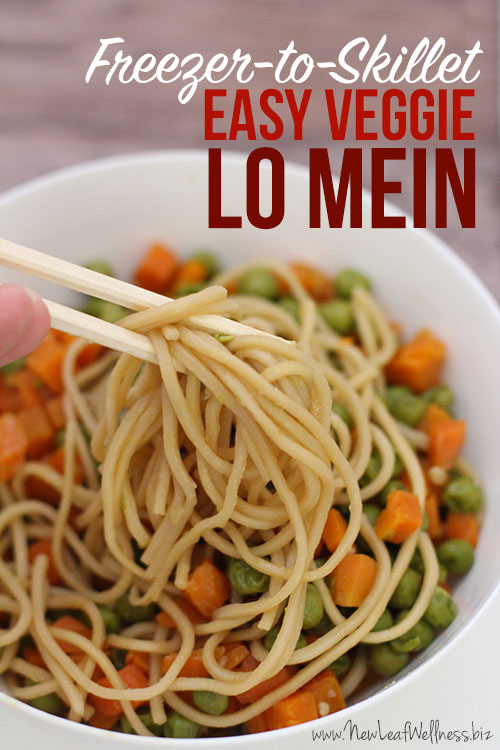 My cousin Jill is helping me with the recipes and we desperately wanted to include a lo mein recipe. The only problem was that some of our local stores don't sell lo mein noodles and we're committed to only using ingredients in our cookbooks that are easy to find.
I ended up ordering this bulk pack of lo mein noodles from Amazon.com and I'm so glad I did. If you're able to buy lo mein noodles you're going to LOVE this recipe. It's so simple and delicious – even my kids love it!
This easy veggie lo mein is the perfect lunch or weeknight dinner recipe.  Make it fresh or freeze it so you have always have a family-friendly meal on-hand. Enjoy, friends.

Easy Veggie Lo Mein Recipe
Yields: 6 servings
Ingredients
3 cups low sodium chicken or vegetable broth
4 cloves garlic, minced
1/4 cup low sodium soy sauce
2 tablespoons sesame oil
2 tablespoons light brown sugar
1-inch fresh ginger root, peeled and grated
2 bags of frozen peas and carrots mix (12oz each) – other frozen veggies work well too, like pepper stir fry mix or a broccoli cauliflower mix
10oz box/bag of lo mein Chinese egg noodles (not needed until day of cooking)
Directions
In a large skillet or pot, combine all ingredients except noodles.
Bring to a boil and simmer 5 minutes.
Gently lay noodles on top, cover, and continue to cook for 5 minutes.
To Freeze and Cook Later
Label a gallon-sized plastic freezer bag with the name of recipe, cooking instructions, and use-by date.
To your freezer bag, add all ingredients except lo mein noodles.  Remove as much air as possible, seal, and lay flat in your freezer for up to three months.
When ready to cook, thaw overnight in refrigerator or before dinner in water. Follow cooking directions above.
Stir and serve. YUM.
Thoughts or questions? Please leave a comment below. I'd love to hear from you.