Want to take full advantage of this season's fresh produce? Simply combine in freezer bags and freeze for later! It only takes a few minutes to do and I've found so many fresh fruits and vegetables that freeze perfectly without any cooking ahead of time.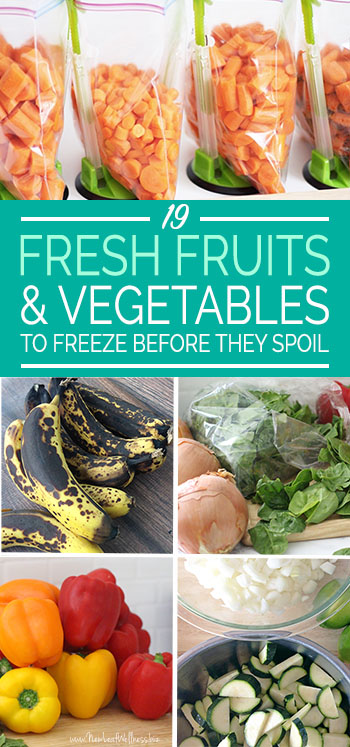 Why freeze these fruits and veggies?
You can stock up when they're in season and save a lot of money.
You can freeze what you have on-hand before it goes to waste.
You'll always have fresh food available so you don't have to run out to the grocery store.
I know some people blanch fruits and vegetables before freezing them, but when I'm freezing them for smoothies and soups I find they freeze perfectly without any cooking ahead of time.  I've literally frozen thousands of foods this way and they always turn out great.  The only problems I've run into are fresh potatoes and broccoli.  Potatoes can turn brown in the freezer (these tips can help prevent that) and broccoli oxidizes and tastes gross (so I use frozen broccoli florets from the grocery store in my freezer meals instead).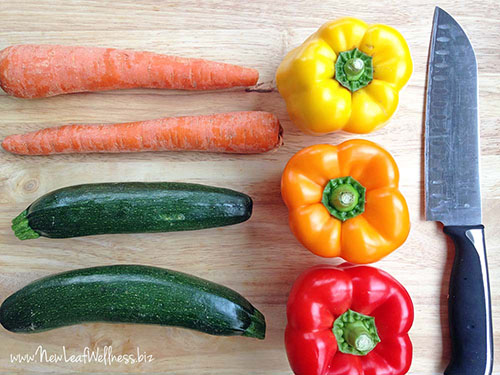 The USDA Food Safety and Inspection Service says that freezing food at 0°F (the standard freezer temp in the U.S.) helps keep its vitamins and nutrients, so frozen fruits and veggies are just as healthy as fresh ones.  Yay!
19 Fresh Fruits and Vegetables to Freeze Before They Spoil
Peeled and sliced bananas
Diced celery
The juice and zest of limes
Diced onions
Chopped or diced carrots
Chopped green beans
Diced tomatoes
Sliced or diced bell peppers
Berries
Baby spinach
Chopped greens like kale, escarole, and Swiss chard
Shredded cabbage
Sugar snap peas
Cranberries
Chopped pineapple
Sliced sweet potatoes
Chopped zucchini and yellow squash
Sliced lemons
Sliced corn off the cob
To freeze, peel and chop your veggies so you won't have to do so when they're a frozen block.  Place in a quart or gallon-sized plastic freezer bag in the freezer for up to three months.  When ready to use, thaw or add directly to your recipe frozen.
Here are some of my favorites recipes that work well with these fruits and veggies:
Can you think of other fruits and veggies to add to my list?  Please share in a comment below!