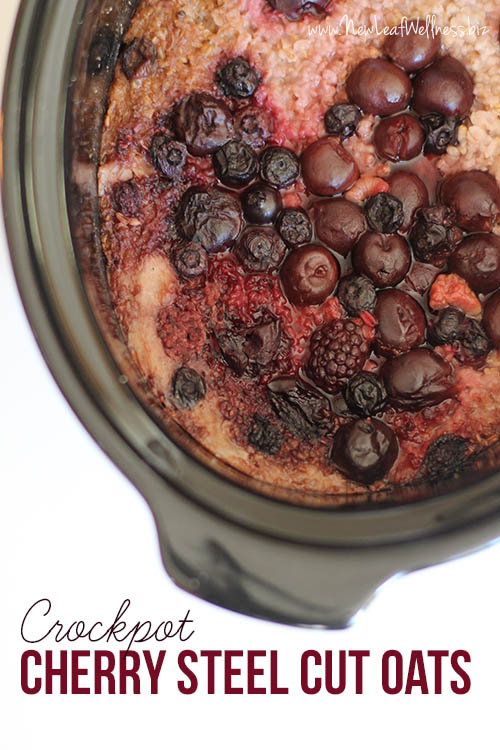 At the beginning of the year my husband, Andy, quit his full-time job to work with me on New Leaf Wellness. It was scary, exciting, and amazing all at the same time. One of the thing we did to celebrate was take our four kids to visit their aunt and uncle and stay in a hotel with a pool.  Swimming in January is kind of the best thing ever when you're a kid.
The hotel had an amazing breakfast buffet and one of my favorite dishes was the steel cut oats.  Since I'm a crockpot fanatic, of course it got me thinking about how I could adapt my own recipe at home.
I bought a big bag of steel cut oats at Costco and got to work.  This was my first time eating steel cut oats and here's why I loved them:
They are slightly more crunchy and less mushy than old fashioned oats.
They're less processed than other types of oatmeal.
They lend themselves to the crockpot because they have a longer cooking time and standing over the stove in the morning isn't my thing.
Add these overnight oats to your crockpot tonight and you'll wake up to a delicious, hearty, and healthy breakfast in the morning, friends!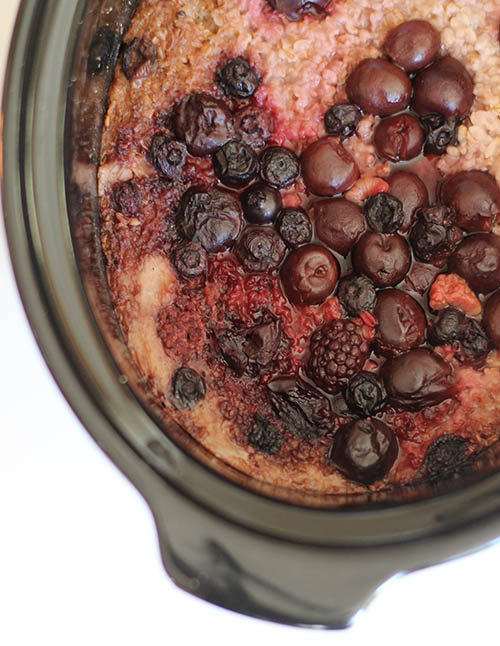 Cherry Steel Cut Oats Crock Pot Recipe
Yields: 8 servings
Ingredients
2 cups steel cut oats
6 cups water (or milk)
1 teaspoon vanilla extract
1/2 teaspoon salt
2 cups frozen cherries (you can use other frozen berries, but they tend to be more tart and require more sugar after cooking)
Directions
Add your favorite toppings, like brown sugar and sliced almonds or coconut flakes and chocolate chips. YUM.

Thoughts or questions? Please leave a comment below and I'll respond as soon as I can. I'd love to hear from you.