Last week I was able to prepare six make ahead crockpot meals for only $26!  (That works out to only $4.40 per meal or .94 cents per serving.)  Wahoo!  Here's what I made, including my recipes and grocery list…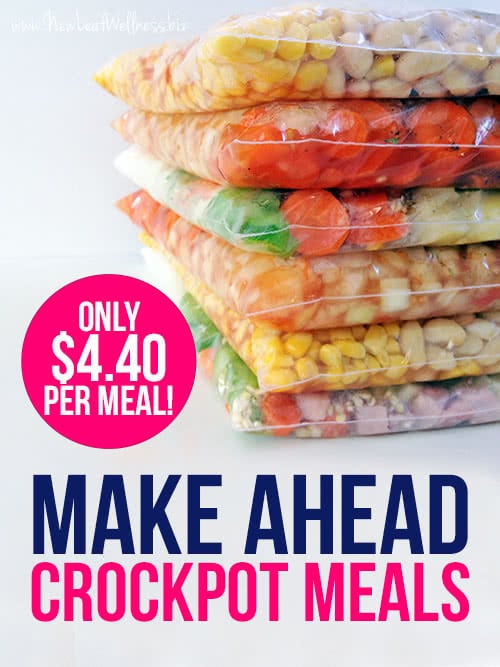 After spending a bajillion dollars on Christmas, I decided it would be a good idea to come up with some wallet-friendly dinner ideas for January.  My 13 month old is still attached to me 24/7, so make ahead crockpot meals have been a life-saver.  I can prep a bunch over the weekend when my husband is home and have a yummy dinner waiting in the crockpot every night.
I put my meal planning skills to the test and came up with three recipes that include a meat AND vegetable AND cost less than $5 each to make.  Impossible?  Nope!
Here's what I made…
CLICK HERE FOR THE FREE RECIPES AND GROCERY LIST
Here's what I was looking for in my budget-friendly meals: affordable meats and vegetables and common ingredients that I usually have on-hand (like popular spices, onions, and potatoes).

I was able to save money by doubling my recipes and making two freezer bags of each.  This helped me make the most of my ingredients by…
Splitting one slice of ham and one can of evaporated milk between two bags of ham and potato soup.
Splitting one bag of frozen corn between two bags of chicken chili.
Using up all of the carrots and garlic cloves that I bought.
I was also able to buy two pounds of chicken breasts and two pounds of ground beef, which is cheaper than buying only one pound at a time.  Yay!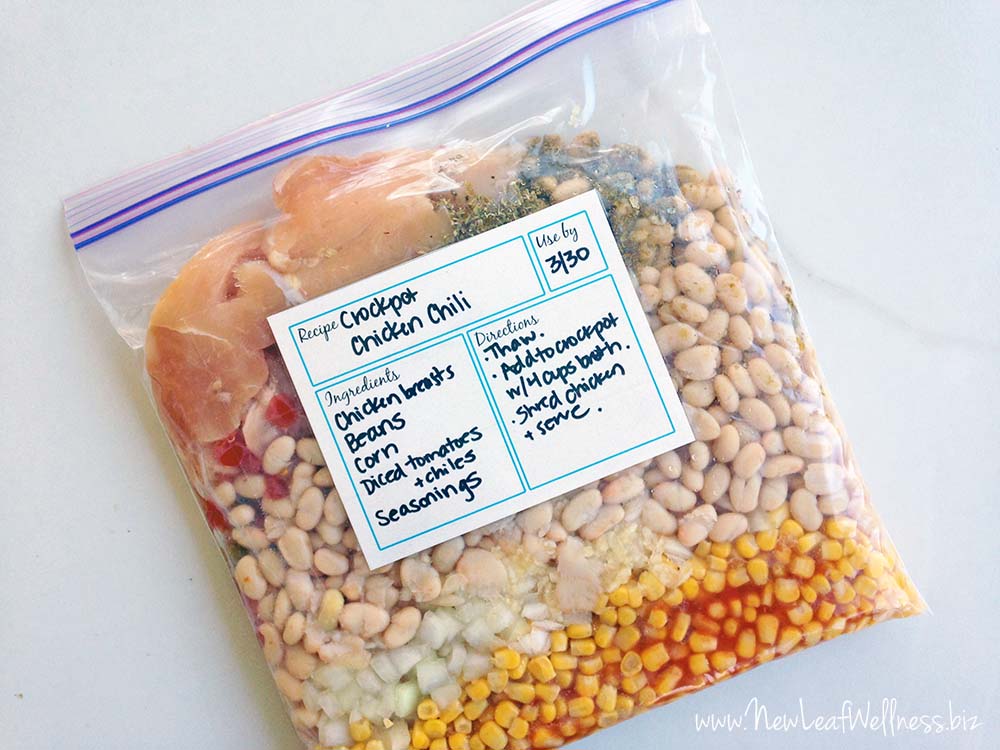 Not only did doubling my recipes save me money, but it saved me a bunch of time too.  I loved being able to use the same measurements and measuring cups for two bags at a time.
Most freezer meals will stay good in a standard fridge/freezer combo for at least 3 months, so eating a recipe twice during that time is no problem for us.  In fact, we always look forward to eating a meal again after trying it the first time.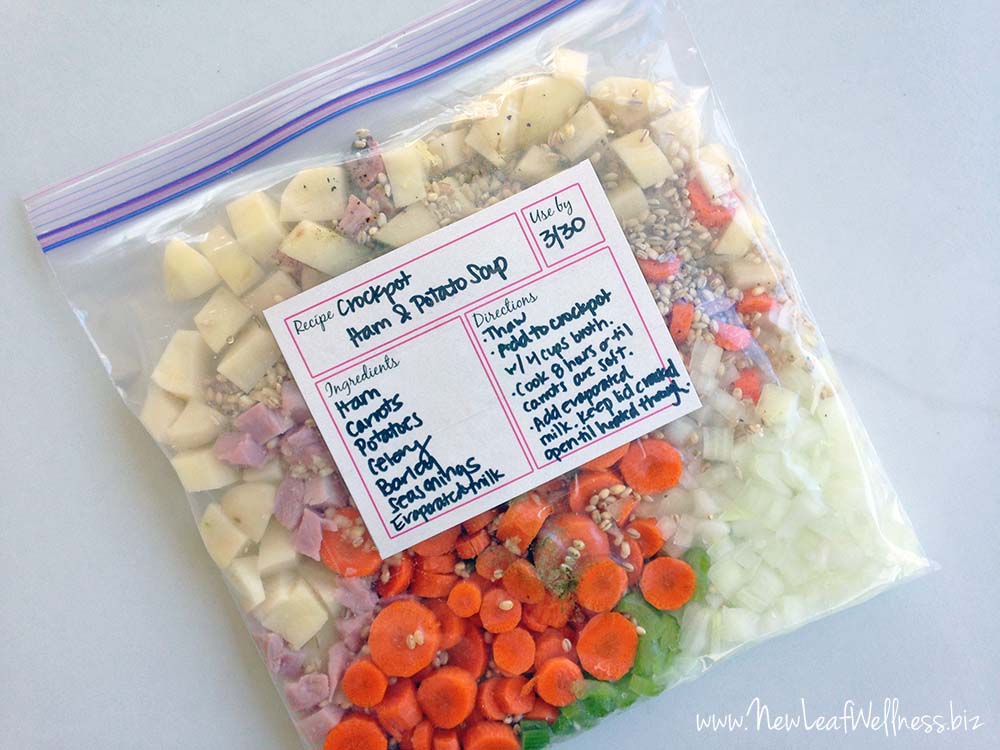 I did all of my grocery shopping at ALDI and spent a total of $26.  That works out to $4.40 per meal or .94 cents per serving!  
It took me about an hour to assemble all six of my make ahead crockpot meals.  Not bad for six dinners, right?!  To save me a little bit of time, I filled out my freezer meal labels ahead of time and used a food chopper (affiliate link) to dice my onions.  (I hate chopping onions!)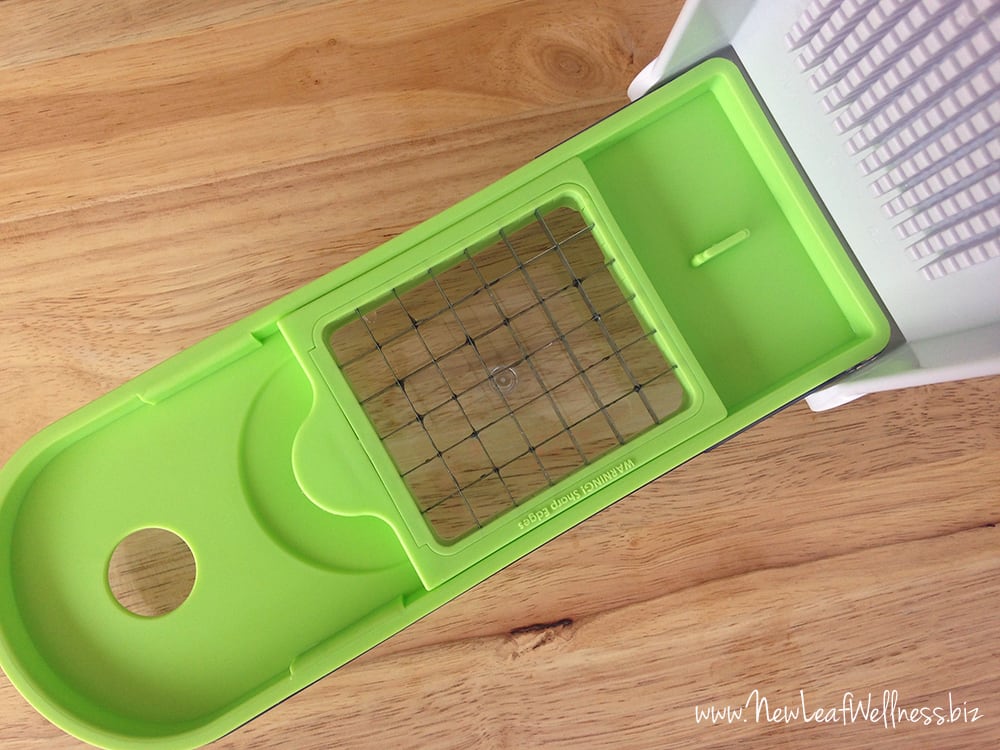 If you're new to make ahead crockpot meals, the recipes in the pdf above will walk you through the process step-by-step.  I usually prep all of my veggies at once and then focus on one recipe at a time in an assembly line.  It's so easy, I promise!
For more advice, you can also check out my blog post with eight healthy crockpot freezer meals and my No Cook Freezer Meals cookbook.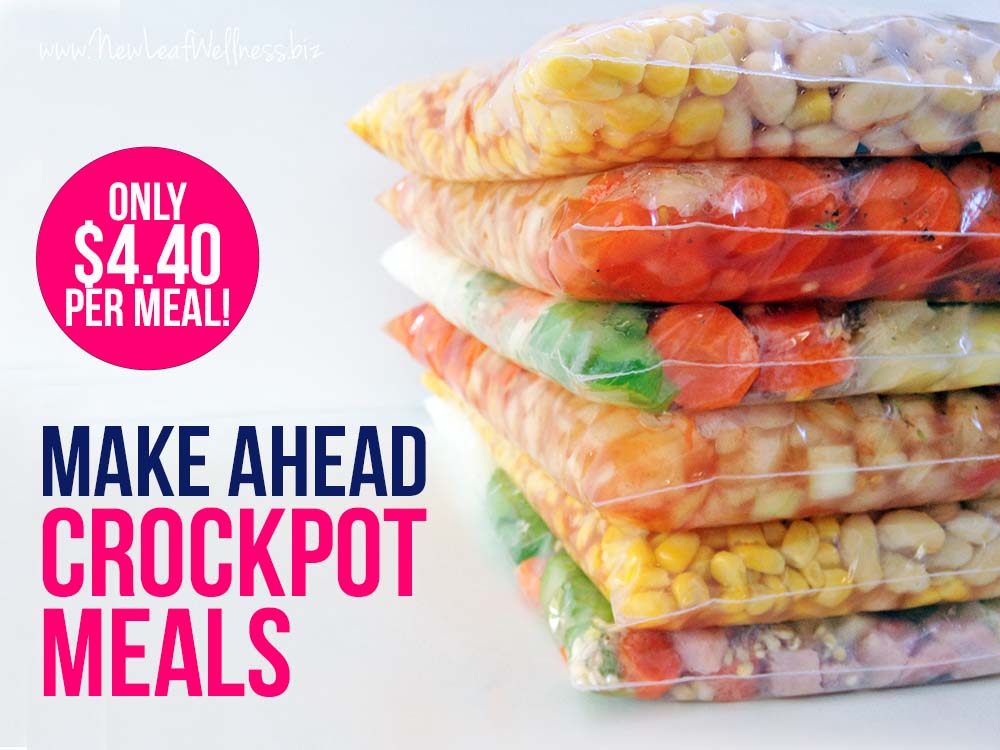 Thoughts or questions?  Leave a comment below.  I'd love to hear from you.