My goal every night is to make a healthy and delicious dinner that my whole family will eat (that means me, my husband, and our three young daughters, ages 5, 3, and 1). I'm happy to say that this freezer-to-slow cooker Italian wedding soup was a winner!  Not only was it yummy and family-friendly, but it was so easy to make.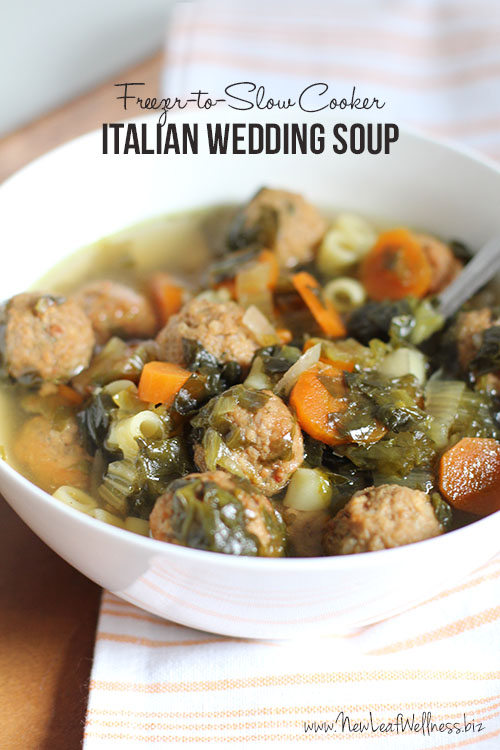 Let me back up a minute and explain what I mean by "freezer-to-slow cooker."  This is my favorite shortcut for preparing healthy dinners because all you need to do is add the ingredients to a gallon-sized plastic freezer bag, freeze it, and then cook it later in your slow cooker.
Here's why freezer-to-slow cooker meals rock my world:
They don't require any cooking ahead of time so they're super easy to make.
They cook for the first time out of the freezer and don't taste like leftovers at all.
I can take advantage of sales at the grocery store and stock my freezer at the same time.
Instead of cooking dinner every night, I can grab a bag from my freezer, dump it in to my slow cooker, and play with my kids instead.  Are you convinced to give this a try yet??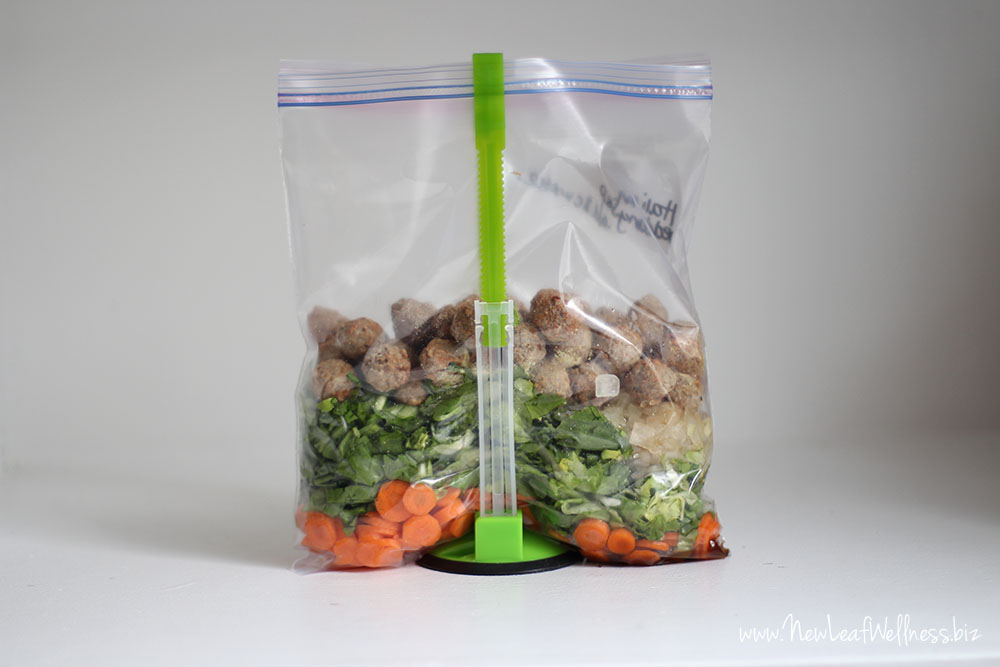 I'm including directions below that will walk you through the process step-by-step.  Once you see how easy it is to prep meals for your slow cooker, I know you'll be hooked.  Although if you want to skip the freezing step and add the ingredient right to your slow cooker you can certainly do that.
What I love about this freezer-to-slow cooker Italian Wedding Soup in particular is that it includes a bunch of veggies in a flavorful broth.  It's just a healthy and yummy meal that your whole family is sure to love.  Enjoy!
Freezer-to-Slow Cooker Italian Wedding Soup
Yields: Six servings
Ingredients
12oz bag of frozen mini meatballs (I use these because they are cheap and easy, but you can also substitute cooked homemade meatballs or make a "deconstructed wedding soup" with 1 pound of ground meatloaf meat, beef/pork/veal.)
1 small onion, diced (one cup)
1/2 pound carrots (about 4 large carrots), peeled and thinly sliced
1 head of escarole, thinly sliced
1 tablespoon Worcestershire sauce
1 teaspoon onion powder
1 teaspoon garlic salt
1 teaspoon Montreal steak seasoning
8 teaspoons of chicken bullion granules
8 cups of water *not needed until day of cooking (If you want to use store-bought or homemade crockpot chicken broth, omit the bullion granules and add it the day-of cooking.)
1/2 cup uncooked pasta *not needed until day of cooking (I use acini de pepe, ditallini, or small shells)
Materials
1 gallon-sized plastic freezer bag
Prep
Label your freezer bag with the name of the meal, cooking instructions, and "use by date". (For standard fridge/freezer combos, this will be three months from the prep day.)
Add all ingredients except water and pasta.
Remove as much air from bag as possible, seal, and lay flat in your freezer.
Cook
The night before cooking, move freezer bag to your refrigerator to thaw.
The morning of cooking, add contents of freezer bag to crockpot with 8 cups of water.
Cook for 6-8 hours on "low" setting or until carrots are soft.
Add pasta and cook for an additional 30 minutes.
Serve with garlic bread.  YUM.