Are you looking for new crockpot recipe inspiration?  Here are 31 crockpot beef recipes that my family tried and loved.  Yum!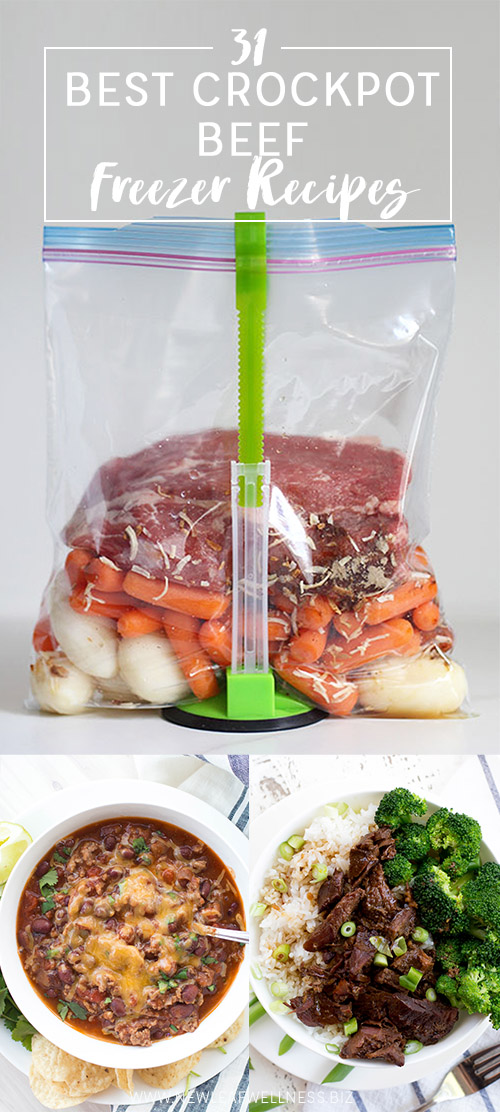 What's so great about these crockpot beef recipes?
They're healthy and delicious! (I tried all of them myself.)
You can stock up when meat is on sale at the grocery store and save a lot of money.
They can be frozen without any cooking ahead of time, so they're very quick and easy to make.
Yes, you read that right.  You can either cook these meals fresh or assemble and freeze them to cook later. Just add all of the ingredients to a gallon-sized freezer bag and freeze for up to three months.  When you're ready to cook, thaw overnight in the refrigerator (or in the morning in water).  Add to your crockpot and dinner is done.
After making hundreds of crockpot freezer meals myself, I decided to compile a list of my favorite crockpot beef recipes.  You know you've made a lot of crockpot recipes when you can narrow it down to THIRY-ONE favorites.
Seriously, guys.  I love my crockpot.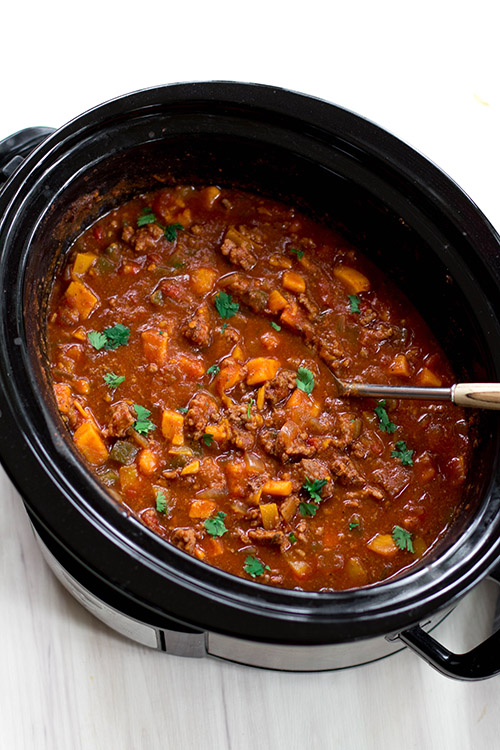 I think what I love most about these crockpot beef recipes is that they don't dry out like crockpot chicken recipes.  The meat gets more tender and more delicious the longer you cook it.  Enjoy, Friends!
31 Best Crockpot Beef Freezer Recipes
P.S. If you're looking for my favorite crockpot chicken freezer recipes, I shared them here.
Tips for making these crockpot beef freezer recipes:
Click the name of the recipe above for the full recipe and cooking instructions.
If you're used to browning ground beef and roasts before putting them in your crockpot, you can skip that step.  Totally unnecessary!  If the recipe calls for ground beef, just break it apart after cooking and stir the contents of the crockpot.
I buy ground beef that is at least 85% lean.
My favorite beef roast is the beef chuck shoulder roast, and I always trim the fat before freezing and cooking.
The exact cooking time will depend on the size/strength of your crockpot.  My old 4-quart crockpot cooks beef in 8-10 hours, but my favorite 6-quart programmable crockpot with a timer cooks beef 6 hours. (It's perfectly fine to sit on "warm" for hours after that.)  I would cook these recipes for however long you're used to cooking beef in your crockpot.
If you buy frozen meat instead of fresh, add it to the bags frozen. (In other words, don't thaw and re-freeze.)
Thoughts or questions?  Leave a comment below and I'll respond as soon as I can.  xoxo, Kelly