Looking for easy dinner ideas for busy weeknights?  Stock your freezer with crockpot freezer meals!  Here are 31 delicious crockpot recipes that I've tried myself (grocery list included!).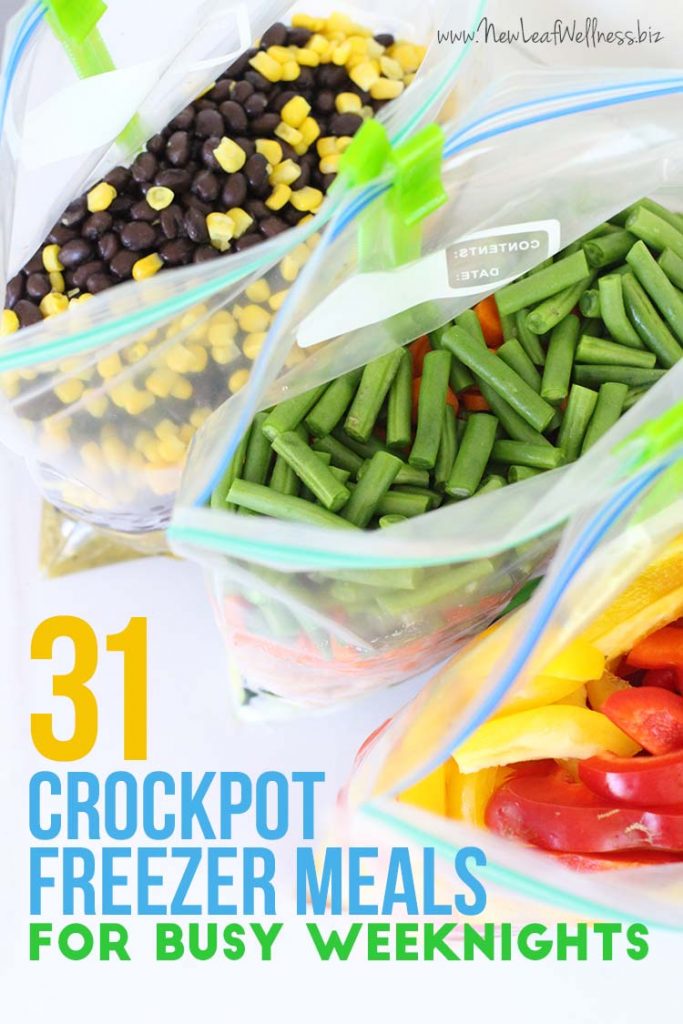 I have three young children (and a fourth on the way) so I don't have a lot of time to cook.  Instead of scrambling in the kitchen every night, I spend an hour prepping crockpot freezer meals over the weekend and that's all the cooking that I need to do for the week.
Here's why crockpot freezer meals are a game-changer:
They don't require any cooking ahead of time, so they're very quick and easy to prep.
They cook for the first time out of the freezer and don't taste like leftovers at all.  Yay!
You can save a lot of money by prepping a bunch of meals at once.
When I'm prepping freezer meals, I combine the ingredients in plastic baggies, remove as much air as possible, and freeze for up to three months.  I've made hundreds of crockpot freezer meals this way and they're all healthy, delicious, and easy to make.  Since this is such a hectic time of year, I decided to compile of list of my 31 favorites that are perfect for busy weeknights.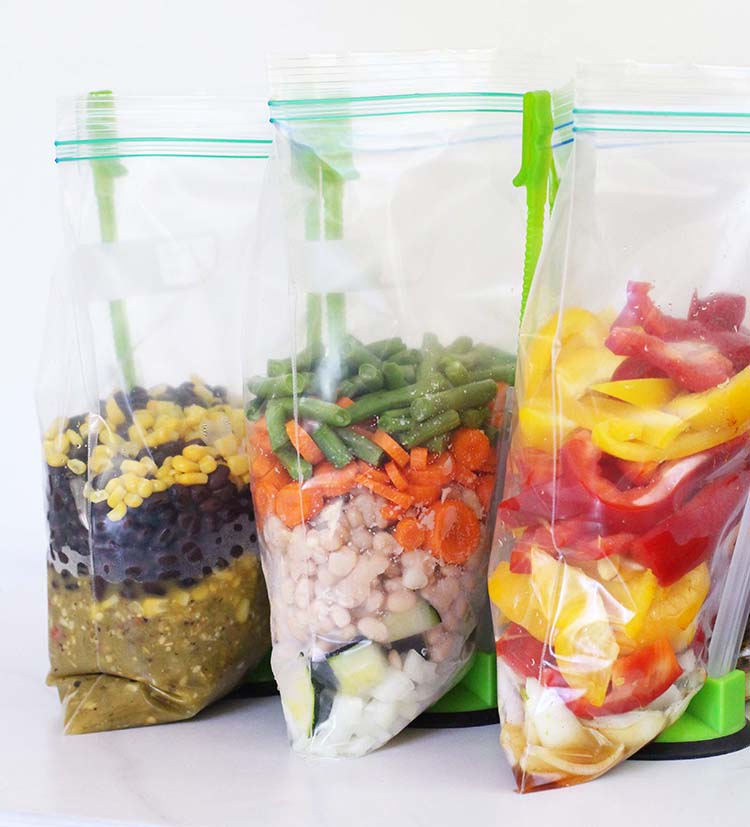 If you're nervous about mixing raw meat and vegetables, don't be.  I did a lot of research when I was writing my No Cook Freezer Meals cookbook and, according to the USDA Food Safety and Inspection Service, freezing to 0 °F inactivates any microbes present in food (such as bacteria, yeasts, and molds).  That means freezing raw meat with vegetables, sauces, and spices is perfectly safe.
If you're hesitant to freeze so many new recipes at once, I recommend trying a couple for dinner this week.  Once you see how delicious they are you'll want to stock your freezer ASAP.  Enjoy!
31 Crockpot Freezer Meals for Busy Weeknights
A lot of these recipes are from freezer prep sessions that I've done this year so I typed up exactly how I prep and freeze each meal in this printable pdf with a full grocery list:
FREE PRINTABLE RECIPES AND GROCERY LIST

Thoughts or questions?  Please leave a comment below and I'll respond as soon as I can. 
---
I shared these recipes on Thirty Handmade Days on 8/30/15.