My husband and I aren't Italian, but our whole family loves Italian food so I was really excited to prep a bunch of Italian crockpot freezer meals at once.  None of the recipes required any cooking ahead of time, so I literally combined the ingredients in gallon-sized plastic freezer bags and stuck them in the freezer.  Yippee!  Here's how I did it, including my recipes and grocery list.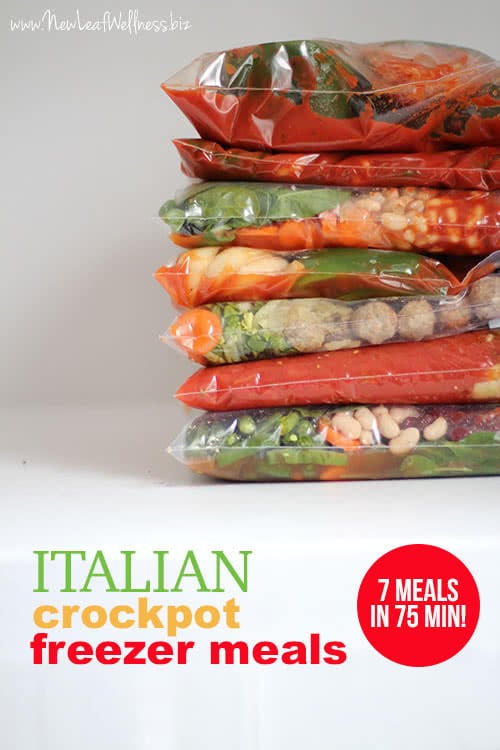 First, here's a list of the 7 Italian crockpot freezer meals that I made:
Lasagna Soup (our new favorite recipe from Thirty Handmade Days)
Minestrone Soup (modified from Cooking Classy)
Italian-Style Pot Roast (I made this in a previous freezer prep session and loved it)
Spicy Italian Sausage and Peppers (I made this recipe up)
Sausage, Spinach, and Tortellini Soup (modified from our favorite soup recipe in my No Cook Freezer Meals cookbook and shared for free below)
CLICK HERE FOR THE FREE RECIPES AND GROCERY LIST
I serve my freezer meals with simple side dishes, like garlic bread and salad, so dinner couldn't be easier.

When I make crockpot freezer meals sometimes I have to cross my fingers and hope for the best, but I already know that these meals will be delicious.  We've tried some version of all of them before and have even eaten four of them in the time that it took me to write this post.  (You can see my photos of the cooked meals at the bottom of this post.  YUM.)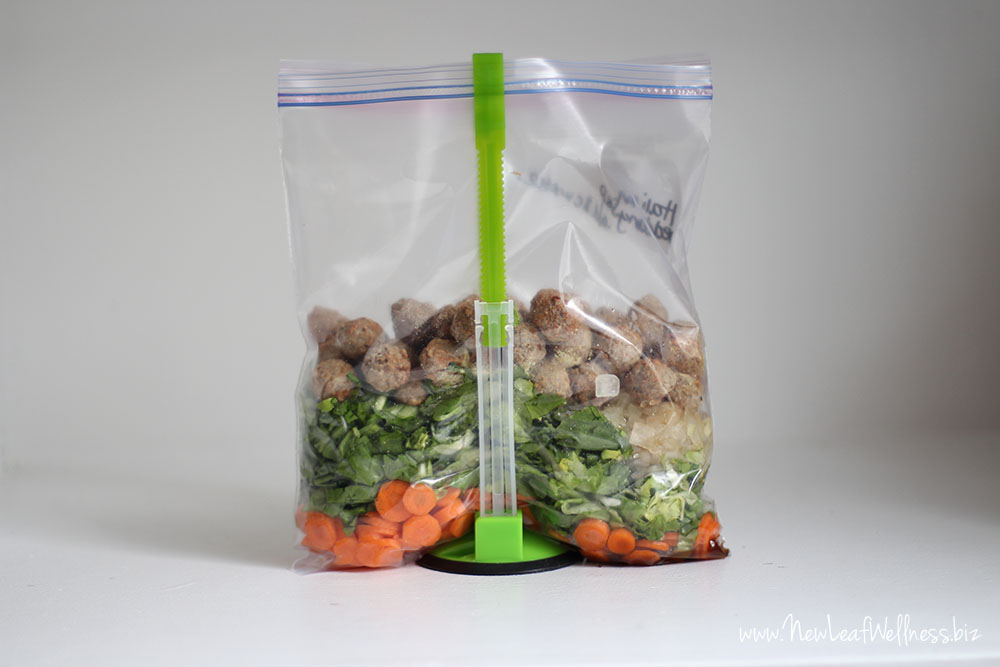 Overall, it took me 75 minutes to prep all seven meals.  Most of my freezer prep sessions take me less than an hour to prep so it felt like a long time, but I spent more than half of the time chopping fresh vegetables.  It always makes me feel good to spend time making healthy foods for my family.
In fact, I was reminded of the eight healthy freezer meals that I made last fall.  They also took me 75 minutes to make, but were so yummy and worth the extra time.
I mean, seven Italian crockpot freezer meals in 75 minutes works out to less than 11 minutes per meal.  I need to cut myself a break.  That's pretty darn fast for cooking dinner!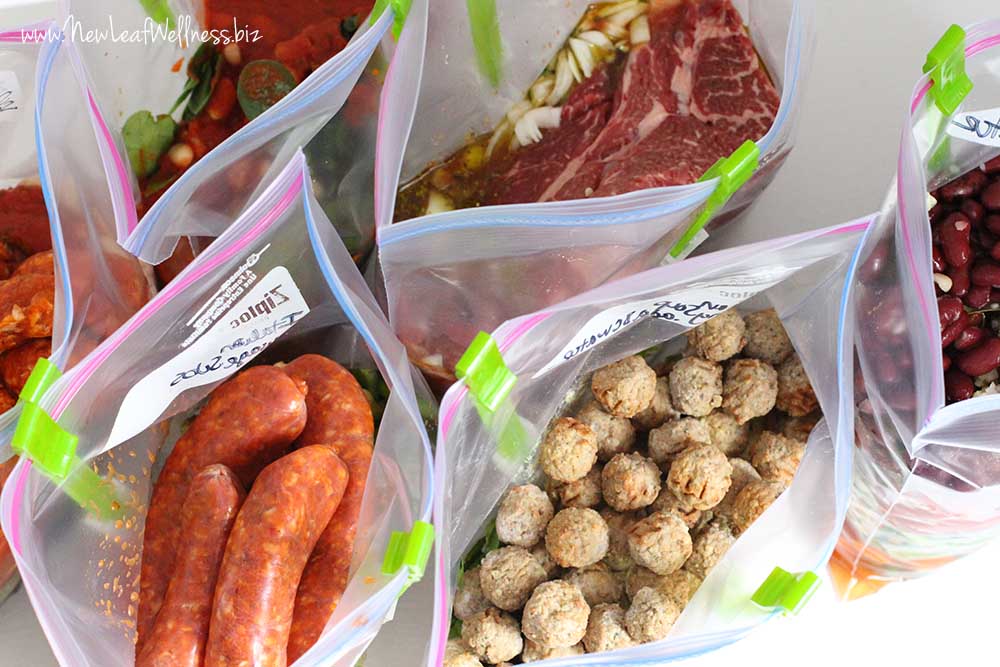 If I had planned ahead, I would have bought dry beans for these meals and cooked them in my crockpot, but sometimes I don't plan my freezer meals until the day before I go grocery shopping and canned beans had to do.  Organic canned beans were only $.20 more per can than regular so I splurged to make myself feel better.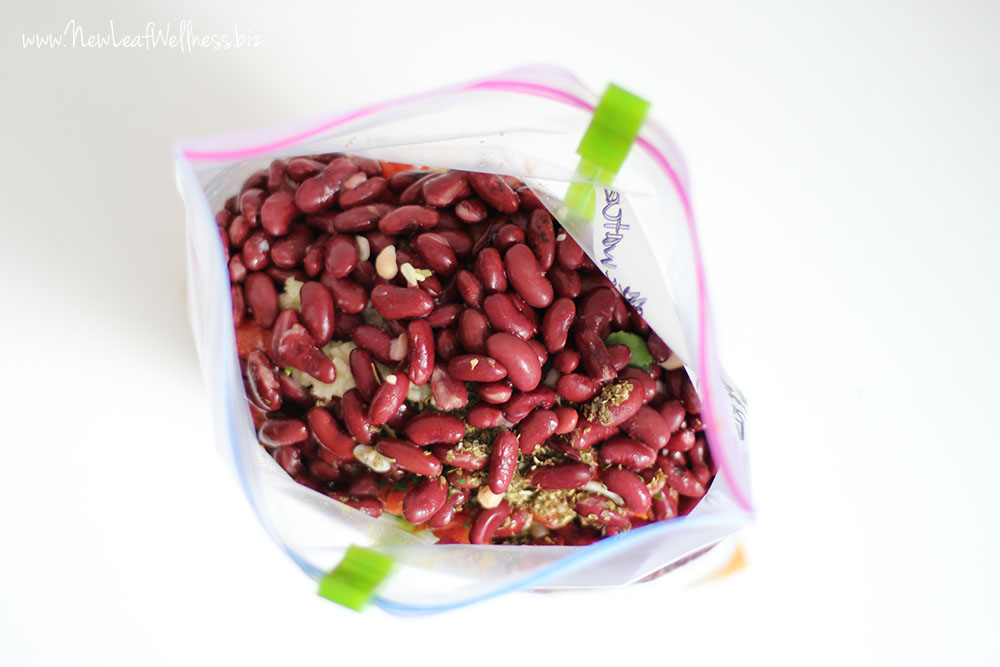 I spent a total of $62 on the ingredients needed to make these meals.  That works out to less than $9 per meal, and they each serve 4-6.  (The number of servings per recipe is included in the printable recipe pdf below.)
I didn't use any coupons and bought some organic items, like organic canned goods and baby spinach.  I also had carrots, honey, olive oil, and spices on-hand.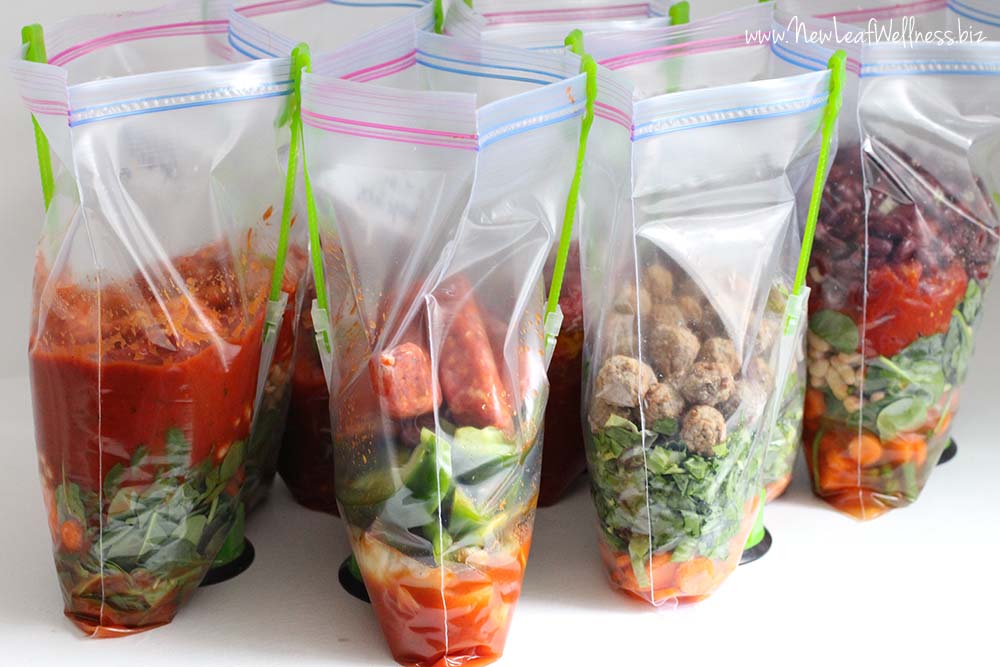 The printable recipes above will walk you through each recipe step-by-step, but here's what my freezer prep process usually looks like:
I label my freezer meals ahead of time with the name of the meal, use-by date (three months from when they're prepped), and cooking instructions.  I love using the free labels that I send to my email subscribers, but I was rushed this time and settled for writing on my bags with a Sharpie.
I print all of the recipes and place each one by its freezer bag.
I wash, peel, and chop all of my veggies at once and add them to the bottom of the bags so they end up at the top of the crockpot when dumped in later.
I work in an assembly line to finish all of the meals by adding their spices, sauces, meats, etc.
Remove as much air as possible, seal, and lay flat in the freezer for up to three months.
And just like that, dinner is done!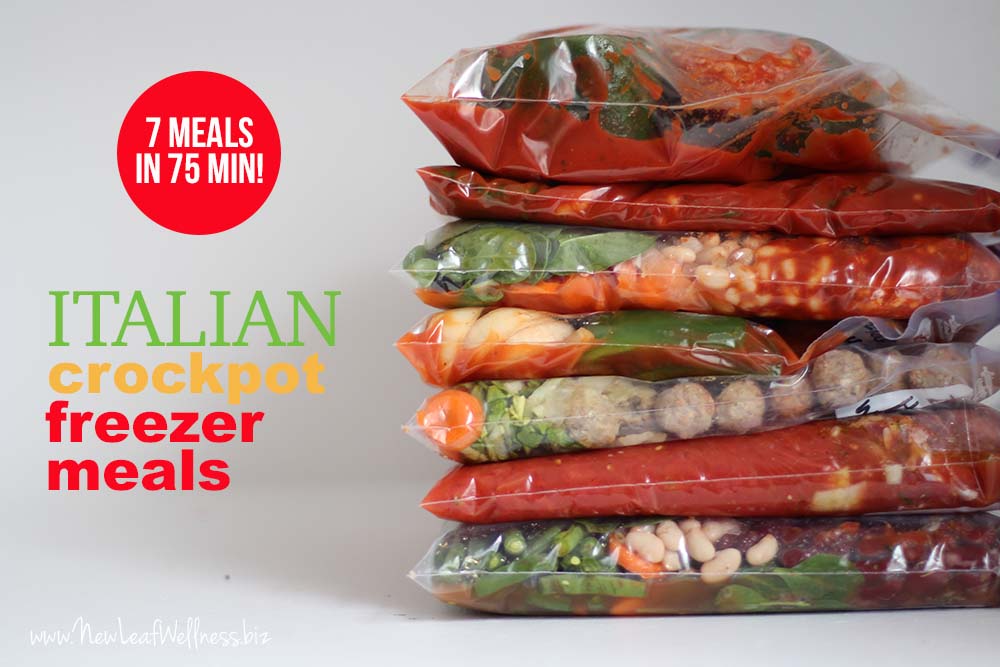 If you're brand-new to crockpot freezer meals, my crockpot and freezer cookbooks also contain a bunch of great recipes and tips.
Thoughts or questions?  Please leave a comment below.  I'd love to hear from you. 
PS I've gotten some requests to share "after" pics of my freezer meals when they're finished cooking.  Sometimes it takes me months to cook all my meals, but we couldn't resist trying four of these meals last week.  YUMMM.