Here's a super simple recipe for sausage-stuffed mini peppers that's seriously delicious.  You won't believe it's made with only four ingredients!  Pop the peppers straight in the oven or freeze for a busy weeknight.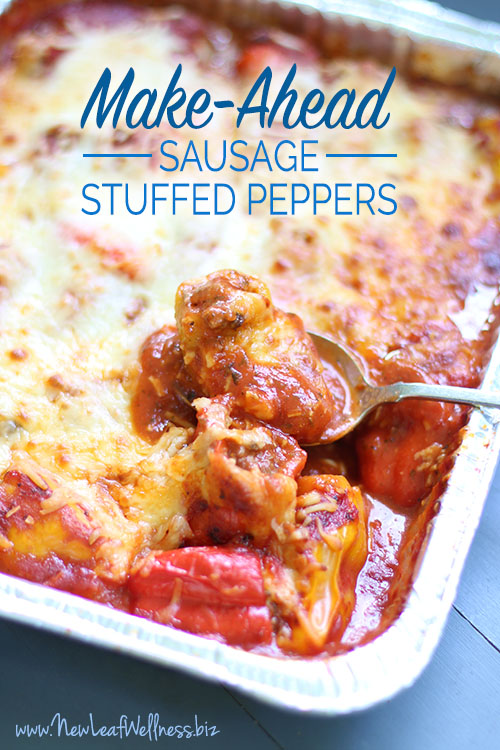 Three reasons you need to make this recipe ASAP:
It's made with sweet mini peppers that are in season right now (I bought a bag at ALDI.).
It only requires four simple ingredients.
It's a delicious meal that your whole family will love.
What's amazing about this sausage-stuffed mini pepper recipe is that there's no cooking required ahead of time.  Simply stuff the peppers and toss them right into the oven or freezer.
The peppers end up tender (but not mushy), the sausage cooks through, and the cheese melts and turns golden brown.  Mmmmmm.

Make-Ahead Freezer Sausage-Stuffed Mini Peppers
Yields: 4 servings
Ingredients
16oz mini sweet peppers
1 pound ground Italian sausage (we like hot)
24oz jar of spaghetti sauce
8oz mozzarella cheese, shredded
Directions
Cut tops off peppers and remove seeds. (It's OK if you don't get every single seed out.)
Stuff the peppers with sausage and place in a 9×13″ casserole dish.
Cover stuffed peppers with spaghetti sauce.
Top with shredded mozzarella cheese.
Bake for 40 minutes at 350 degrees F or until cheese is brown and sausage is cooked through.
To Freeze
Complete Steps 1-4.  Cover dish with layers of plastic wrap and foil and freeze for up to three months.  When ready to eat, thaw overnight in refrigerator and then bake for 40 minutes at 350 degrees F.  (You can also skip thawing and bake frozen for 60-90 minutes.)
Serve over spaghetti.  YUM.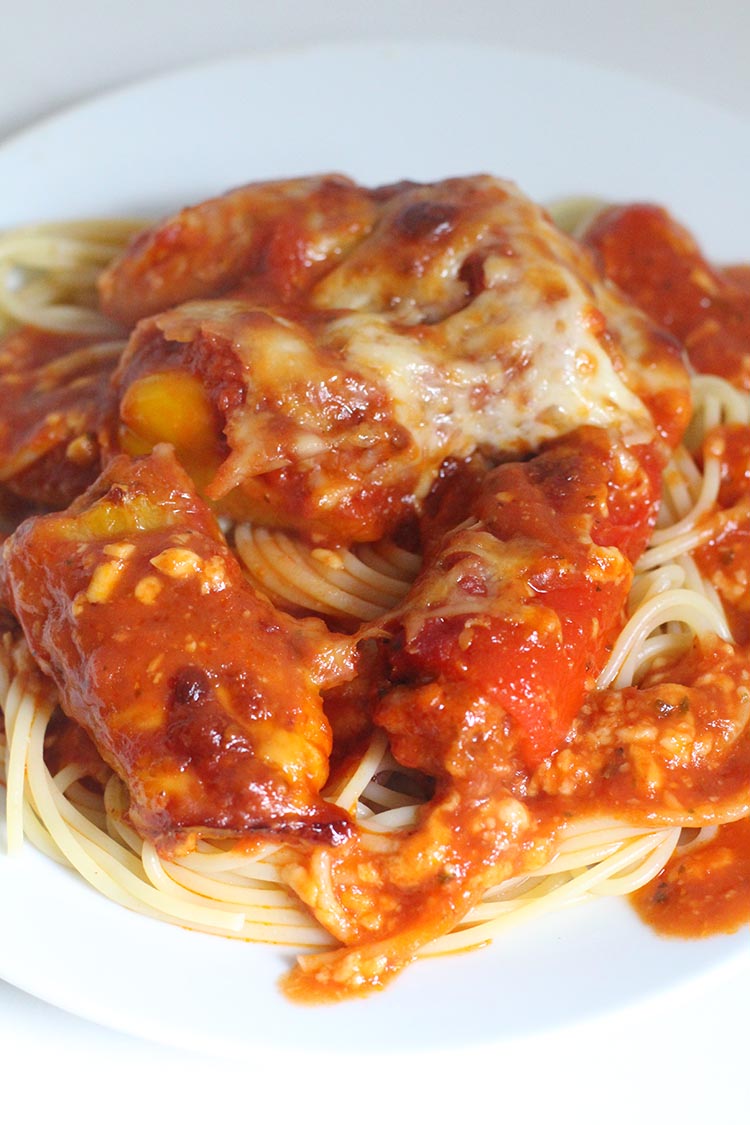 If you're looking for more simple freezer recipes, check out my freezer eCookbooks!