Are you pregnant right now?  Let me tell you what you need to do: Stock your freezer with freezer meals!  Having healthy meals on-hand when you're caring for a newborn is the best thing ever.  I'm currently pregnant with my fifth baby, so I'm excited to share what has worked for me in the past and what I'm planning to do differently this time around.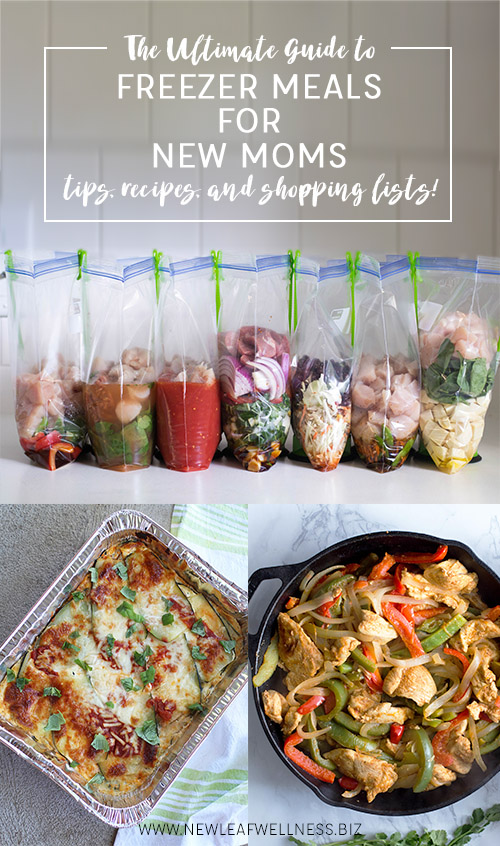 First, why make freezer meals for new moms?
If this is your first baby and you have no idea what to expect let me tell you that you're probably going to lay around on the couch for at least two weeks after giving birth.  If you don't want to count on your husband cooking every night (or eating out every night – yuck!), stocking your freezer with homemade meals is the best option.
If this is your second baby or more, then you already know why it will be so great to have meals made ahead of time.
Not only is it amazing to make meals for yourself while pregnant, but I love making freezer meals for my family members and friends when they have a new baby.  Freezer meals make great gifts.
I like to make meals that are frozen without any cooking ahead of time so they cook the first time out of the freezer and don't taste like leftovers at all.  Yay!
When is the best time to make freezer meals while pregnant?
Most freezer meals are good for at least three months, so I would make them around 32 weeks if you can. That means they'll be good for at least a month after your baby arrives and you'll be making them at a time in pregnancy when you still feel OK. I've made meals closer to my due date and it is more exhausting and requires a lot of sitting.
If you're making the meals for someone else you could make them a week or two before their due date or deliver them after the baby is born with a new baby gift. (Although the meals themselves will be the best gift ever.)

Here are my favorite freezer meals for new moms (and dads):
Making freezer meals for new moms aren't any different than the types of freezer meals that you would make for anyone else. (Here's a good list of 31 freezer meals prep sessions that I've done in the past that include the free printable recipes and shopping lists.)  The only difference in making meals for after birth is that you might want to include more variety.  For example, when I'm making freezer meals for myself I like to double or triple recipes to save time and money because we have no problem repeating meals before they expire.  BUT, when I'm prepping a batch of meals to eat in a row right after a new baby arrives I don't want to eat the same thing every night.  A mix of tastes, textures, and even cooking styles is key (crockpot, oven, skillet, etc.).
Let's get to the recipes…
Other freezer meal prep sessions that I've done (they all include free printable recipes and shopping lists):
Individual crockpot recipes that I would give to another new mom in a heartbeat: 
Other Tips:
Prep Session Tips. This blog post contains my seven best tips for a big freezer meal prep session.
Enlist help if you can.  I've made a lot of freezer meals with my mom and it's a lot of fun.
Side Dishes. I always like to consider side dishes and how to make my freezer meals into complete meals.  Stocking up on frozen garlic bread, frozen veggies, and microwaveable rice packs are great options.
Thoughts or questions?  Leave a comment below and I'll respond as soon as I can.  I'd love to hear from you. xoxo, Kelly