I wish I could take credit for this recipe. It's one of those recipes that's so delicious that everyone asks for the recipe after tasting it.
The true credit for this easy baked macaroni and cheese recipe belongs with its orginator, my mother-in-law Mary. I'm convinced she could get-rich-quick if she quit her day job and started selling her food and baked goods.
Seriously. I feel like I gain 5 pounds every time we visit.
This baked macaroni and cheese recipe is so easy that anyone can make it. The simplicity of its milk + cheese + butter + salt sauce is what makes it so delicious. (And don't omit the onion powder – that's it's "secret" ingredient!)  The use of New York extra sharp cheddar cheese sets this baked macaroni and cheese recipe apart from the rest.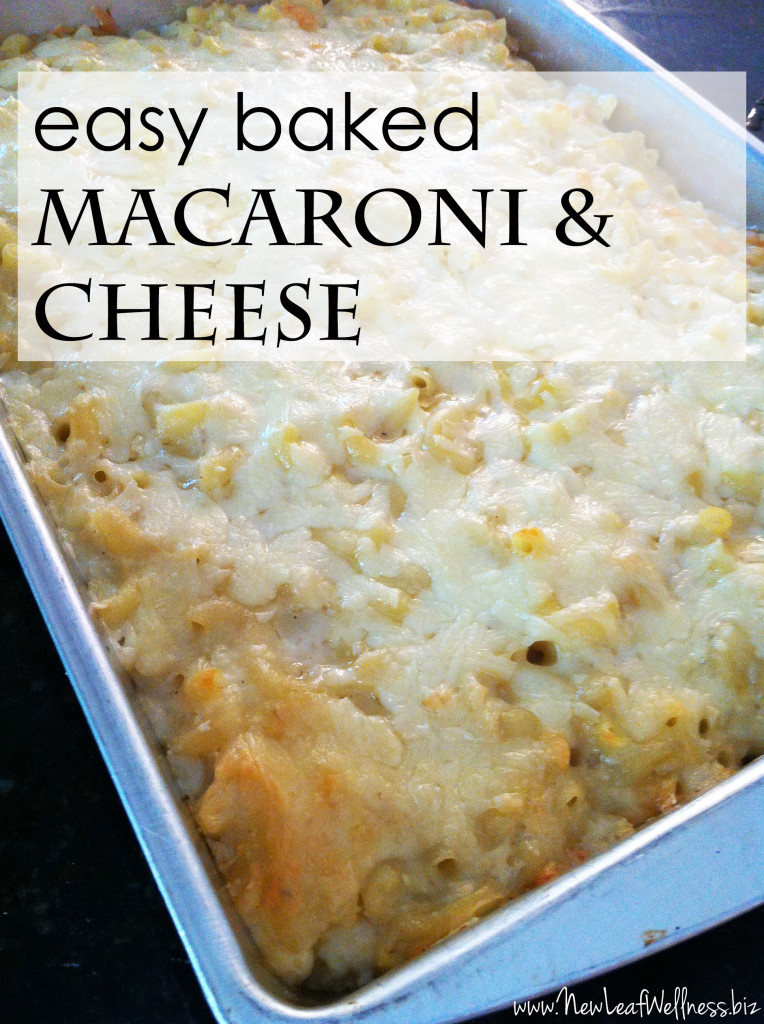 Since this easy baked macaroni and cheese recipe is such a crowd-pleaser, it's become one of my go-to recipes for holidays and birthday parties.
Whenever I make this recipe I always double it and freeze a second pan. For the freezer version, I simply prepare to Step 4, let it cool, then top with remaining cheese and wrap with layers of plastic wrap and foil. (For more detailed info, read my best freezer meal tips for beginners.)
I recently gave frozen pans to my grandparents (after my Grandpap had his pacemaker replaced) and a close friend who is pregnant with her second baby. And you can bet I'll be freezing at least one pan to enjoy after my third baby arrives this fall!
Believe it or not, my daughters and I love this recipe so much that I created a quick lunch-time version that we eat when I'm home during the week. Pair it with a side of peas or steamed broccoli and you're good to go.
Obviously, this easy baked macaroni and cheese recipe is a big hit in our house. I hope you love it as much as we do!
Mary's Easy Baked Macaroni and Cheese Recipe
Ingredients
1lb box of elbow macaroni
1 pound white New York extra sharp cheddar cheese, shredded (about 6 cups – please shred your own for the best result) – divided
1 stick unsalted butter
1/2 cup all-purpose flour
1 teaspoon salt
1/2 teaspoon black pepper
1/2 teaspoon onion powder
4 cups 2% milk (or whatever you have on-hand)
Directions
Pre-heat oven to 350 degrees F.
Cook macaroni according to directions on package.
Start cooking the cheese sauce by melting butter in a non-stick saucepan. (You'll want to use a non-stick pan so the sauce doesn't burn and stick to the bottom of the pan.)  Add flour, salt, and onion powder and stir until it forms a paste. Add milk and bring to a boil. Let boil for one minute or until sauce thickens.
Remove from heat and add 4 cups shredded cheese. Stir until cheese melts. Combine with cooked macaroni.
Pour into 9×13 pan and top with remaining 2 cups of shredded cheese.
Bake for 30 minutes or until top is golden and mac 'n cheese is hot and bubbly.
Looking for more easy recipes that your family will love? Check out these:
Question: What's your favorite meal that your mom, mother-in-law, or grandma makes?
———————
PS Stay up-to-date on what I'm cooking my following me on Pinterest (@kellymcnelis).