This eCookbook will teach you how to prepare healthy freezer meals to cook on your stovetop.  Simply combine the meat and vegetables and freeze for up to three months.  When you're ready to eat, dump the freezer bag into a pot or pan and dinner will be ready in 15 minutes.
This easy method of meal prep inspired by best-selling Complete Freezer Cooking Bundle and I'm excited to add these stovetop recipes to your dinner rotation.  All of these recipes were approved by my family of six and a group of women who like my Facebook page.  You're going to be blown away by these healthy recipes because they're so delicious and easy to make.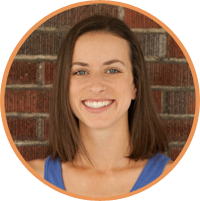 Hi!  I'm Kelly.  I'm a crockpot-loving mom of four living in Pittsburgh, PA.  After trying thousands of freezer meals myself, I worked with my husband, Andy, and cousin, Jill, to package the very best recipes into digital eCookbooks.  Over the course of four years we created healthy freezer recipes with enough different flavors, textures, and cooking methods for every night of the week. These recipes were taste-tested by our families and thousands of happy customers.  I know you're going to love the recipes in this new Stovetop Freezer Meals cookbook eBook.
What's inside this mini cookbook eBook?
7 brand-new healthy recipes that can be frozen without any cooking ahead of time and then cooked on your stovetop
Full nutritional information for every recipe
A printer-friendly format
A super-organized shopping list
Color photos of the cooked meals
Freezer meal labels that can be filled out and printed on regular computer paper or Avery water-resistant stickers
Tips for freezing and cooking the meals safely and efficiently
Full List of Stovetop Freezer Recipes
Chicken and Sweet Potato Hash
Chicken and Sausage Orzo
Hawaiian Chicken and Peppers
Honey Garlic Chicken and Snow Peas
Steak Stir-Fry and Bok Choy
Tex Mex Beef and Cabbage
Tuscan Chicken Tortellini
Every recipe cooks for the first time on your stovetop so it tastes exactly like a freshly prepared meal (just without all the work!).
Over 35,000 people already bought my cookbook eBooks and simplified their lives.
"What really sets your cookbooks aside is the level of organization and planning you put into the meal preparation process. Everything from the grocery lists, nutritional information, and freezer labels was so well thought out I was throughly impressed. It is so nice to come home after working 10-11 hours to have a meal ready to go. I don't have to look up the directions again on the Internet, I don't have to guess the calorie count, I don't have to make a a shopping list. It's all there." -Natalie
"I made the chicken and sausage orzo for my family tonight and it was a HIT! What I really loved is that most of the ingredients are already in my home. The only thing I needed to purchase was the sausage. I keep bagged spinach and chicken breasts in the freezer. Everything else is a pantry staple. Makes it so convenient for a meal which needs thrown together quickly. I will add this to my favorite freezer recipes." -Stefanie
"We already froze the seven recipes in this new cookbook eBook and preparing them was a breeze. It took my husband and I about 1 1/2 hours to prepare them.  We already ate 6/7 of them and they were really good." -Melissa
"We tried the chicken and sweet potato hash recipe…it was delicious and super easy. Very flavorful. We liked it and can't wait to make more. Thanks so much!" -Jennifer
"Thank you so much for your amazing books! These recipes and meal preps have SAVED my life and my time at home with my precious 9 month old! I am a full time working mommy and I just don't have time to cook every night. With this plan and these meals I can have dinner for my husband and me, sometimes I puree some for my daughter, AND we have lunch the next day too! It is also the MOST affordable way I have found to eat organic. My husband and I just finished prepping 11 more meals while our daughter napped. Thank you again!" -Lucy
Are the recipes healthy?
Yes, the recipes are healthy. I try to eat as many vegetables as possible and very limited amounts of processed foods. All of my eCookbooks contain full nutritional information for every recipe inside.
Can I buy the ingredients at my local grocery store?
The recipes are all very simple and you should not have a problem finding the ingredients.  Think meat, vegetables, and pantry staples (like spices and canned tomatoes).
How many servings are in each recipe?
Six.  The serving size is listed in the nutritional information labels in the eCookbook.
How can I increase or decrease the number of servings?
The easiest way to increase the number of servings is to double the recipes.  The easiest way to decrease is to cut the recipes in half.
Does everything really cook together in one pan?  Don't the veggies get soggy and the other ingredients get overcooked?
The recipes are delicious – trust me!  For this specific cookbook, I purposely picked ingredients that could be cooked together in one pan. I made every recipe several times myself, asked my parents to test them, and then asked some of the ladies who like my New Leaf Wellness Facebook Page to try them too. Everyone LOVED them and I am confident that you will too.
How long do the meals last in the freezer?
Most meals will last at least three months in a standard refrigerator/freezer combo.
Do I have to freeze the meals before cooking?
No. You can add them straight to a pan instead.
Do I need to thaw the meals before cooking?  If so, how do I do that?
Yes, thawing the meals helps them cook evenly and quickly. I thaw my stovetop meals overnight in the refrigerator or do a "quick thaw" in water if I forget.
What's an eCookbook?
All of my eCookbooks are PDF eBooks that can be read on computers, tablets, and smartphones.  (No special e-reader required!)  They are also formatted to print on regular 8.5×11″ computer paper so you're welcome to print a copy if you want.
After purchasing your copy of Quick and Easy Stovetop Freezer Meals, you will be automatically redirected to a page where you can download your copy of the eBook.  You will also be emailed a copy to save to your computer.  Thank you for your support!