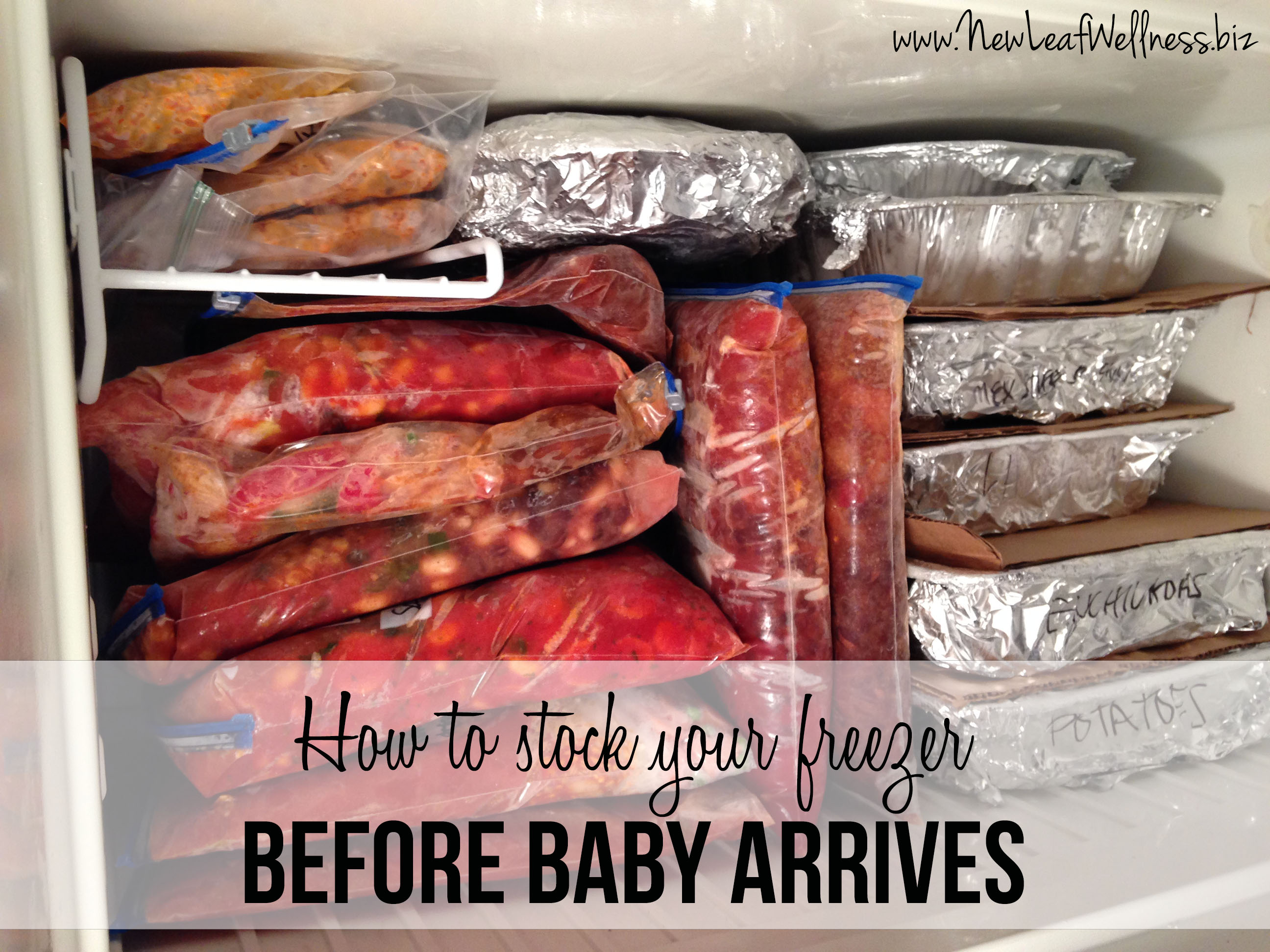 I first got into making freezer meals after my first daughter was born in 2009.  I froze lasagna and mac 'n cheese for upcoming holidays and birthday parties, and they made my life so much less stressful.  Instead of being stuck in the kitchen, I could have fun with my family and friends.
Before my second daughter was born, I froze two week's worth of meals.  It was amazing to have healthy, homemade meals on-hand while I was bonding with the newest member of our family. I was starting to think there was something to these freezer meals for new moms.
Fast-forward to today, and my two freezers were STOCKED 27 freezer meals to enjoy after my third baby's birth.  I'm not talking about leftover soup that was frozen in little plastic bags, either.  Most of my freezer meals will cook for the very first time out of my freezer, so they won't taste like leftovers at all.
Curious how it works?  Read on!
I started with a list of meals that I wanted to freeze.
Mexican Stuffed Shells (from The Way to His Heart)
Breakfast Burritos with egg, sausage, spinach, and cheese
Chicken Pesto Calzones (I added steamed broccoli)
Twice Baked Potatoes (made by my Mother-in-Law)
Slow Cooker Sausage Spinach Tomato Soup
Slow Cooker Cranberry Pork Roast
Slow Cooker Chicken Curry
Slow Cooker Turkey & Black Bean Chili
Slow Cooker Beef, Lime, & Cilantro Chili
Slow Cooker Party Pork
Slow Cooker Stuffed Pepper Soup (from Once a Month Meals)
Slow Cooker Garden Vegetable Soup (I also added ground sausage) (from my 'Easy & Healthy Slow Cooker Recipes' cookbook)
Slow Cooker Chicken Fajitas (from my 'Easy & Healthy Slow Cooker Recipes' cookbook)
Slow Cooker Shredded BBQ Chicken (from my 'Easy & Healthy Slow Cooker Recipes' cookbook)
Slow Cooker Chicken Chili (from my '15-Minute Freezer Recipes' cookbook)
Slow Cooker Beef Roast & Carrots (from my '15-Minute Freezer Recipes' cookbook)
Slow Cooker Vegetable Barley Soup (from my '15-Minute Freezer Recipes' cookbook)
Ham & Veggie Breakfast Strata (from my '15-Minute Freezer Recipes' cookbook)
Chicken Enchiladas (from my '15-Minute Freezer Recipes' cookbook)

My wedding soup and spiced carrot muffins also freeze great, but I had to draw the line somewhere.
Meals #26 and #27 came from a wonderful friend who dropped off containers of her vegetarian chili and chickpea and rice stew.  I'm so excited to try them!
If you're new to freezer cooking, you can find out more about how to convert "normal recipes" to "freezer recipes" in my blog post with freezer meal tips for beginners. (I also include info about labeling, storing, and re-heating freezer meals.)
At 32 weeks preggo, I started freezing meals.
Most freezer meals will last in a standard freezer for up to 3 months so I figured I would be safe to slowly start freezing meals at that point.
I started planning one or two dinners per week from my freezer meal list.
One of my favorite ways to stock my freezer is to double a recipe and make one for dinner and the one for my freezer.
Since I was making the same meal for dinner, it didn't make me much extra time to start building my freezer stash.  And I barely noticed the extra money spent at the grocery store.  (Sometimes I even found better deals when buying in larger quantities.)
My pre-baby freezer meals started with one, lone chicken pot pie.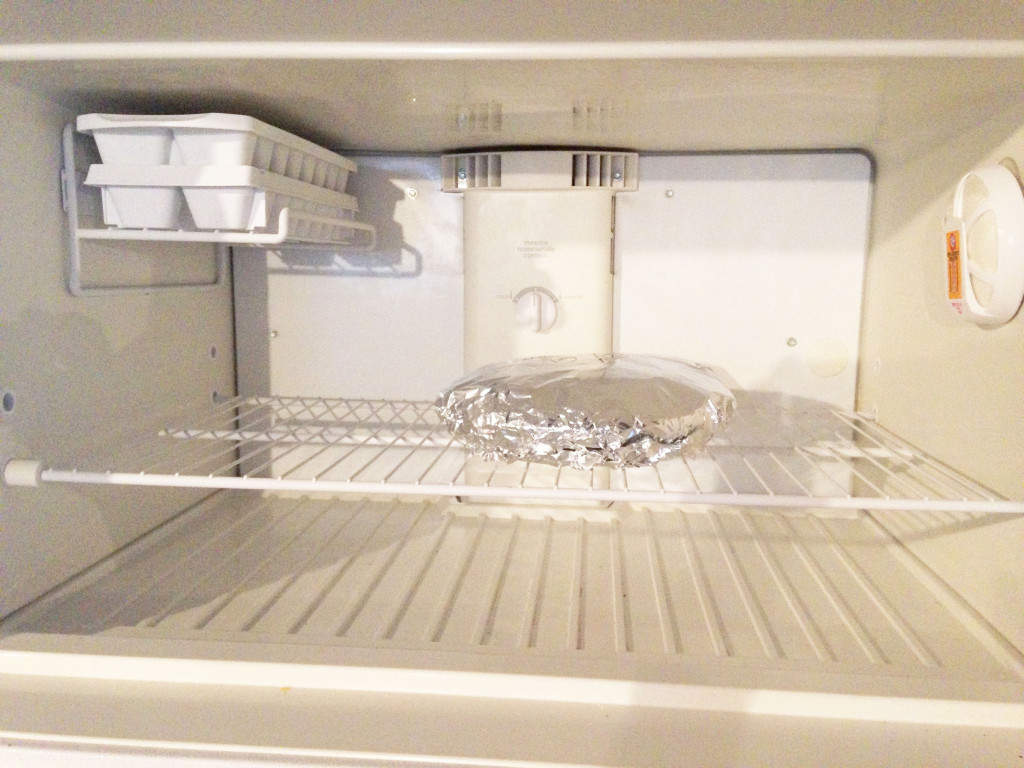 (This is my extra freezer in the basement.  My kitchen freezer isn't nearly this empty!)
Over the next six weeks, I added lasagna roll-ups, chicken pesto calzones, macaroni and cheese, shepherd's pie, and Mexican stuffed shells.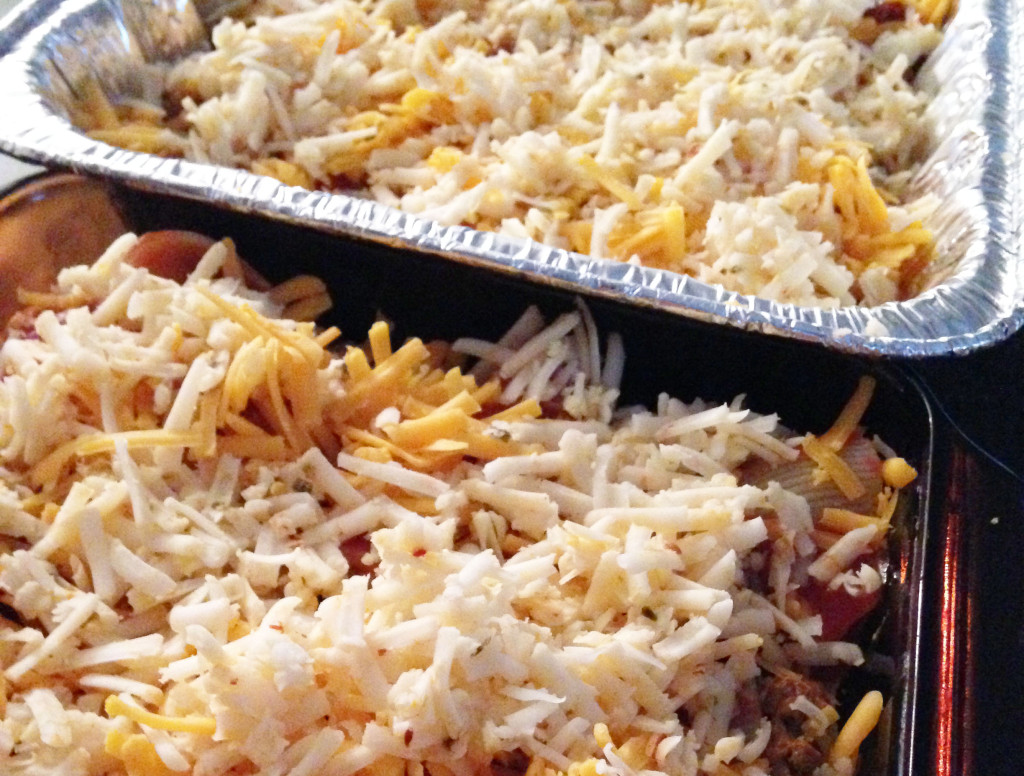 I purposefully picked more time-intensive recipes for these days and saved the "no cook" recipes for a big freezer day with my mom.
At 38 weeks pregnant, I got together on a Saturday with my mom and prepped 16 "no cook" freezer meals.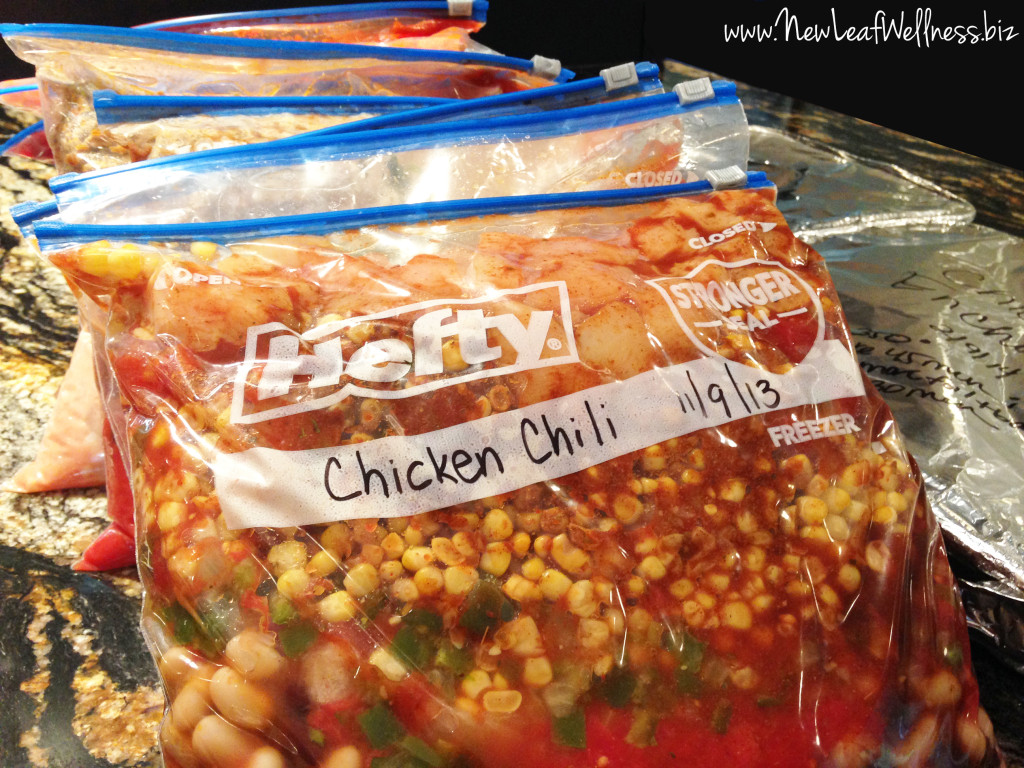 Since they didn't require any cooking ahead of time, we were able to prep them in less than four hours.  (In a previous blog post, I shared more details about our big freezer day and how to do one of your own.)
Since some of my freezer meals aren't complete meals, I stocked up on side dishes for my freezer and pantry.
Frozen rolls and biscuits (To eat with our frozen soups)
Bags of frozen peas and corn (To eat with our frozen beef and pork roasts)
Two heads of broccoli (I chopped and froze them to eat with our frozen beef or pork roasts)
Six bags of microwaveable brown rice (Don't hate me for taking the easy way out)
We'll also need tortillas for the fajitas and chips and cheese to top our chilis, but I figured we can easily pick those up at the grocery store when we're buying fresh fruit, milk, bread, etc.  (It's not like these freezer meals are the only thing that we're going to eat for months with a newborn.  While they'll be the bulk of our dinners, we'll still need to make smaller trips to the grocery store.)
And, just like that, we were set.
I'd love to hear your thoughts!  Have you ever considered stocking your freezer with homemade meals?  Leave a comment below!