I set a new freezer cooking record last week. I made 30 meals in 3 hours! I bought all of the ingredients from Costco for only $279 (and that included all organic meat and organic canned tomatoes). Here's what I made, including my recipes and grocery list so you can do the same.

What's so great about these crockpot freezer meals?
None of them required any cooking ahead of time so I was able to make all 30 in less than 3 hours (that's 6 minutes per meal including clean-up!)
I picked recipes with complementary ingredients and bought what I needed at Costco for only $279 (that works out to only $9.30 per meal or $1.79 per serving)
I picked recipes with my favorite organic ingredients from Costco so we could save money and eat healthy at the same time. Woot!
Here's what I made:
Crockpot Red Pepper Chicken
Crockpot Honey Sesame Chicken (adapted from Damn Delicious)
Crockpot Black Bean Chili
Crockpot Meatball Vegetable Soup
Crockpot Meatballs in Sauce
Crockpot Sweet and Sour Meatballs (inspired by another Costco crockpot freezer meal prep session that I did last year)
Crockpot Italian Chicken
Crockpot Hamburger Veggie Soup
Crockpot Taco Chicken Soup from my Crock'd Slow Cooker Freezer Meals eCookbook and shared for free below
Korean Potstickers Stir Fry (Crockpot or Skillet)
I made three freezer bags of each recipe for a total of 30 meals.  That helped me save a lot of time and money.
Here's how I made all 30 meals in less than 3 hours…
A few days before my prep day, I picked recipes that wouldn't require a lot of chopping or measuring. I printed my Avery sticker freezer labels and my grocery list and then went shopping with my 4-year-old and 5-month-old.  (My other two children were with my husband at the time.)
PREP DAY TIMELINE:
12:00-12:18 Carry food upstairs from basement refrigerator and shelves to kitchen and set up prep stations to fill the bags in an assembly line with fresh produce at the bottom, canned goods, sauces and spices in the middle, and meat at the top. (I store the meat in the refrigerator and then add it to the bags last so it's the first ingredient dumped into the crockpot.)

12:19-12:25 Stick freezer labels on all 30 bags.
12:26-12:40 Dice eight pounds of onions with my food chopper. (This was the worst task so I wanted to get it out of the way.)
12:41-1:09 Make first 3 recipes in an assembly line for a total of 9 meals.
1:10 Start second set of 3 recipes/9 meals (I only made 9 at a time because I only have 10 freezer bag stands.)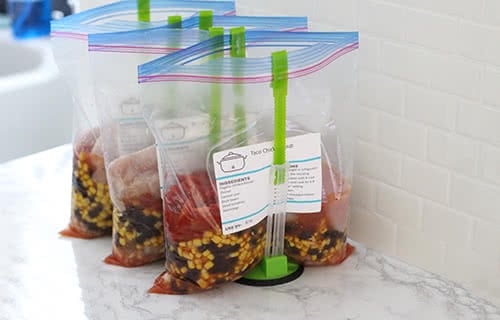 1:31-1:39 Break to nurse my 5-month-old baby.
1:45 Finish second set 3 recipes/9 meals for a total of 18 meals finished. (This was also when I gave my 2-year-old a bag of fruit snacks and my iPhone to keep her busy.)
1:46-2:33 Assemble final 4 recipes/12 meals and clean up kitchen. (I was mostly cleaning as I went, but I had to load the dishwasher, wipe down the counters, sweep the floor, and take out the recycling.)
2:34-2:59 Take tons of photos for this blog post and stack my meals in my basement chest freezer.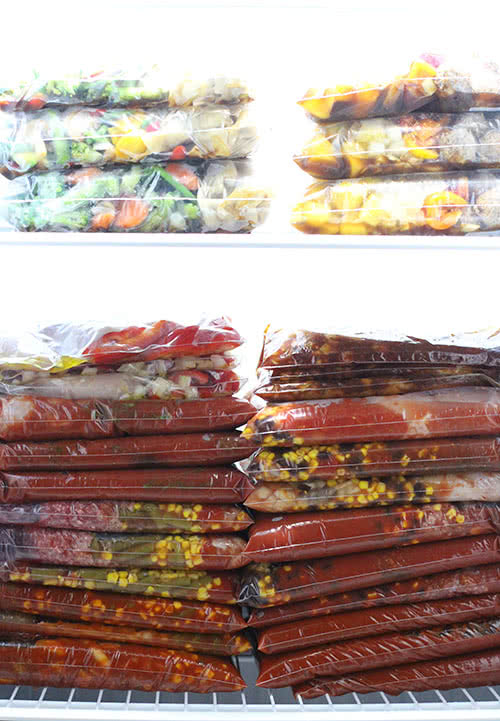 3:00 Collapse on the couch with my baby and ask my husband if he'll make one of the bags of Korean Potstickers Stir Fry for dinner.
Most crockpot freezer meals will last at least three months in a standard freezer so here's how we would eat all 10 recipes in one month:

My friend Kristin from Live Simply taught me about picking a "theme" for each day of the week and it makes meal planning so easy.  All you need to do is add in your favorite oven, skillet, and grill recipes or take those nights off from cooking. The great thing about freezing three bags of each recipe is that you can reuse the calendar again and again too.  Yay!
Thoughts or questions? Please leave a comment below and I'll respond as soon as I can.  This is such an easy and healthy way to make dinner. XO, Kelly