A lot of people have asked me for crockpot freezer meals that are gluten-free and dairy-free, so I decided to make up a batch of my 10 favorites.  I was able to prep all of the meals in an hour and I'm sharing my recipes and shopping list for free below so you can do the same.  Enjoy!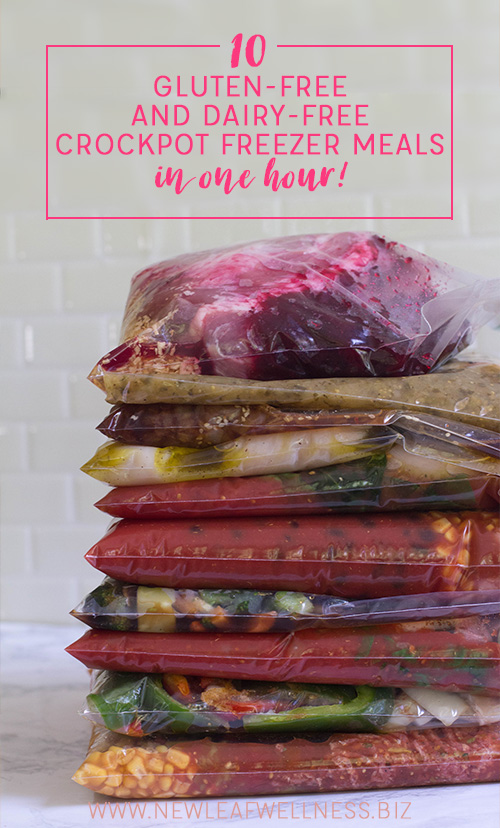 Click here for my free printable recipes and shopping list:
CLICK HERE TO VIEW AND SAVE THE PDF. NO STRINGS ATTACHED.
If you're making these meals for someone with a food allergy, please read every single ingredient's nutritional label to check for gluten and dairy.  Gluten and dairy can be hidden in items that you wouldn't expect, like seasoning mixes, vinegars, soy sauce, broths, etc.
Here's what I made: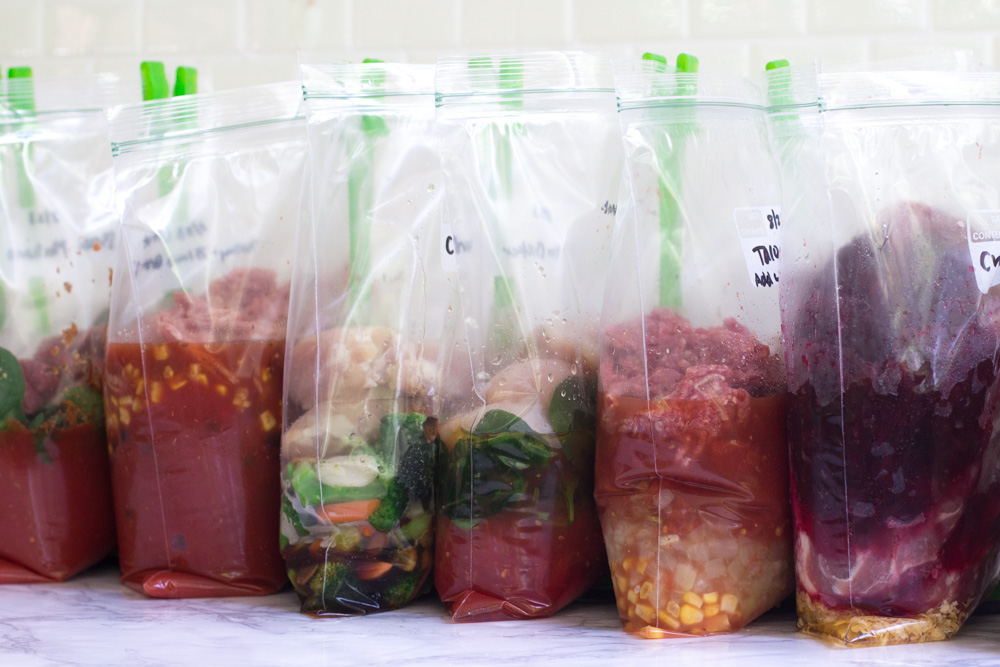 What's so great about these crockpot freezer meals?
They don't require any cooking ahead of time, so I was able to make all 10 in a hour (6 minutes/meal).
I already had the seasonings on-hand, so I only spent $104 on groceries ($10.40 per meal, 6 servings each).
They're healthy, delicious, and naturally gluten-free and dairy-free so everyone will love them!
I've made a lot of crockpot freezer meals, so here are some tips for making this group quickly and painlessly:
Print the recipes and shopping list and go grocery shopping ahead of time.
Make the meals during a time when you won't be interrupted. (I always plan ahead so my husband can be with our four children.)
Use baggy stands, if you can, to hold the bags upright and keep your floor clean. (Not essential, but helpful.)
Fill the bags one-by-one or in an assembly line.
Add the meat last so it's the first ingredient dumped into the crockpot. (I store my meat in the refrigerator while I'm filling all of the bags and then add it right before I'm going to seal them.)
Play music, have fun, and be sure to give yourself a pat on your back when you're done.
Since I've made these recipes before, I also took a couple of shortcuts to save time: I used frozen diced onions (instead of chopping fresh ones) and garlic powder (instead of peeling and mincing fresh garlic cloves). I added this info to the printable recipes/shopping list above so you can do the same.
Crockpot freezer meals will last at least three months in the freezer, so we'll space these out over the next few weeks. Yum!
Thoughts or questions?  Please leave a comment below and I'll respond as soon as I can.  I'd love to hear from you. XO, Kelly