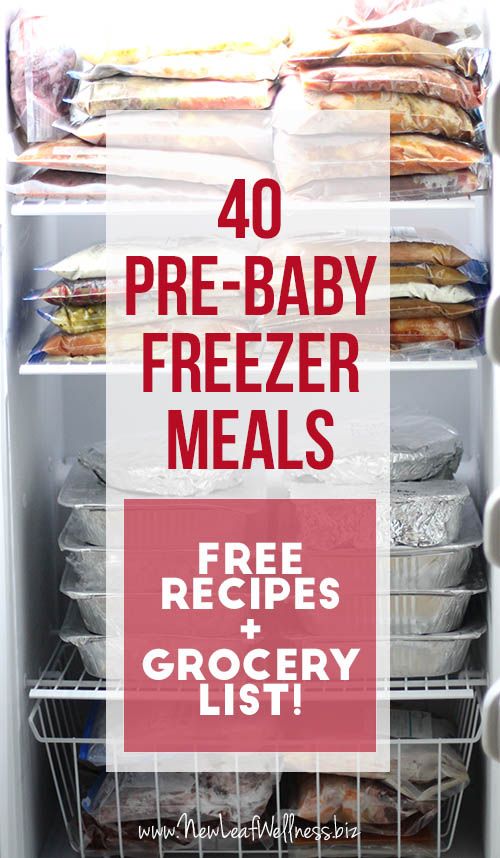 When I was pregnant with my fourth baby I came up with the idea to stock my freezer with 40 homemade meals.  To save time, I focused on recipes that could be frozen without any cooking ahead of time.  I also broke up the meals into three separate "prep sessions" so I didn't have to make all of them at once.
The whole thing was really easy to do and my baby is six weeks old now and we have been eating like KINGS.  (Seriously.  These meals taste so, so good since they cook for the first time out of the freezer.)  I love that we can eat a homemade meal every night without any of the work. These are perfect freezer meals for new moms!
Here's what I made:
Crockpot Beef Chili
Crockpot Mexican Black Bean Chili
Crockpot Sloppy Joe's
Crockpot BBQ Baby Back Ribs
Crockpot Mississippi Roast with Carrots
Crockpot Pot Roast with Carrots and Potatoes
Crockpot Beef Barley Stew (modified slightly from Live Simply)
Crockpot Meatball Minestrone Soup
Two Chicken Pot Pies
Two Brown Sugar Meatloaves (I actually made three because my pans were small)
Two pans of Mexican Stuffed Shells (adapted from The Girl Who Ate Everything)
Two pans of Sausage-Stuffed Mini Peppers
Crockpot Artichoke Chicken
Crockpot Chicken Enchiladas
Crockpot Chicken Spinach Alfredo
Crockpot Cilantro Lime Chicken
Crockpot Cranberry Chicken
Crockpot Honey Bourbon Chicken
Crockpot Honey Garlic Chicken
Crockpot Honey Mustard Chicken
Crockpot Orange Chicken
Crockpot Parmesan-Crusted Chicken
Crockpot Salsa Verde Chicken
Crockpot Thai Chicken
Crockpot White Chicken Chili
Crockpot Zesty BBQ Chicken
(Please note that the 15 chicken crockpot meals that I made were from my Chicken Crockpot Freezer Meals Cookbook eBook, so they are not included in the free printable. I added some free chicken recipes that you can make instead, but I highly recommend the eBook recipes!!)
After each "prep session" I shared what I learned in a blog post:
The best thing about these meals is that they include fresh vegetables and are healthy.  Yay!  They're also delicious. These are freezer meals that I'll make for my family over and over again.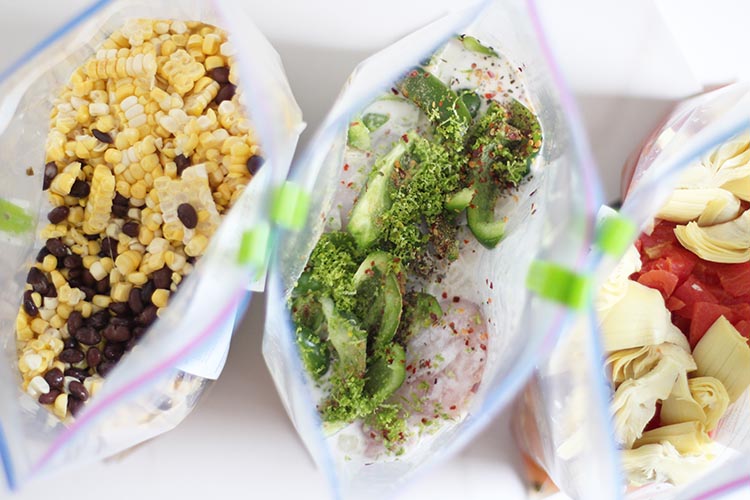 To sum up what I learned making all 40 meals:
Enlist help if you can.  I made most of the meals with my mom and it was so much fun.
Try to make a bunch of the meals at once.  I split the meals into three prep sessions and it was totally doable.  I think filling my freezer slowly with only a meal or two at a time would have been horrible.  Just way too much time and mess.
Spend a little extra money on pre-chopped fresh veggies if you can. I chop all of my fresh vegetables when I make 10 meals or less, but it is *so helpful* to splurge on the pre-chopped one when I'm making more.  It is a huge time-saver.  Substituting frozen veggies for fresh is also great (for example, frozen green beans for fresh).
BUY FROZEN DICED ONIONS INSTEAD OF CHOPPING TONS OF FRESH ONES.  Your eyes and hands will thank me later.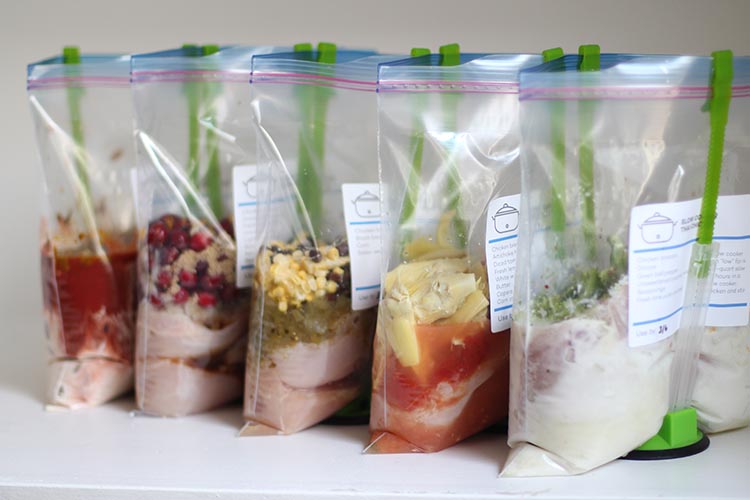 You don't need anything fancy to make these freezer meals, but if you have some extra money to spend, here's what I use and love:
Name-brand freezer bags (like Hefty and Ziplock)
Disposable pans for the casserole-type meals
Avery water-resistant stickers for labeling the bags
An upright freezer (not necessary, but great if you're a freezer fanatic like me)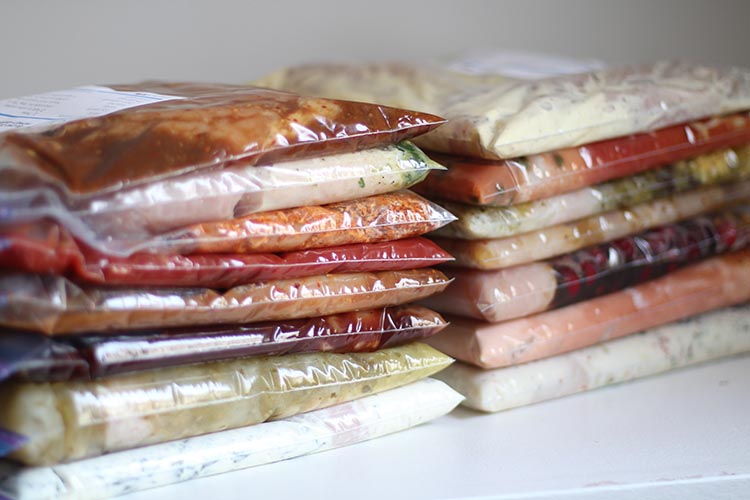 I think that's it!  If you have any questions leave a comment below and I'll respond as soon as I can.  Freezer meals have helped me family so much and I love helping other people make them too. XO, Kelly