Oh my gosh, I'm almost finished writing my cookbook.  It won't come out until next fall, but I'm so excited.  People have been asking me for a print book to complement my cookbook eBooks for YEARS and it's finally going to happen.  Yay!
All I have to do is finish up a couple new vegetarian crockpot recipes to complement the chicken and beef ones and then review the formatting.  Working on vegetarian freezer recipes got me thinking about all of the awesome vegetarian meals that I've made over the years, and I decided to make a list of my 31 faves that you can try today.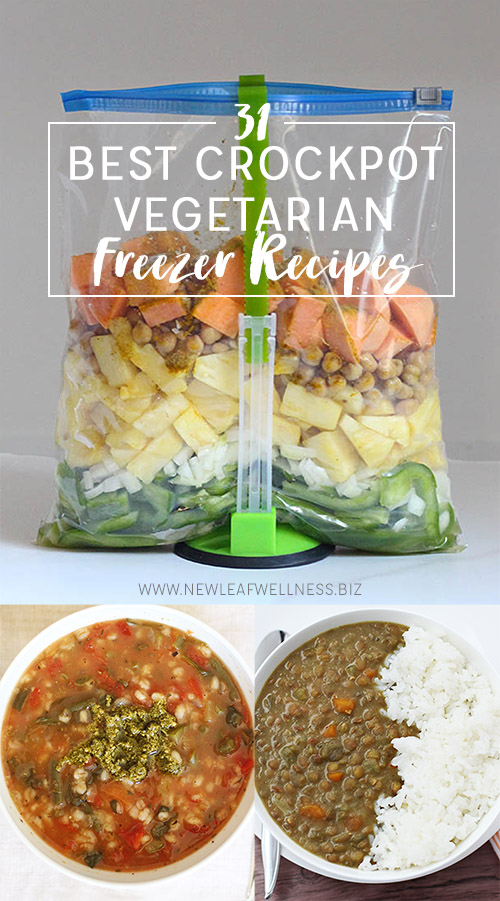 What's so great about these vegetarian crockpot recipes?
They're healthy and delicious! (I tried almost all of them myself.)
They're budget-friendly.
They can be frozen without any cooking ahead of time, so they're very quick and easy to make.
Yes, you read that right.  You can either cook these meals fresh or assemble and freeze them to cook later. Just add all of the ingredients to a gallon-sized freezer bag and freeze for up to three months.  When you're ready to cook, thaw overnight in the refrigerator (or in the morning in water).  Add to your crockpot and dinner is done.
Enjoy, Friends!
31 Best Vegetarian Crockpot Freezer Recipes
Click the links above for the recipes.  If the recipe doesn't contain freezer directions, simply combine all of the ingredients in a gallon-sized plastic freezer bag, remove as much air as possible, and freeze for up to three months.  When you're ready to eat, thaw the bag in your refrigerator overnight or in water in the morning.  Cook according to the recipe's instructions and dig in.
Thoughts or questions?  Leave a comment below and I'll respond as soon as I can.  I'd love to hear from you.  xoxo, Kelly