We finally settled into a good fall routine.  My oldest daughter is thriving at school, my middle two are loving homeschool (and so am I!), and my baby is a happy little guy.  I'm even cooking dinner six nights a week with the help of my crockpot.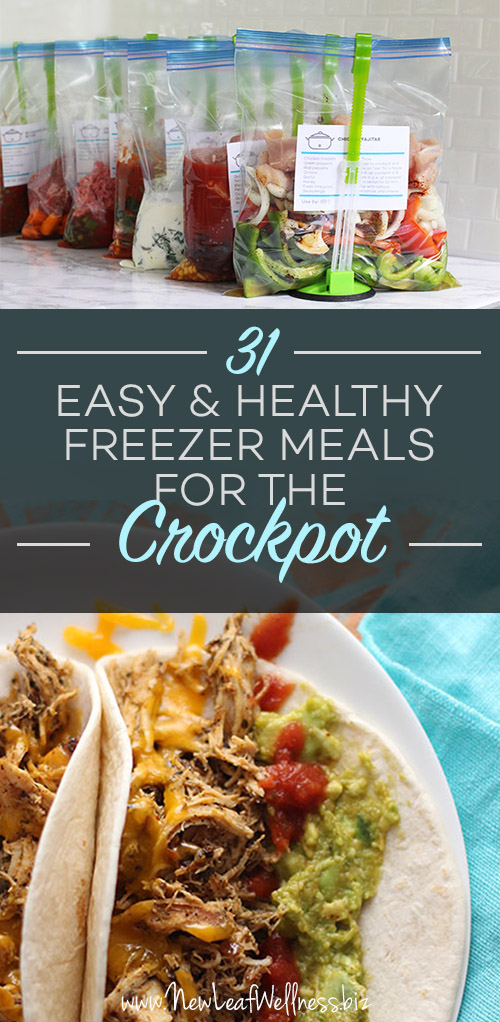 I like to set aside an hour on Sunday to make 5-10 crockpot freezer meals at a time.  The meals don't require any cooking before freezing, so they're very easy and quick to prep.  Simply combine the meat, veggies, sauces in spices in freezer bags and freeze for later.  Then all I have to do is dump a bag and go about my business until my house smells amazing.
Since this is such a busy time of year, I decided to make a list of our favorite crockpot recipes that are super easy to make.  Things like chicken breasts plus a bottle of BBQ sauce and a jar of peach jam, but way healthier.  And more delicious.
Here are our 31 easy and healthy favorites.  Friends, most of them are made with 10 ingredients or less.   Dig in!
31 Easy and Healthy Freezer Meals for the Crockpot
I linked to the original recipes above, but since I've made hundreds of crockpot freezer meals myself (maybe even thousands!), I typed up exactly how I would freeze and cook each one in this printable pdf:
CLICK HERE FOR THE FREE RECIPES AND A FULL GROCERY LIST
Oh, and I've been getting a lot of questions about chicken drying out in the crockpot.  I only cook chicken breasts for 3-4 hours in my favorite 6-quart crockpot.  It has a programmable timer so I set it in the morning and let it switch to warm when it's done cooking.  It sits on warm for hours, but that doesn't seem to make a difference.  Works perfectly.
Questions or comments?  Leave a comment below and I'll respond ASAP.  I'd love to hear from you.