Do you want to eat healthy dinners without having to slave away in the kitchen?  Healthy crockpot freezer meals are your answer!!  Here are 31 delicious recipes that you can eat every day of the month.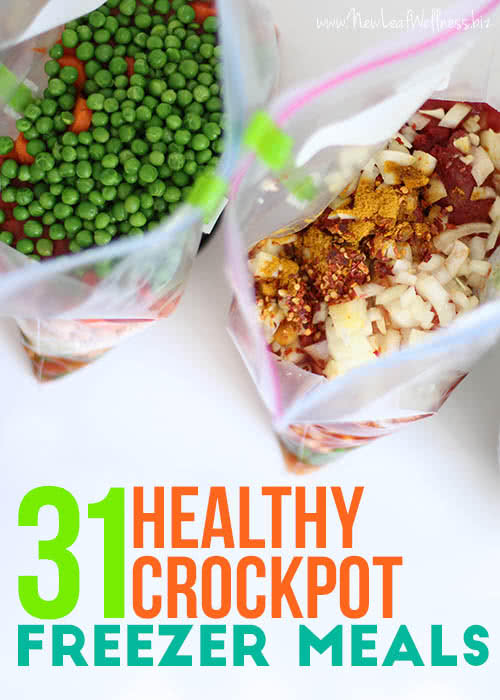 First, let me explain what I consider to be "healthy."  The recipes below contain:
Vegetables
As little processed foods as possible
Simple ingredients that your family will love
They do NOT contain:
Condensed soups
Added sugar
Expensive ingredients or anything that is hard to find
I'm a big fan of eating everything in moderation, but if I can feed my family healthier options that still taste great, everyone wins.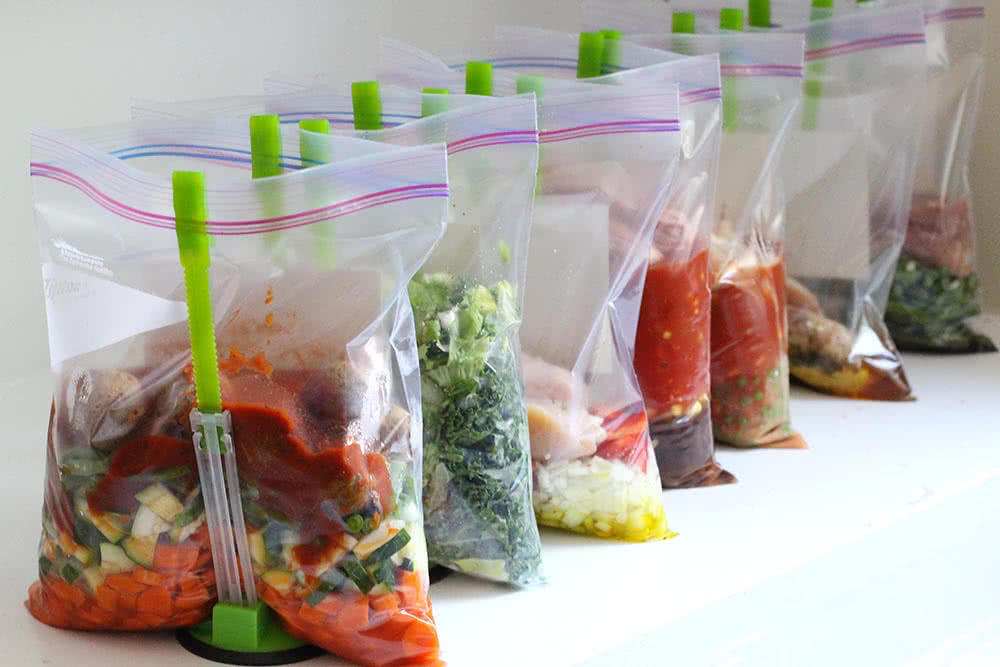 The best part is that these crockpot recipes can be frozen without any cooking ahead of time.  I've settled into a routine where I spend an hour assembling meals on the weekend, and that's all the cooking that I need to do for the week.

If you're nervous about mixing raw meat and vegetables, don't be.  I did a lot of research when I was writing my No Cook Freezer Meals cookbook and, according to the USDA Food Safety and Inspection Service, freezing to 0 °F inactivates any microbes present in food (such as bacteria, yeasts, and molds).  That means freezing raw meat with vegetables, sauces, and spices is perfectly safe. (You can find more info on food safety here.)
Here are 31 healthy crockpot freezer recipes that I've tried myself.  They're all absolutely delicious, nutritious, and easy to make.
31 Healthy Crockpot Freezer Meals
If the recipe doesn't contain freezer directions, simply combine all of the ingredients in a gallon-sized plastic freezer bag, remove as much air as possible, and freeze for up to three months.  (I used to brown my ground meat before freezing, but now I even freeze those meals raw.)
When you're ready to eat, thaw the bag in your refrigerator overnight or in a bowl of cold water.  Cook according to the recipes instructions and add 1-2 hours if the meal isn't totally thawed.  Enjoy!
Thoughts or questions?  Please leave a comment below.  I'd love to hear from you.