I made three bags of this Crockpot Tomato Turkey and Vegetable Soup during a freezer meal prep session after shopping at Costco.  After tasting it, I knew it needed a blog post all of its own.  It was delicious!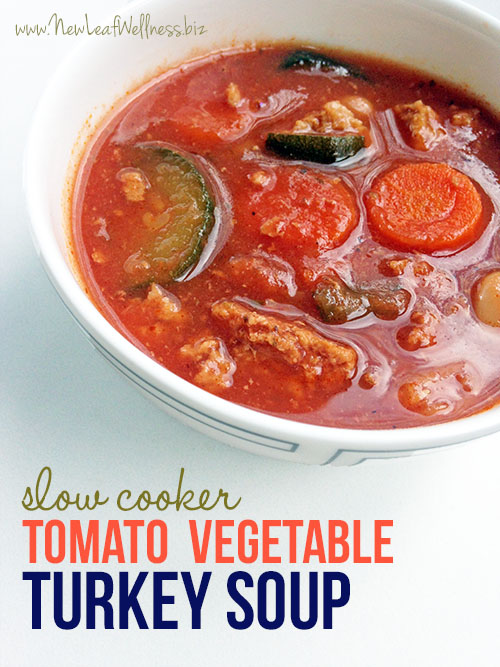 I don't think I've ever had ground turkey that flavorful before.  If I didn't make it myself, I would have argued that it was a different meat altogether.
You can make this soup fresh or frozen, so I'm including directions for both below.  Your whole family is going to love this simple, delicious, and healthy dish!
Crockpot Tomato Turkey and Vegetable Soup
Yields: Six servings of soup
Ingredients
3 large carrots, peeled and sliced
1 lb zucchini, cut into bite-sized pieces (3-4 small zucchinis)
1 small onion, diced (about one cup)
1 can of cannellini beans (15oz), drained and rinsed
28oz can of tomato sauce (I used two 15oz cans)
1 tablespoon extra virgin olive oil
1 teaspoon of jarred minced garlic (You can sub 2 minced fresh cloves or 1/4 teaspoon garlic powder)
1 tablespoon Italian seasonings
1/2 teaspoon salt
1/4 teaspoon pepper
4 teaspoons chicken bullion granules
1 pound ground turkey
4 cups of water *not needed until day of cooking
Directions
Combine all ingredients in crockpot and cook on "low" setting for 8 hours, or until carrots are soft.
Break apart turkey, stir, and serve.
To Freeze
Combine all ingredients (except water) in a gallon-sized plastic freezer bags (affilliate link).  Add the ground turkey to the bag last so it's the first ingredient poured into your crockpot.  Remove as much air from the bag as possible, seal, and lay flat in your freezer.  When ready to cook, thaw overnight in the refrigerator or in a bowl of water.  Add to crockpot with water and cook on low for 8 hours or until carrots are soft.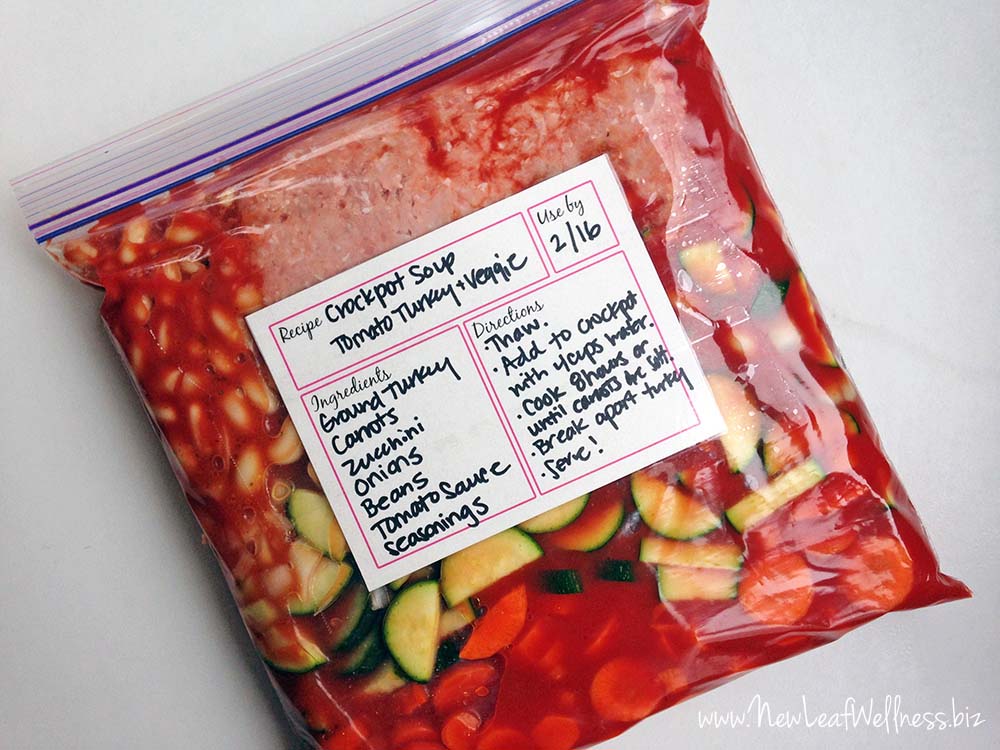 Thoughts or questions?  Leave a comment below.  I'd love to hear from you!
---
PS For more easy freezer recipes, check out my No Cook Freezer Meals cookbook bundle.