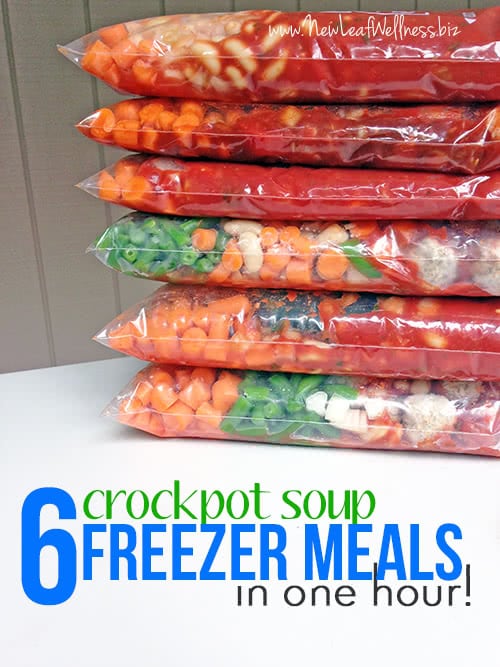 Fall weather finally made its way to Pittsburgh, so I stocked our freezer with six batches of our favorite crockpot soups. All I had to do was prep the veggies and combine the ingredients in gallon-sized plastic freezer bags.  No cooking required!
Here's what I made…
CLICK HERE FOR THE FREE RECIPES AND GROCERY LIST
I had a few of the ingredients on-hand and bought the others at Aldi for $45.57.  I bought all of the organic ingredients that were available.

If you're new to freezer cooking, you're going to get hooked.  There's simply no way easier to feed your family homemade meals on a consistent basis.
What's so great about these crockpot soup freezer meals?
They're healthy recipes that your whole family will love.
You can take advantage of sales and buy the ingredients in bulk.
You can prep six dinners in an hour.  (Actually, it took me 57 minutes, but who's counting?!)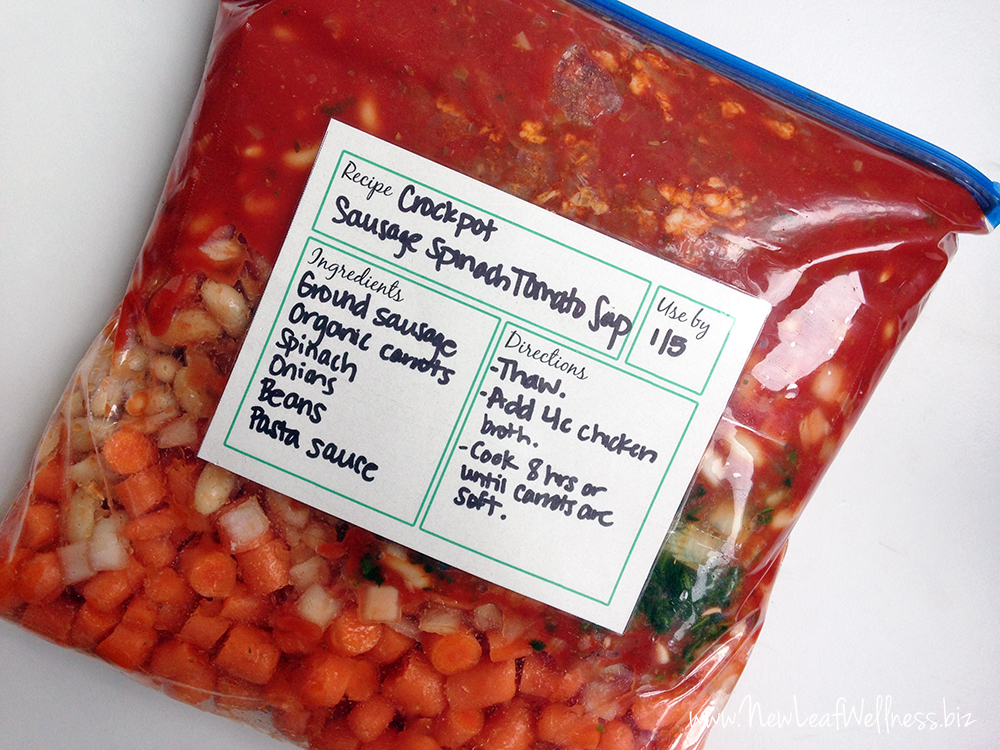 I froze all of my crockpot soups raw, so they were very easy to prep and won't taste like leftovers at all.
I know some people aren't used to mixing raw meat with vegetables, so I did a lot of research when I was writing my No Cook Freezer Meals cookbook.  According to the USDA Food Safety and Inspection Service, freezing to 0 °F inactivates any microbes present in food (such as bacteria, yeasts, and molds).  That means freezing raw meat with vegetables, sauces, and spices is perfectly safe.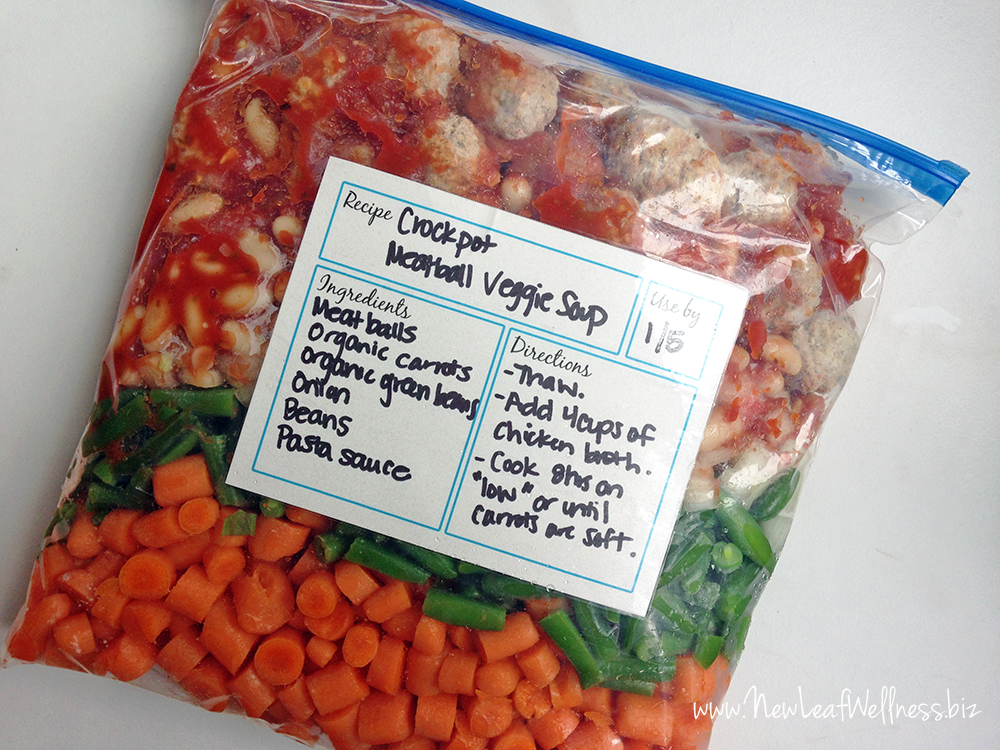 Here are the "shortcuts" that I used during this freezer meal prep session to save time…
I bought organic baby carrots so I wouldn't have to peel them.
I used a food chopper (affiliate link) to dice my onions.
I did all of my grocery shopping ahead of time.
I filled out my freezer meal labels ahead of time. (This forced me to take my time and write legibly.)
I printed my recipes so I didn't have search for them on my phone/computer/tablet. (So helpful!)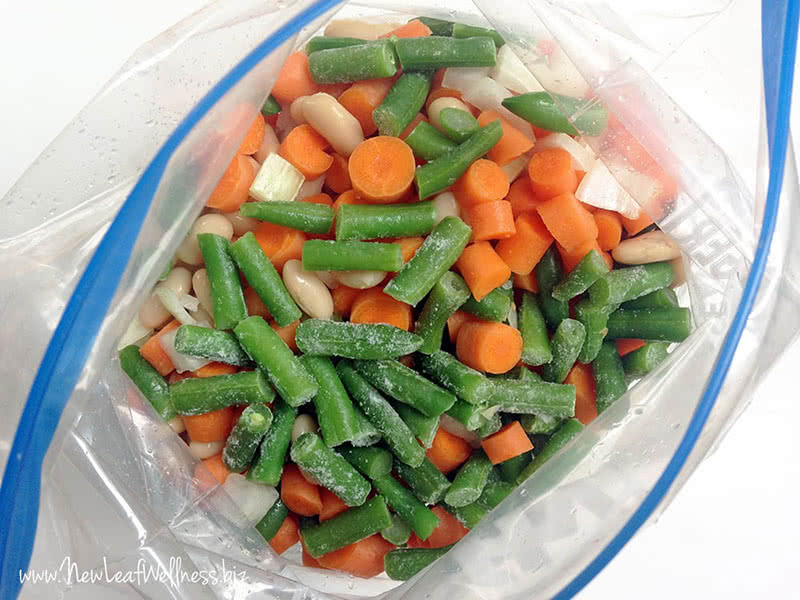 Lastly, here's how I organized my freezer meal prep day…
I got out all of the necessary ingredients.
I prepped the veggies first.  (My baby loves cooked carrots right now, so I kept looking at her for motivation while I was chopping tons and tons of carrots.)
Then, I opened all of the cans and worked in an assembly line to fill the bags with their vegetables, beans, sauces and spices.
I added the meat to the freezer bags last so it will be the first ingredient poured into my crockpot.
I removed as much air as I could from the bags and sealed them.  (You can watch me demonstrate in a video in this freezer meal 101 blog post.)
I thaw my freezer meals in my refrigerator overnight and then let my crockpot do the rest of the work.  Most freezer meals will last in a standard freezer for up to three months, so we have plenty of time to eat them. (Although, it's always hard for us to wait to dig in!)
Thoughts or questions?  Leave a comment below.  I'd love to hear from you!
---
P.S. Here's an update from my ground beef freezer prep session: Aldi's freezer bags were a flop!  One ripped when I was sealing it and the zipper on another bag popped off into my crockpot and I cooked it with my soup.  (Whoops!)  Needless to say, I'm back to using my old reliable freezer bags (affiliate link).