Are you looking for easy and delicious Keto crockpot recipes?  You've come to the right place!  After trying thousands of crockpot freezer recipes myself, I decided to make a list of my favorite crockpot freezer meals that work with the Keto diet.   I even put together a pdf with the printable recipes and a full shopping list that you can download for free below.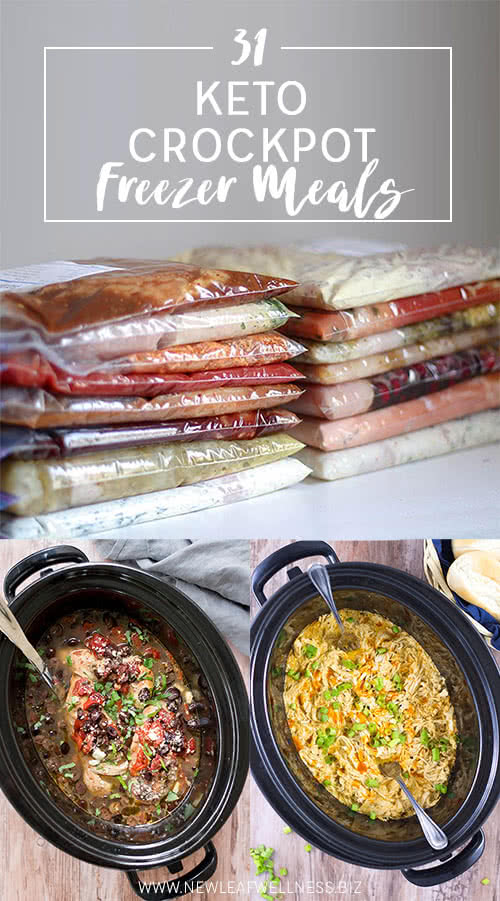 CLICK HERE FOR THE FREE PRINTABLE RECIPES, SHOPPING LIST, AND KETO-APPROVED SIDE DISHES. (NO STRINGS ATTACHED.)
31 Keto Crockpot Freezer Meals
Crack Chicken (Yum)
Spinach and Feta Quiche from Simply Stacie
Chicken Tikka Masala (Omit the honey)
Salsa Verde Shredded Pork
Queso Chicken Chili adapted from Pinch of Yum
Mississippi Roast (Yum!)
Mediterranean Chicken (One word: Olives!)
Creamy Chicken Stew from Gal on a Mission
Steak Bites from Stockpiling Moms
Curried Butternut Squash Soup (Sub squash for sweet potatoes in this recipe)
Chicken Alfredo Spaghetti Squash from 365 of Crockpot
Broccoli Ginger Turmeric Soup from Sweet Peas and Saffron
Peanut Lime Chicken (Crockpot or Stovetop)
Banana Pepper Shredded Beef (Omit the bun)
Cheesy Cauliflower Soup from Recipes that Crock!
Garlic Butter Chicken with Cream Cheese Sauce adapted from Our Small Hours
Easy Meatballs from Grass Fed Girl
Zucchini Lasagna with Meat Sauce (Freeze in a pan for the oven)
Mushroom Spinach Stroganoff (I love this recipe. Add steak for more protein.)
Indian Butter Chicken from my freezer cookbook eBooks and shared for free in the pdf
CLICK HERE FOR THE FREE PRINTABLE RECIPES, SHOPPING LIST, AND KETO-APPROVED SIDE DISHES. (NO STRINGS ATTACHED.)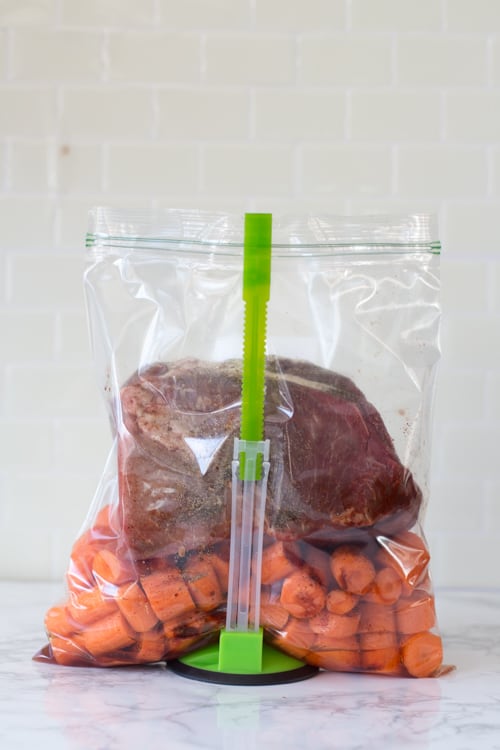 What's so great about these Keto crockpot recipes?
There's no cooking required ahead of time so they're super easy to make.  Simply combine the ingredients in plastic freezer bags and freeze for up to three months.
They cook for the first time out of the freezer and don't taste like leftovers at all.  Yay!
You can save money by buying the ingredients in bulk.
If you're looking for a shortcut on the Keto diet, you're going to love these recipes because everything is made in your CROCKPOT.  The recipes are delicious and basically fool-proof.  I've made thousands of crockpot freezer meals myself, so I know you're going to love these recipes.
The only thing that I want to stress is that you'll need to make sure each recipe fits your macros. I tried to only include recipes that are higher in fat and protein and low in carbs, but it's your call if they're right for you.

If you're new to crockpot freezer meals, here are answers to some frequently asked questions:
Is it really safe to freeze raw meat with vegetables?
Combining raw meat and veggies is perfectly safe in the freezer.  The USDA Food Safety and Inspection Service explains that freezing food inactivates any microbes that are present in it (like bacteria, yeasts, and molds).  Then you cook the food before eating it.
How long do meals last in the freezer?
Most meals will last at least three months in a standard freezer.
Do the meals need to be thawed before cooking them? 
No, but it's hard to fit a frozen square block in an oval crockpot. I usually thaw my meals in water in the morning.  They're not 100% thawed, but I can break them apart and get all the spices and sauce off the freezer bag.
How many servings are in each meal?
It varies per recipe, but the average is 4-6.  I detailed the number of servings in each recipe in the printable pdf above.
More questions or thoughts?  Please leave a comment below and I'll respond as soon as I can. I'd love to hear from you.  XOXO, Kelly