Eight crockpot freezer meals.  35 minutes.  $60.  Wahoo!  Here's how I made it happen, including my recipes and grocery list.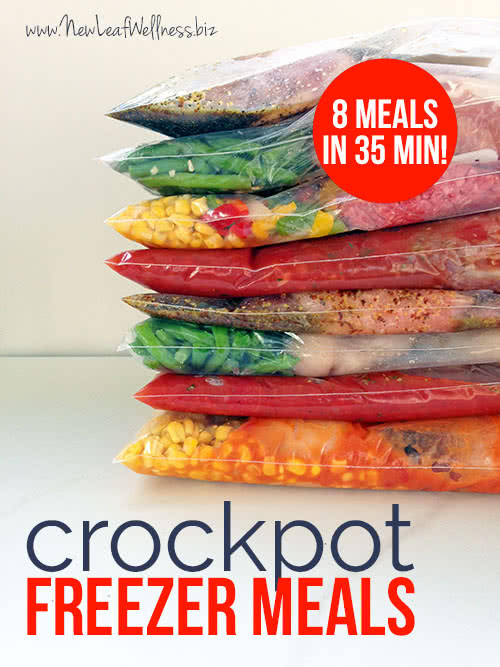 Normally, I double my crockpot freezer meals and make two of each at a time.  This strategy saves me a ton of time and money.  I can buy the ingredients in bulk and use the same ingredient measurements for two freezer bags at a time.
Since freezer meals last at least three months in the freezer, we have no problem eating the same meal twice.  In fact, we don't mind eating the same meal every 3-4 weeks.
The more freezer meals I make, the smarter I get though.  Last week, a light bulb went off and I decided to focus on my favorite recipes that work with different types of meat.  (For example, my favorite chili recipe that tastes good with chicken and beef.).  That way I could still save time and money, but make different meals in the process.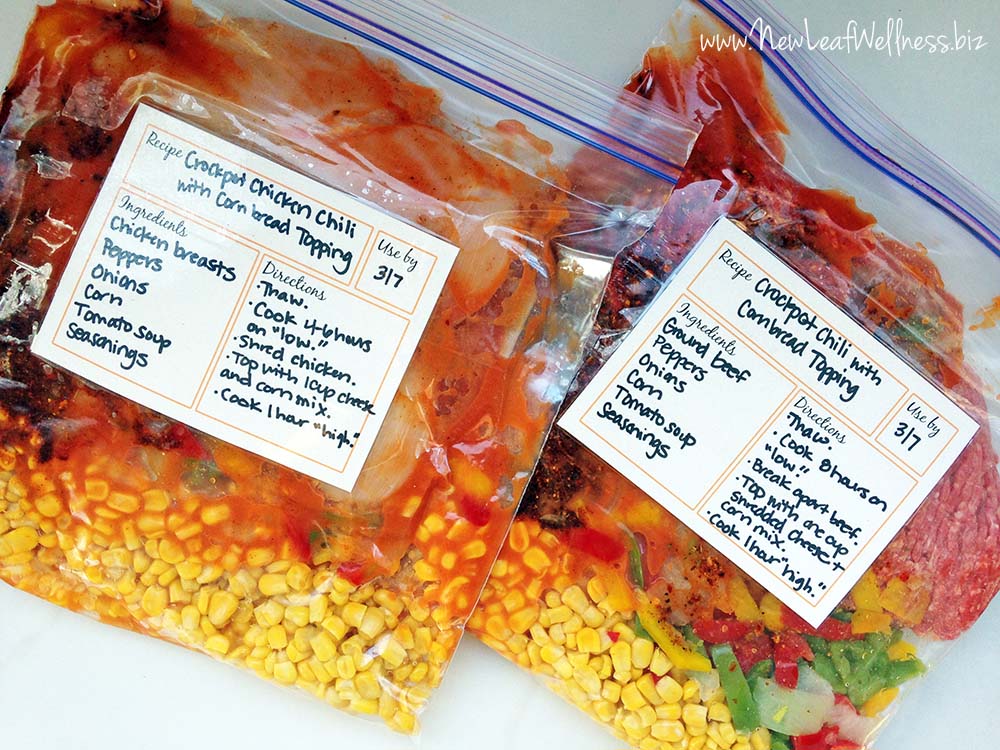 Awesome idea, right?!
Here's what I made…
CLICK HERE FOR THE FREE RECIPES AND GROCERY LIST
I added all of the ingredients raw to gallon-sized plastic freezer bags and froze them.  It only took me 35 minutes to assemble them, and now we're set with eight meals for busy weeknights.  Yay!

I'm planning to serve them with simple side dishes, like steamed broccoli, microwave rice, and salads, so dinnertime will be a breeze.
I'm really excited about these freezer crockpot recipes because I think they would taste great with any meat.  You can make them with whatever kind of meat your family prefers or whatever is on sale at the grocery store.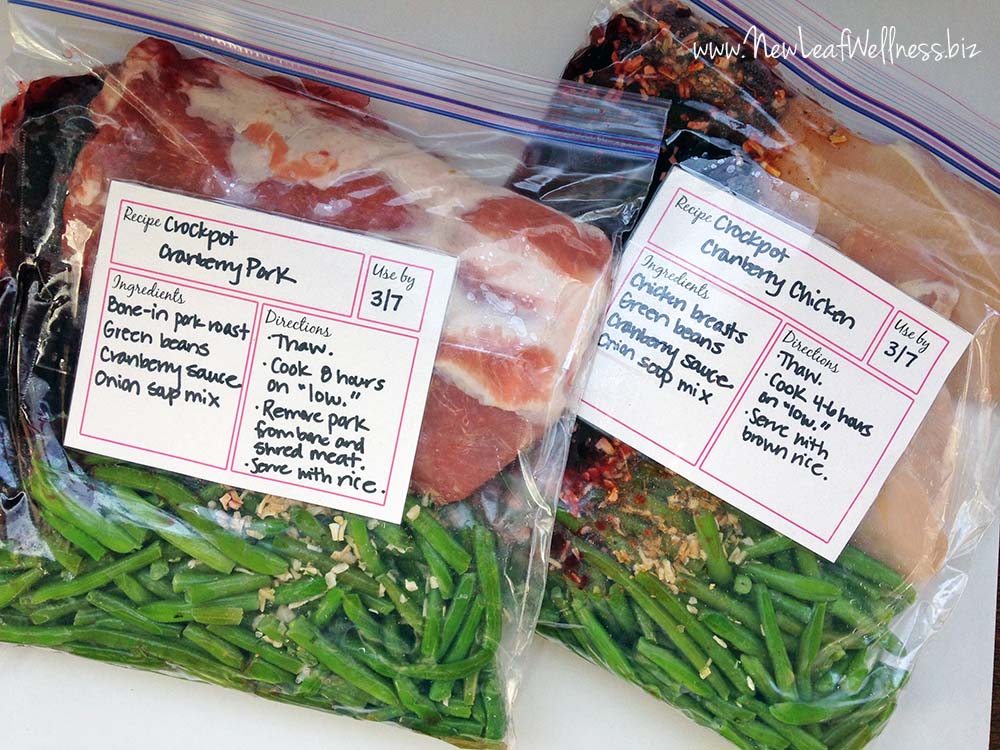 I bought all of the ingredients from a local grocery store for $60.  I thought that was a pretty good deal for healthy, homemade meals and it's definitely a lot cheaper than take-out or other "convenience foods."  I got lucky and most of the meats were BOGO or at least on sale.  Everything else I bought was organic or full price.  (I didn't use any coupons.)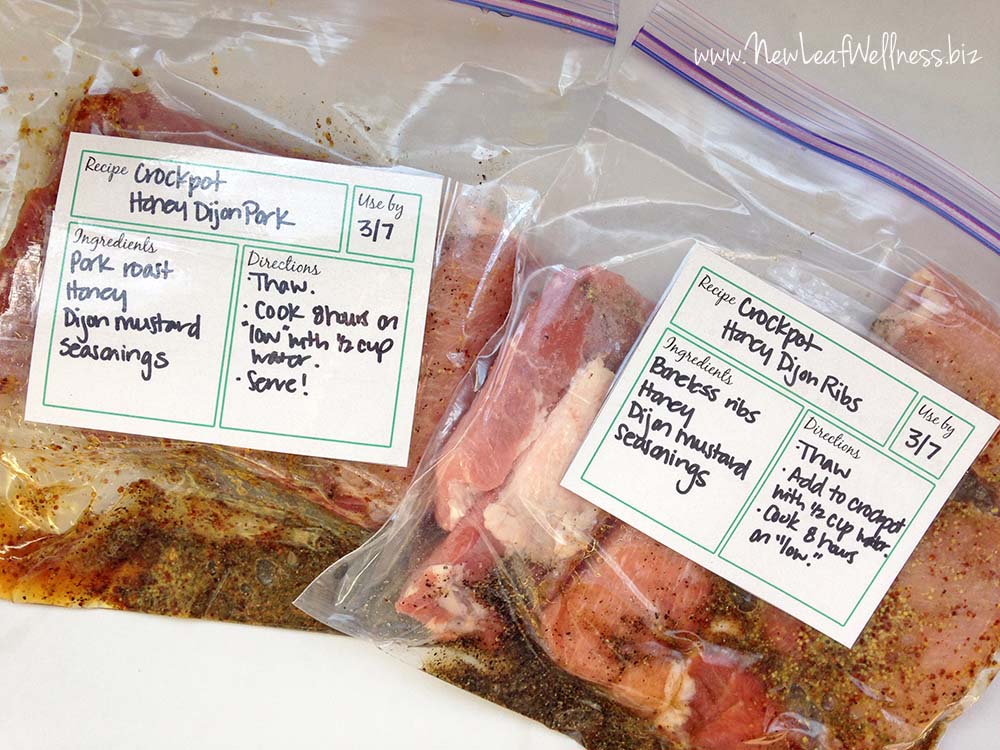 The last time that I prepped eight healthy crockpot freezer meals, it took me 75 minutes to make them, so I was SHOCKED that I was able to finish in 35 minutes this time (including clean-up!).  I think these meals took less time because I wrote out my freezer meal labels ahead of time and used frozen vegetables instead of fresh.  I also used homemade spice mixes that I already had on-hand.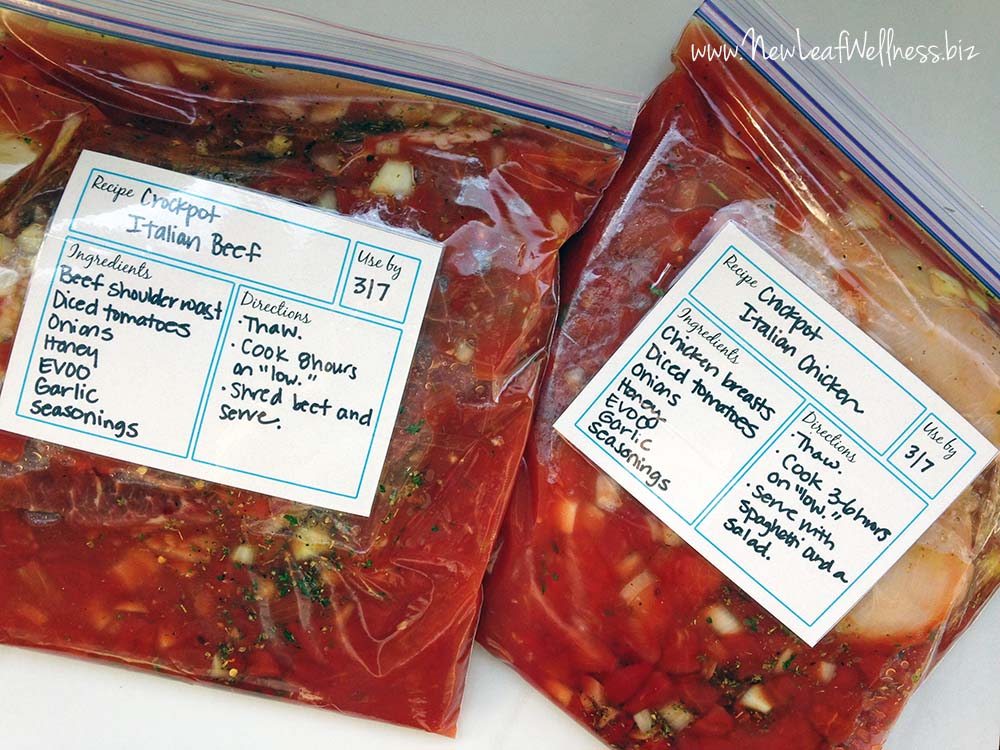 If you've never made freezer meals before, the grocery list and recipes above with walk you through the process step-by-step.  It's so easy – I promise!  You can also check out my $5 freezer meal blog post and my No Cook Freezer Meals cookbook for more info.
Thoughts or questions?  Leave a comment below.  I'd love to hear from you.