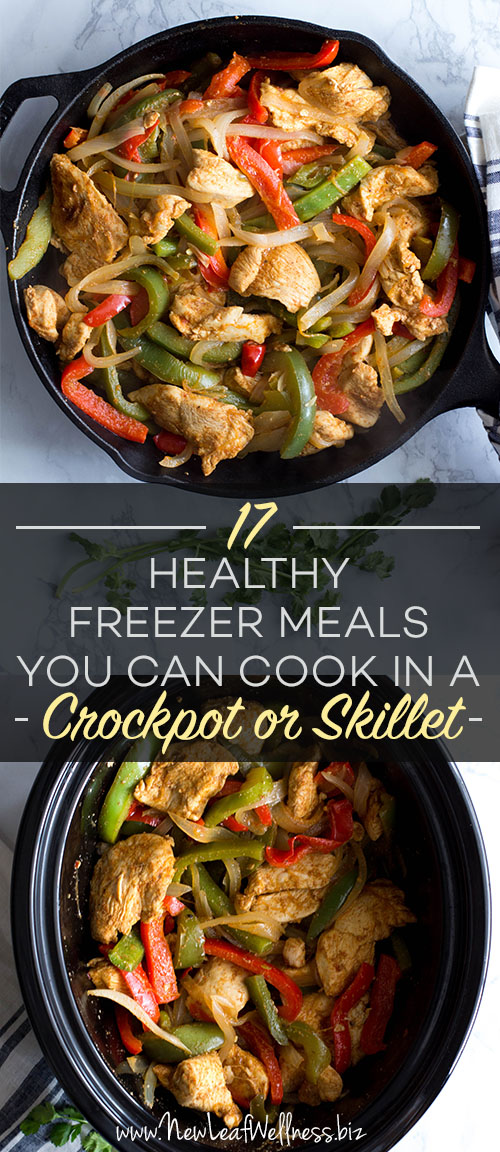 I really love my crockpot, but sometimes I'm in a pinch for lunch or dinner and need something that I can cook in a pan on my stovetop. I don't keep a lot extra meat or veggies on-hand, so lately I've been grabbing healthy freezer meals that I prepped for my crockpot and cooking them in a skillet, pan, or pot instead. For example, these Asian Chicken Lettuce Wraps are great in the crock, but cook equally well in 15 minutes in a pan.  Yay!
What kind of crockpot freezer meals can be made on the stovetop?
Pretty much any recipe made with ground meat (ground beef, turkey, chicken, or sausage).
Recipes with sliced chicken or beef roast (because cooking a whole pot roast in a pan doesn't make sense).
Any kind of recipe that is commonly cooked on the stovetop (for example, stir fries, chili, and soup).
Since this is such a busy time of year, I decided to make a list of recipes that we love that can be cooked both ways.  None of the recipes require any cooking before freezing, so they're very quick and easy to prep.  I'm going to set aside an hour next weekend to make 5-7 at once and stock our freezer with healthy meals for weeks to come.  Yippee!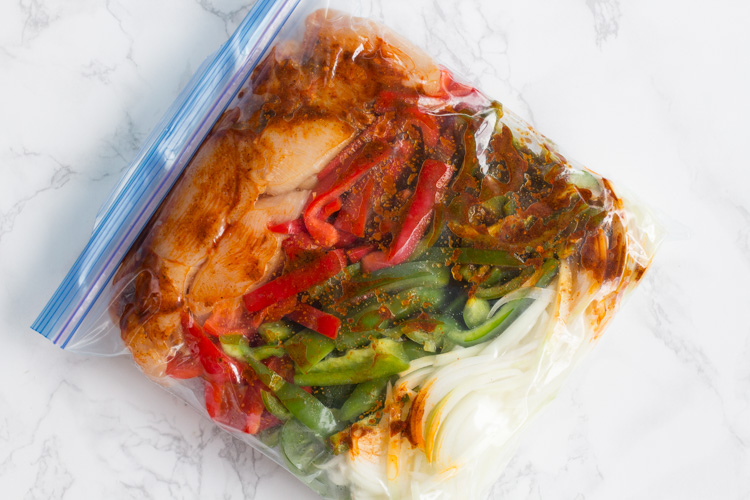 If you know you're a stovetop person, I wrote a mini eCookbook with seven freezer meals that can be frozen without any cooking ahead of time and then cooked in a pot, pan, or skillet.  They include a lot of ingredients that won't work in the crockpot (like pasta!), so they're great to have on-hand for variation.  Plus, the printable grocery list, freezer labels, and nutritional info can't be beat.

17 Healthy Freezer Meals That Can Be Cooked in a Crockpot or Skillet
If you're motivated to prep and freeze all 17 at once, I typed up exactly how to assemble and cook each one in a crockpot or pan in a printable pdf (I even included a full grocery list!):
CLICK HERE FOR THE RECIPES AND GROCERY LIST. NO STRINGS ATTACHED.
I included detailed cooking instructions in the pdf above, but pretty much all you need to do is dump the bag into a big pan and bring it to a boil.  Cook for 10-15 minutes, stirring occastionally, and dinner is done.  (I recommend thawing the freezer bag in water so it's not a solid block in the pan.)
These would be great meals to have on-hand during the holidays, so you can have dinner ready at a moment's notice.  Enjoy, Friends!
Thoughts or questions?  Please leave a comment below and I'll respond asap.  XO, Kelly