You are going to love this recipe for "freezer-friendly" bean and cheese burritos.  They don't require any cooking before freezing so prep work is a breeze with very little clean-up.   And you end up with a freezer stocked with individually-wrapped bean and cheese burritos that you can grab anytime you need a quick lunch or dinner!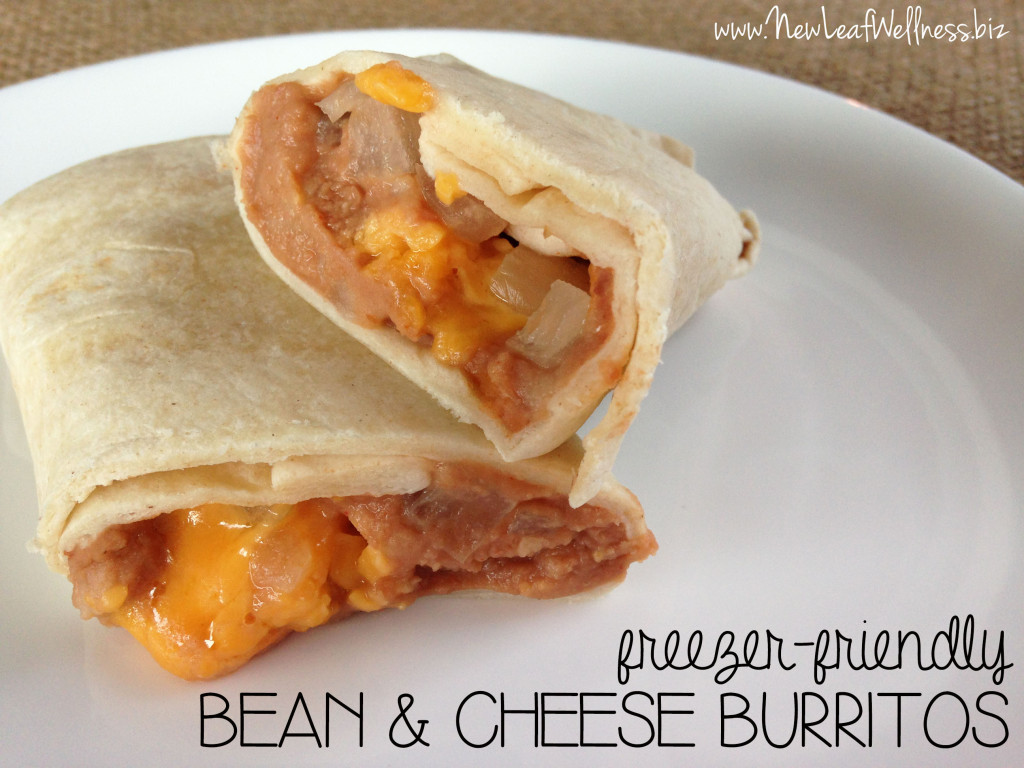 Genius, right?
I use canned refried beans in the filling of these burritos, so they take less than 15 minutes to make from start to finish.  (And that includes time to shred my own fresh cheddar cheese and dice a sweet yellow onion!)  These bean and cheese burritos are so easy to make that even freezer cooking newbies will love them.  (If you want to learn more about freezer cooking, check out my best freezer meal tips for beginners.)
If I ever write another '15-Minute Freezer Recipes' Cookbook full of recipes that don't require any cooking before freezing, you can bet these bean and cheese burritos will be inside.
Other reasons you need to stock your freezer with these bean and cheese burritos ASAP:
They're perfect for on-the-go.  Since each burrito is wrapped in a tortilla shell, you won't make a mess eating in the car or at your desk.
Each bean and cheese burrito is individually-wrapped with waxed paper and foil so you can defrost one at a time.
These bean and cheese burritos are the perfect quick meal.  Each burrito re-heats in two minutes in the microwave.
The tortilla reheats perfectly.  Not soggy at all.  (I think they might actually taste better re-heated than fresh.)
The addition of onions to the bean and cheese burrito filling adds the perfect amount of crunch.  YUM.
Oh, and did I mention they're delicious?
Freezer Friendly Bean and Cheese Burritos
Ingredients
8 "burrito size" tortillas (Mine measured about 8.5 inches across.)
2, 16 oz cans of refried beans (You'll have some leftover, but you definitely need more than one can.)
4 oz of mild cheddar cheese, freshly grated (about a cup)
1 medium sweet yellow onion, diced
wax paper
foil
1 gallon-sized plastic freezer bag
Directions
Cut eight 12×12″ pieces of wax paper and foil.   Set up an assembly line with each piece of foil topped with a piece of waxed paper and a tortilla.
Top each tortilla with 1/3 cup refried beans, 2 tablespoons cheddar cheese, and 2 tablespoons onions.
Wrap each burrito's tortilla around the filling.  Then wrap each burrito in wax paper.  Lastly, wrap each burrito in foil.  (For more details and pics of how I wrap my burritos, check out my recipe for Freezer-to-Microwave Breakfast Burritos.)
Place all wrapped burritos into a gallon-sized plastic freezer bag and freeze for up to 3 months in a standard freezer.
To Eat
Remove individual burrito from foil and wax paper and wrap in a paper towel.  Microwave for 2 minutes or until filling is heated through.
ENJOY.
Just be sure to have a mint or toothbrush on-hand after eating.  I hate onion breath.
If you love burritos as much as my family does, check out my husband's favorite freezer-to-microwave breakfast burritos with egg, sausage, spinach, and cheese too.  He eats them so fast I can barely keep up!
Question: Is there anything that you buy frozen at the grocery store that you wish you could make and freeze yourself?