In my last 'Freezer Ready' blog post I shared some of my favorite freezer-to-oven and freezer-to-slow cooker recipes that freeze well.  I also LOVE to make and freeze CALZONES.
I love freezer-to-oven calzones so much that I included TWO calzone recipes in my '15-Minute Freezer Recipes' cookbook: Mexican Calzones and Ham & Broccoli Calzones.
Freezer-to-oven calzones are awesome because you don't have to thaw them before cooking them in the oven.  Anytime you're hungry you can simply grab one from the freezer and heat it up.  Since the crust cooks in your oven for the first time they don't taste like leftovers at all.
Calzones are also a great meal to take with you on-the-go.  I can't say enough good things about homemade calzones.
Here's another calzone recipe that my family loves: Chicken Pesto Calzones.  We always make homemade pesto with fresh basil from our CSA farm share and homemade pesto is a delicious addition to calzones.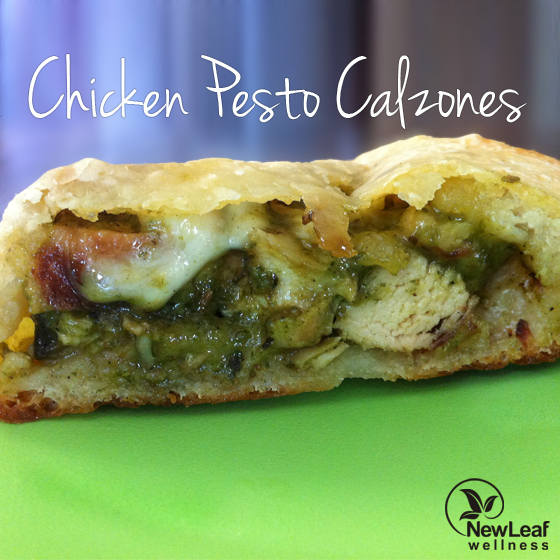 Chicken Pesto Calzones
Ingredients
one package dry pizza crust mix (I like Betty Crocker)
1/2 lb grilled chicken breasts, chopped
1/2 cup homemade pesto
1/2 cup mozzarella cheese, freshly shredded
1/4 cup sliced black olives
olive oil
 Directions
Preheat oven to 350 degrees F.
Prepare crust according to directions on package.
Combine chicken and pesto.
Spread a thin layer of olive oil onto 2 baking sheets and onto hands to prevent sticking.
Separate dough into 4 similar-sized balls, and flatten dough onto baking sheets.
Spoon chicken-pesto mixture, cheese, and olives onto one side of a flattened dough ball.  Fold the other side of the dough over the top and seal edges with fingers. Repeat to assemble remaining calzones.
Bake 25-35 minutes or until golden brown.
Here are some of my other favorite calzone fillings:
Traditional Italian – pepperoni, black olives, mozzarella cheese, ricotta cheese, and Italian seasoning
BBQ Chicken – grilled chicken (tossed with BBQ sauce), cheddar cheese, steamed broccoli, and red onion
Buffalo Chicken – grilled chicken (tossed with buffalo sauce) and mozzarella cheese
The possibilities are endless! (I share the recipes for Mexican Calzones and my one-year-old's favorite Ham & Broccoli Calzones in my '15-Minute Freezer Recipes' cookbook.)
To Freeze
I share my very best freezer meal tips for beginners in my Freezer Meal 101 blog post.  If you're going to freeze some of these calzones, skip step 7 and put the calzones right into the freezer (on the baking sheet).  When they're frozen, remove them from the baking sheet and wrap in wax paper and foil.  Then you can store them in the freezer for up to 3 months.
Here are some of my other favorite recipes that freeze well:
What's your favorite freezer meal?