You are gonna love this carrot muffin recipe.  Imagine banana bread, or zucchini bread, but with carrots…and in muffin form.  Sweet, but not too sweet, and oh-so-delicious.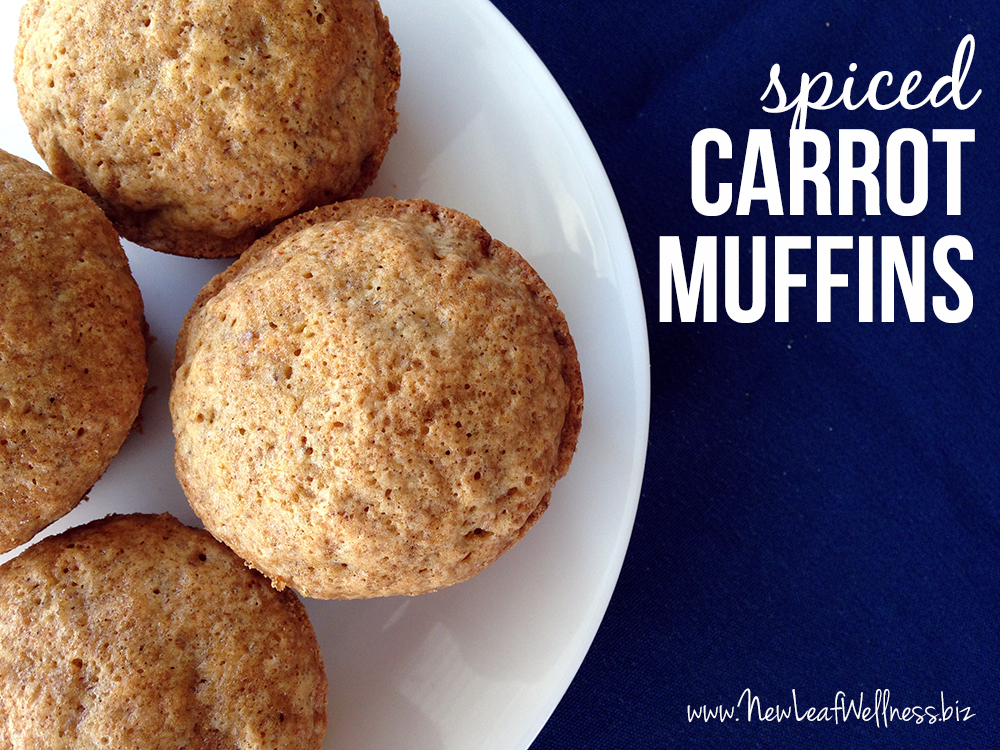 Since I'm expecting my third baby, I'm starting to plan all of the food that I'm going to freeze before my due date.  (I have this wild idea of freezing at least a month's worth of food.)  I want to make sure I'm freezing main dishes for dinner along with food that will work for breakfast, lunch, and snacks.
Some of the recipes that I'm going to freeze are fan-favorites on this blog:
I'm definitely going to make all of the recipes in my '15-Minute Freezer Recipes' cookbook too.  (This carrot muffin recipe is actually based on the spiced carrot bread recipe in my cookbook.)
I love the idea of baking and freezing muffins that can be defrosted one at a time as a quick breakfast or snack for me and my daughters.  (If my husband is nice, we'll let him have some too.)
It's the spices that set this carrot muffin recipe apart from the rest.  The muffins are so flavorful that you almost forget there's any kind of vegetable inside.  (If you ever meet my children in-person, please don't mention that these are even somewhat healthy.  I have them convinced that they're "cupcakes.")
While these muffins reheat well out of the freezer, you can certainly eat them right out of the oven too.  I used this carrot muffin recipe to bake muffins for my last 'New Mom Connections' meeting and they were a big hit.  (If you live near Pittsburgh, PA you can find more info about upcoming meetings under my Events tab above.)
Carrot Muffin Recipe
Yields: Approximately 20 muffins
Ingredients
4 medium-sized carrots (about 1/2 pound), shredded (about 3 cups) (I don't peel my carrots)
1 2/3 cup granulated sugar
1/3 cup canola oil (Option: you can decrease oil by 1 tablespoon and add 3 tablespoons of flax seeds.)
1/4 cup applesauce
2 teaspoons vanilla extract
4 large eggs
3 cups all-purpose flour
2 teaspoons baking powder
1/2 teaspoon baking soda
1 teaspoon ground cinnamon
1/2 teaspoon ground cloves
1/4 teaspoon ground nutmeg
Shortening or cupcake liners (I recommend using shortening if you're going to freeze the muffins.)
Directions
Preheat oven to 350 degrees F.
Prepare cupcake pans by greasing with shortening or lining with cupcake liners.
Combine carrots, sugar, oil, flax seeds (if adding them), applesauce, vanilla, and eggs.
Add flour, baking powder, baking soda, cinnamon, cloves, and nutmeg.  Stir until just combined.
Pour into prepared pans, filling each cup about 2/3 full.
Bake 25-30 minutes, until a toothpick comes out clean. (When I bake on both my top and bottom oven racks, I always swap the pans half-way through the cooking time so they cook evenly.)
Remove from oven, and cool 10-15 minutes in pans.  (If the muffins don't come out of the pan easily at that point, they either need more time to cool or you didn't grease the pans enough!)
Transfer to wire rack and cool completely.
To Freeze
Place completely cooled muffins in gallon-sized plastic freezer bags, remove as much air as possible, and seal.  Muffins will stay fresh in a standard freezer for up to 3 months.  When ready to eat, simply re-heat individual muffins in the microwave for 30 seconds each.
Question: What's your favorite kind of muffin?  What kind of food would you love to receive after giving birth?
—————————
For more recipes, be sure to follow me on Pinterest @kellymcnelis.