This brown sugar meatloaf recipe is one that your whole family will love.  It's super easy to prep and tastes like love-filled comfort food.  The brown sugar glaze gives it an extra special twist on the typical meatloaf recipe and makes the final product oh-so-yummy.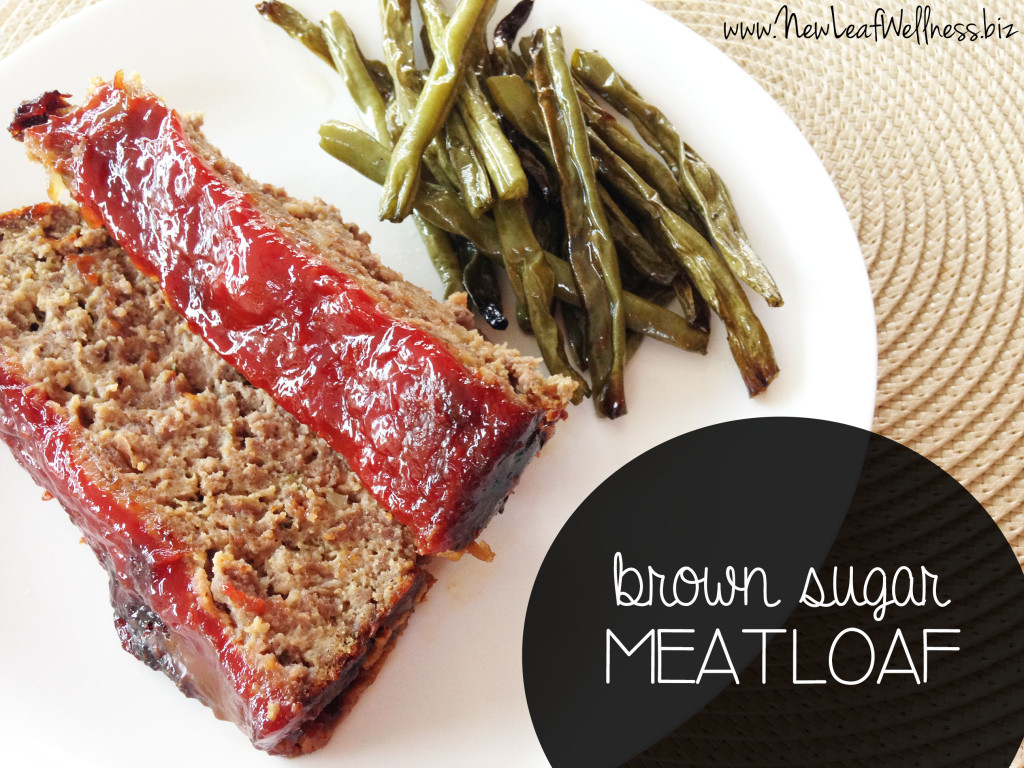 I've made this brown sugar meatloaf for years.  My husband requests it all the time and my dad loves it too.  (And my dad is a meatloaf aficionado, so that's saying a lot.)
I think it's safe to say that once you try this brown sugar meatloaf recipe, you're going to want to add it to your regular dinner rotation too.
To make your life even easier, you can freeze this meatloaf ahead of time for a night when you don't have time to cook.  It's one of the meals that I froze before my second daughter was born, and you can bet it will be one of the 30 meals that I'm freezing before my third baby arrives this fall.  (Yep, you read that right.  I'm attempting to freeze THIRTY meals this time around.)
The awesome thing about freezing this meatloaf is that you can freeze it raw.  Since it cooks for the very first time out of the freezer, it doesn't taste like leftovers at all.  (If you're new to freezer cooking, check out my very best freezer meal tips for beginners.)
Since you're not doing any cooking ahead of time, you can freeze this brown sugar meatloaf in a snap, just like all of the recipes in my '15-Minute Freezer Recipes' cookbook.
Brown Sugar Meatloaf Recipe
Ingredients
2 pieces of bread
1.5 pounds lean ground beef
1/2 cup 2% milk (or whatever you have on-hand)
2 large eggs
1 package onion soup mix
3/4 cup Italian-seasoned breadcrumbs
1 teaspoon salt
1/4 teaspoon pepper
1/4 teaspoon ground ginger
1/4 cup light brown sugar
1/2 cup Simply Heinz ketchup
1/2 teaspoon Worcheshire sauce
Cooking spray
Directions
Pre-heat oven to 350 degrees F.
Prepare 9×5″ loaf pan by coating with cooking spray and placing two slices of bread at the bottom of the pan.  (The bread will absorb the grease from the cooked meatloaf.)
In a large mixing bowl, combine beef, milk, eggs, onion soup mix, breadcrumbs, salt, pepper, and ground ginger.  Spoon into prepared pan.
In a small bowl, combine brown sugar, ketchup, and Worcheshire sauce.  Spread on top of meat mixture in pan.
Bake in preheated oven for 75 minute or until cooked through.
To Freeze
Complete Steps 1-4, cover with layers of plastic wrap and foil, and freeze for up to 3 months.
To cook, bake at 350 degrees for 90min-2hours, or until cooked through.  (To shorten the cooking time, defrost the meatloaf overnight in your refrigerator the night before you're going to cook it.)
Cut bread from bottom of meatloaf, and enjoy!!
Other comfort food recipes you need to try: