I think it's safe to say that it's comfort food season in Pittsburgh.  It's cold, windy, and we've already been snowed in a couple of times this winter.
One of my favorite comfort foods is chicken pot pie.  I love that it's a complete meal that contains carbs, protein, and vegetables. Plus it's delicious.  And I can get my 3-year-old and 18 month old to eat it.  Enough said.
Like all my other recipes, this chicken pot pie is the real deal.  I'm not into stereotypical "diet" foods.
This recipe yields two chicken pot pies. I'm always trying to find easy ways to stock my freezer with homemade meals for nights that I don't have time to cook.  I even wrote a cookbook of 15-Minute Freezer Recipes.
When I make chicken pot pies, I cook one pie for dinner and freeze the second. It takes a while to prepare the filling and sauce so it's worth preparing two at a time – plus it tastes just as good after being frozen.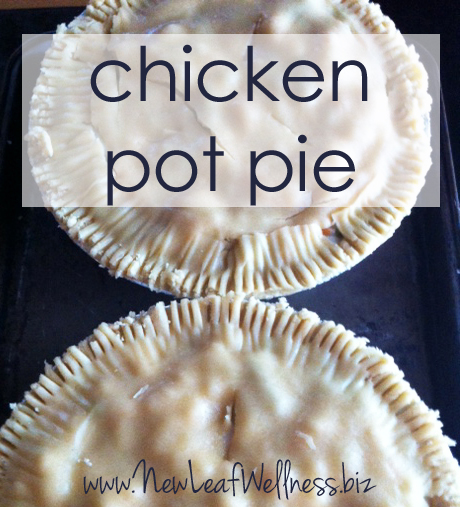 Ingredients
2 pounds boneless chicken breasts, cubed
1 bag frozen, mixed vegetables
3 medium-sized potatoes, peeled and diced
1/3 cup butter
2/3 cup yellow onion chopped
2/3 cup all-purpose flour
1 teaspoon salt
1/2 teaspoon black pepper
1/2 teaspoon celery seed
1/4 teaspoon poultry seasoning
3 1/2 cups chicken broth
1 1/3 cup milk
2 deep-dish double pie crusts (I buy the frozen kind)
Directions
Pre-heat oven to 375 degrees F.
In a medium-sized pot, combine chicken, vegetables, and potatoes. Add water to cover and boil for 12-15 minutes, until chicken is cooked through. Remove from heat, drain, and set aside.
In a large saucepan, cook onions in butter until soft and translucent. Stir in flour, salt, pepper, celery seed, and poultry seasoning to form a paste. Add chicken broth and milk. Stir and bring to boil for one minute or until sauce thickens. Remove from heat and set aside.
Prep the pie crusts according to directions on wrapper (EX: may need to thaw for a few minutes).
Combine chicken mixture with sauce and pour into pie crusts.  (You may have some filling leftover.  My daughters love to eat the extra!)
Cover with top crusts, seal edges, and cut away excess. Make 2-3 small slits in the top to allow steam to escape.
Bake for 45 minutes, or until crust is golden brown and filling is bubbly. Cool for 10 minutes before serving, and enjoy!
To Freeze
Prepare pot pies to step 5.  Then, cool to room temp and complete step 6.  Wrap in wax paper and foil, and freeze up to 3 months.  When ready to eat, bake at 350 degrees F for 75 minutes, or until crust is golden brown and filling is bubbly.
Question: What's your favorite comfort food?