Over the weekend, I taught a group of moms how to start prepping homemade meals for their freezers, and I'm excited to share my tips with you too.  Making homemade freezer meals is easy once you get the hang of it.
I started making freezer meals when my older daughter Cameran was a baby.  Having a lasagna or pan of macaroni and cheese in the freezer cut down on my stress level around holidays and birthday parties.  Before my second daughter Isla was born, I prepped and froze two week's worth of dinners.  It was amazing to have homemade meals on-hand while I was recovering and bonding with the newest member of my family.
Isla is 19 months old now, and I continue to freeze simple, healthy meals for my family.  I constantly rave about this easy method of meal planning to my friends and private coaching clients.  I even published a cookbook of my favorite fast freezer recipes titled, '15-Minute Freezer Recipes.'
All of the recipes in my cookbook were written for beginners.  I share my most helpful freezer tips at the beginning of the cookbook, and include instructions about how to prep, freeze, and cook every recipe.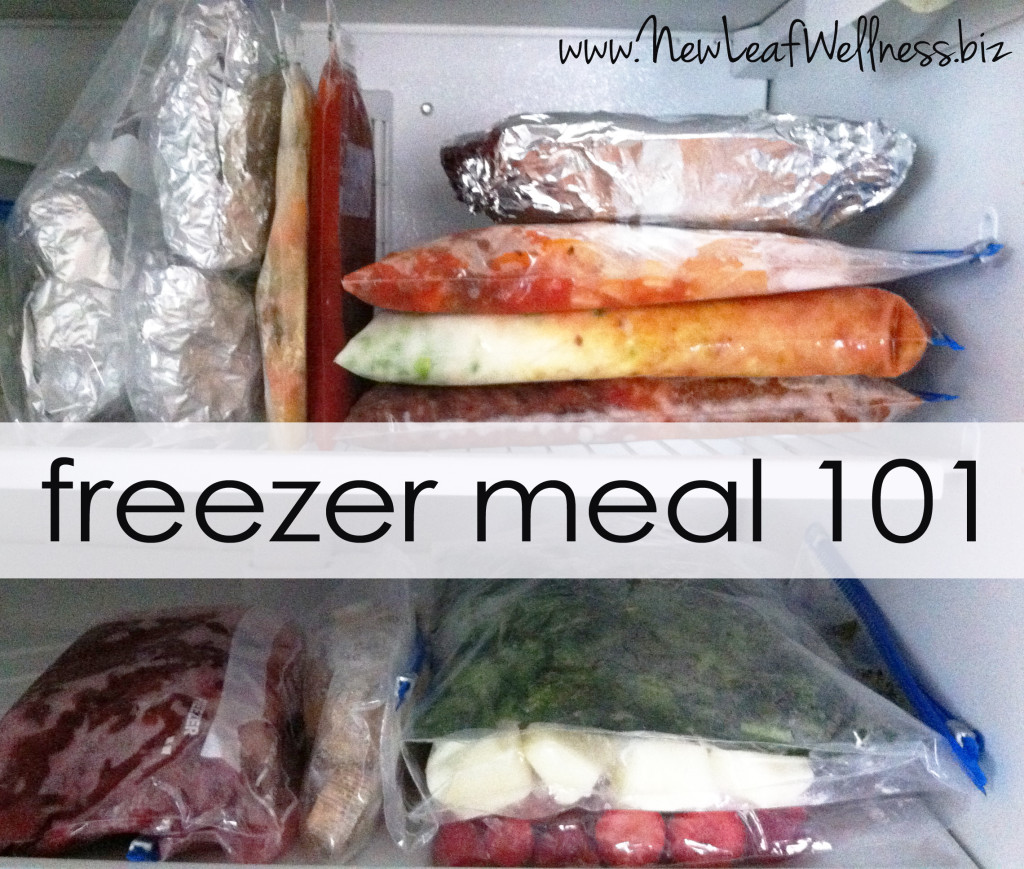 Once you get the hang of freezer cooking, I know you'll be hooked.  I simply can't say enough good things about homemade freezer meals. Freezer meals will save you time and money, and help your family to eat healthier.  Planning freezer meals in advance also means you won't be buying other meats and produce that go to waste.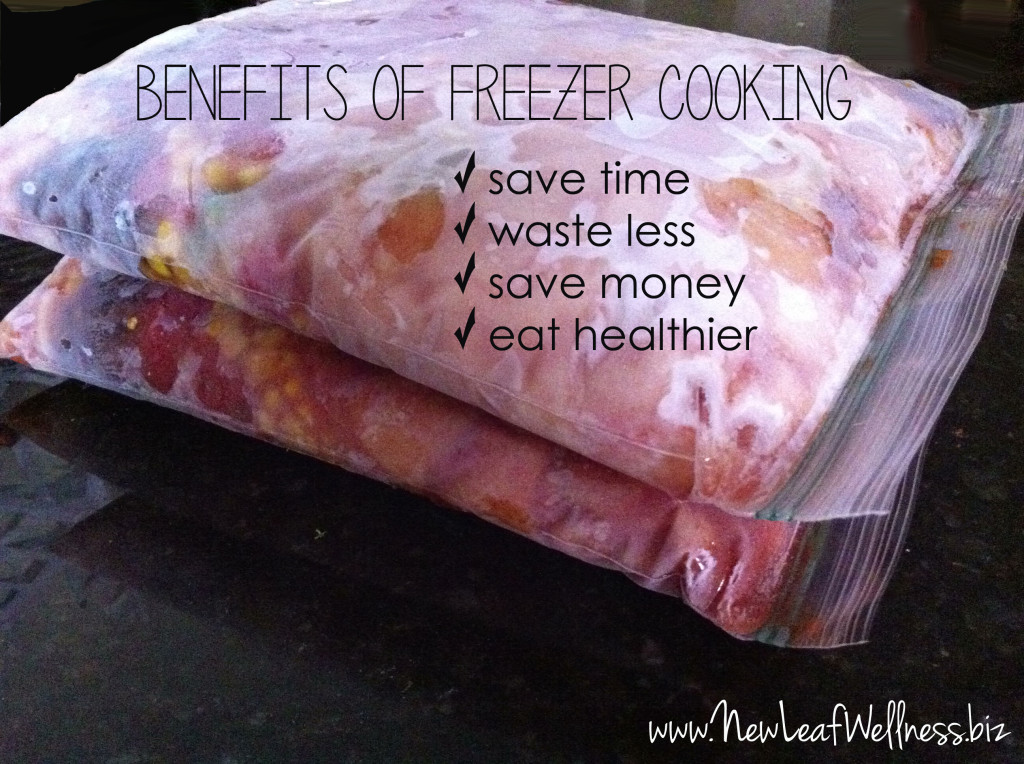 If you have never frozen anything before, you need to start with deciding what you want to make.  My husband and I always plan at least one week of meals ahead of time.  Recently, we started planning TWO weeks of meals at a time, so freezing has become even more important.
Here are some of the BEST and WORST freezer meal ideas to help you figure out what will do well in your freezer.  This isn't an exhaustive list, but it's a good place to start.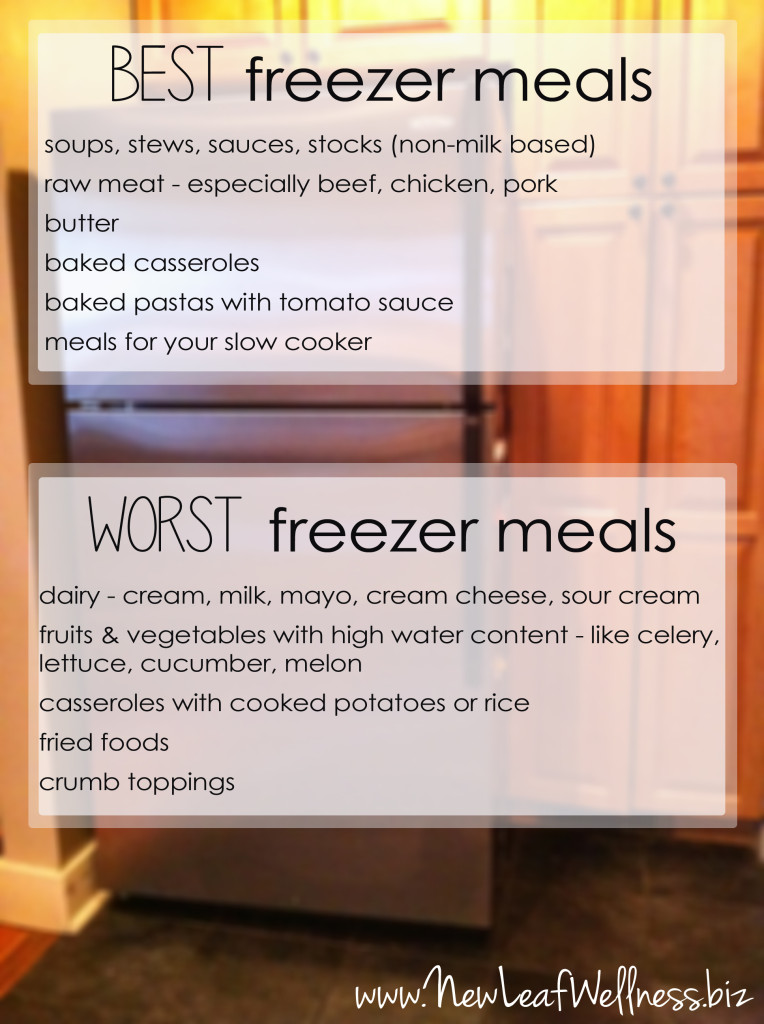 Here are some of my family's favorite freezer meal recipes:
Once you pick a recipe, you've made the first big step toward becoming a 'freezer mom.'  Now, you need to grocery shop for the ingredients, clean out some space in your freezer, and pick a time to prep your freezer meal. I have two strategies: 1) doubling a recipe and making one for dinner and freezing the second, and 2) devoting an hour or two to prepping 3-6 dinners for my freezer at once.  Since most of my recipes are super quick, I can prep three in an hour or less.  I can normally find an hour first thing in the morning when my daughters are just waking up, in the afternoon when my younger daughter is napping, or over the weekend.
My Best Tips for Prepping, Storing, & Cooking Freezer Meals
PREP
Prepare meals until the point that you would put them in your oven or slow cooker (AKA Crockpot) to cook.  At that point, cool them to room temperature (if they're hot) and put them into your freezer.
Use a pen or Sharpie marker to label your freezer meals with instructions (other types of markers will rub off), including:

to thaw overnight in refrigerator (if necessary)
ingredients, if any, that need to be added the day of cooking
cooking instructions
use-by date

For slow cooker recipes, fill your gallon-sized plastic freezer bag like this: beans and vegetables at the bottom, sauces and spices in the middle, and meat at the top.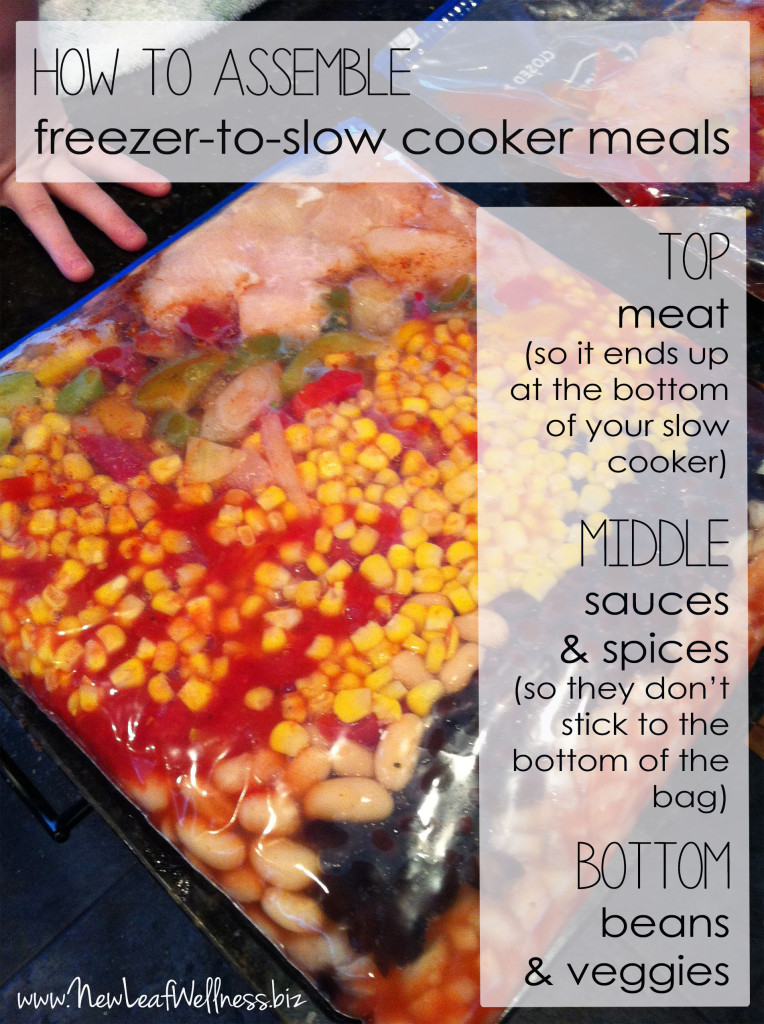 STORAGE
For oven recipes, store meals in aluminum or glass pans.  Place layers of plastic wrap and aluminum foil on the top.  If you don't have a lot of pans on-hand, you may want to use disposable aluminum pans because you can't cook with pans that are in the freezer.
For slow cooker recipes, store meals in gallon-sized plastic freezer bags.  I recommend using the freezer bags that have a zipper on top.  My bagged freezer meals never leak.  (Do NOT buy the cheap bags!  I've tried them and the bags always tear.)
When storing meals in gallon-sized freezer bags, remove as much air as possible before sealing the bag.  This will help your meal keep better.  Using bags with a zipper will help you remove air without making a mess.
Freeze bags flat in your freezer.
Most freezer meals can be stored up to 3 months in a regular freezer.
Here is a quick video of me demonstrating how to remove excess air from your freezer bag:
(If the video doesn't show up right away, refresh your web browser.)
BEFORE COOKING
Thaw your slow cooker freezer meals in your refrigerator overnight before cooking them. Thawing is important because the meal probably won't fit in your slow cooker as a frozen block.  Plus it helps the meat cook safely and evenly.  (If you forget this step, you can thaw frozen freezer bags in the microwave the morning of cooking.)
Thaw your oven recipes in your refrigerator overnight before cooking them.  Thawing will help your oven freezer meal cook more evenly.   (If you forget this step, thaw your oven recipe in your refrigerator the morning and afternoon that you're planning to cook it – or skip the thawing step altogether and just monitor your meal in the oven to make sure it doesn't burn).
COOKING
I cook all of my slow cooker recipes on the "low" setting.
I use a basic 4-quart slow cooker.  Slow cookers work best when they are at least 1/3 full, but no more than 2/3 full.
Oven recipes that come straight from the freezer will take longer to cook than room temperature meals.  You may want to keep them covered with foil so they don't burn.
If you have more questions, leave a comment below or email me and I'll get back to you as soon as I can!
Have you ever made freezer meals before?  If not, what makes you want to get started now?