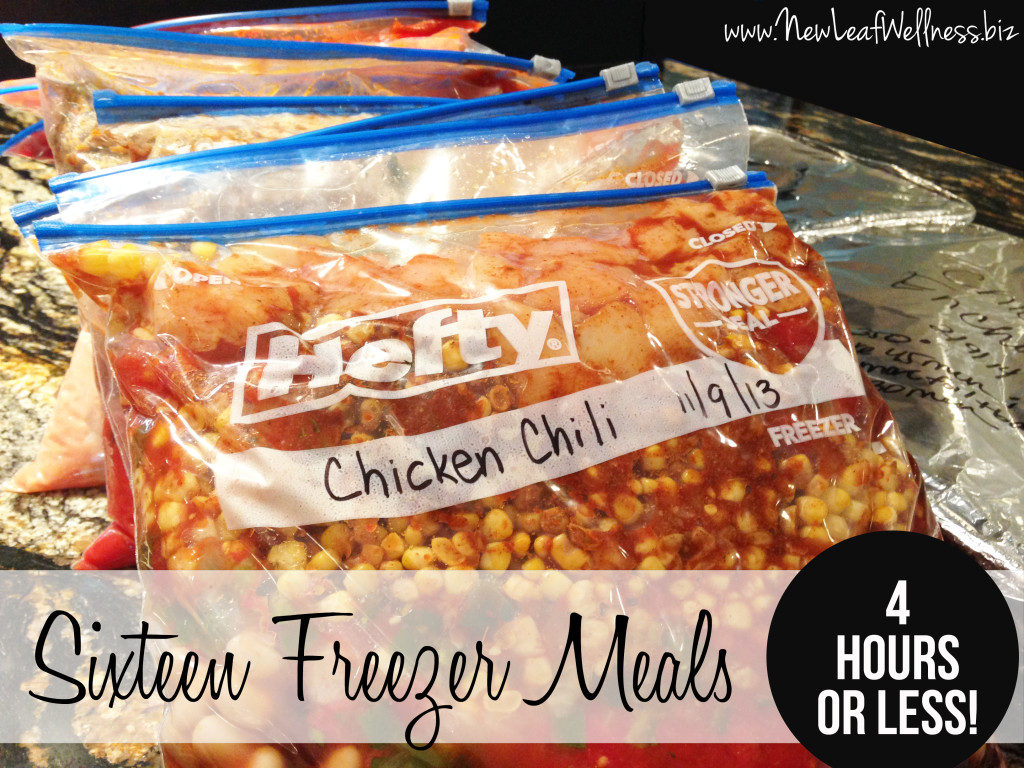 Over the weekend, my mom and I prepped 16 freezer meals in less than four hours (including clean-up!).  We planned the big freezer meal day because my third baby is due in less than two weeks and I don't want to have to worry worry about cooking dinner with a newborn.
To save time, we focused on healthy crockpot recipes that could be frozen without any cooking ahead of time.  We were able to prep 16 freezer meals in less than four hours…including a break for lunch, chatting with my Grandma, attending to my two young daughters, and cleaning up!
I think you could prep just as many meals by yourself in that amount of time if you were focused and working fast without interruption.  We were more concerned with fun than speed.

Here's what I learned if you want to make a bunch of freezer meals too…
How to Stock your Freezer in Four Hours or Less
1. Schedule your freezer day
Pick a day and time and put it in your calendar.  It may be tough to find four hours when you're free, but remember how much time this will save you in the long run when you don't have to cook.
2. Pick your recipes
Make your life easy and pick "no cook" freezer recipes.  Here's what my mom and I made:
3. Make a grocery list
A couple of days before the big freezer meal day with my mom, I made a grocery list.  This was the most painful part of the process for me, and it took me over an hour to make.  When you're making your list, don't forget:
Kitchen supplies – gallon-sized plastic freezer bags, casserole dishes (glass, aluminum, and disposable aluminum all work great), sharpie markers (for labeling), wax paper, plastic wrap, and foil
Side dishes – like rice, frozen rolls, and frozen vegetables (optional, but nice to have on-hand for a slow cooker soup or roast)
A cooler or two (if you're going to prep the meals at someone else's house and will need to transport your meals home)
I always use the Cozi app on my phone to make grocery lists.  Once I finished writing my grocery list, I checked my kitchen to see which ingredients I had on-hand and which I would need to buy.  We were going to prep the meals at my mom's house so I grabbed a big, reusable shopping bag and filled it with what I had on-hand (like canned goods, spices, and kitchen supplies) and made a list of items that I needed to pack the morning of our big freezer day (like refrigerated worcestershire sauce and frozen peas).
4. Go grocery shopping
My mom was nice enough to offer to help with the grocery shopping, so I emailed her my grocery list right from my Cozi app.  She checked off the items she found at the store and I bought the remaining ingredients the night before our big freezer meal day.  If you don't have a lot of extra room in your refrigerator, you may need to wait to go grocery shopping until the day that you are going to freeze the meals.  Keep in mind that it will take extra time to shop, and you will probably be more tired at the end of the day.
5. Prep your freezer meals
If you're new to freezer cooking, check out my blog post about labeling, prepping, and storing freezer meals.  My mom and I didn't use any kind of specific method to prep all the meals, but here are some helpful tips.
If you need to do any cooking, do it first so the ingredients have enough time to cool to room temperature.
Peel and chop all of your veggies at once.
If several meals call for chicken cut into bite-sized pieces, cut all of your chicken breasts at once.
Label your freezer bags before filling them.  (It's hard to write on lumpy, filled bags.)
Add the meat to your freezer bags last so it's the first item poured into your slow cooker.
Remove as much air as possible from your freezer meal bags before sealing.  (You can watch a quick video demo in my freezer meal 101 blog post.)
6. Clean up and marvel at your stocked freezer!
Do you feel pumped and prepared for your first freezer meal day?  Leave questions and comments below!