This is it!  Your solution to busy mornings when you don't have time for breakfast: Freezer-to-Microwave Breakfast Burritos.
Use this recipe to quickly and easily make 16 burritos for your freezer.  Then individually heat one at a time in your microwave when you're hungry.  Genius!
My inspiration to create freezer-to-microwave breakfast burritos came from my husband, Andy, who goes to the gym before the crack of dawn and has to grab something quick to eat before heading off to work.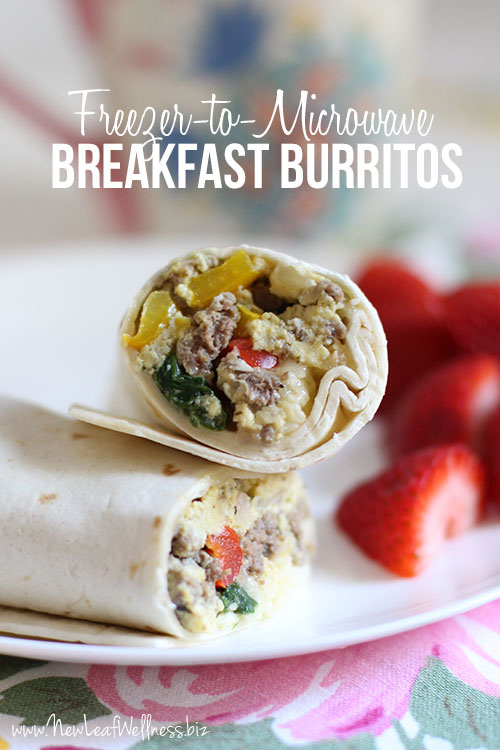 Since this breakfast is wrapped up all neat in a tortilla shell, it's easy to eat in the car, on the way to the bus stop, or when you're already at work.  The tortillas re-heat perfectly.  Not mushy at all.
These homemade breakfast burritos also end up costing less than $1/burrito to make – that's cheaper than McDonald's. (And a million times more healthy.)
Freezer-to-Microwave Sausage, Egg, Spinach, & Cheese Breakfast Burritos
Ingredients
1lb ground spicy Italian sausage (You can sub ground sweet or breakfast sausage)
2 handfuls of fresh baby spinach leaves
16 eggs, beaten
salt and pepper to taste
8oz mild cheddar cheese, shredded (About 2 cups shredded)
16 "burrito size" flour tortillas (The ones I bought were 8.5-9″ in diameter – I bought 2 packs of 8)
Note: I've also made these burritos with peppers, onions, turkey sausage and more.  Feel free to experiment.
Freezer Supplies
Foil
Waxed paper
3 gallon-sized plastic freezer bags
Directions
Brown the sausage in a large pan over medium-high heat.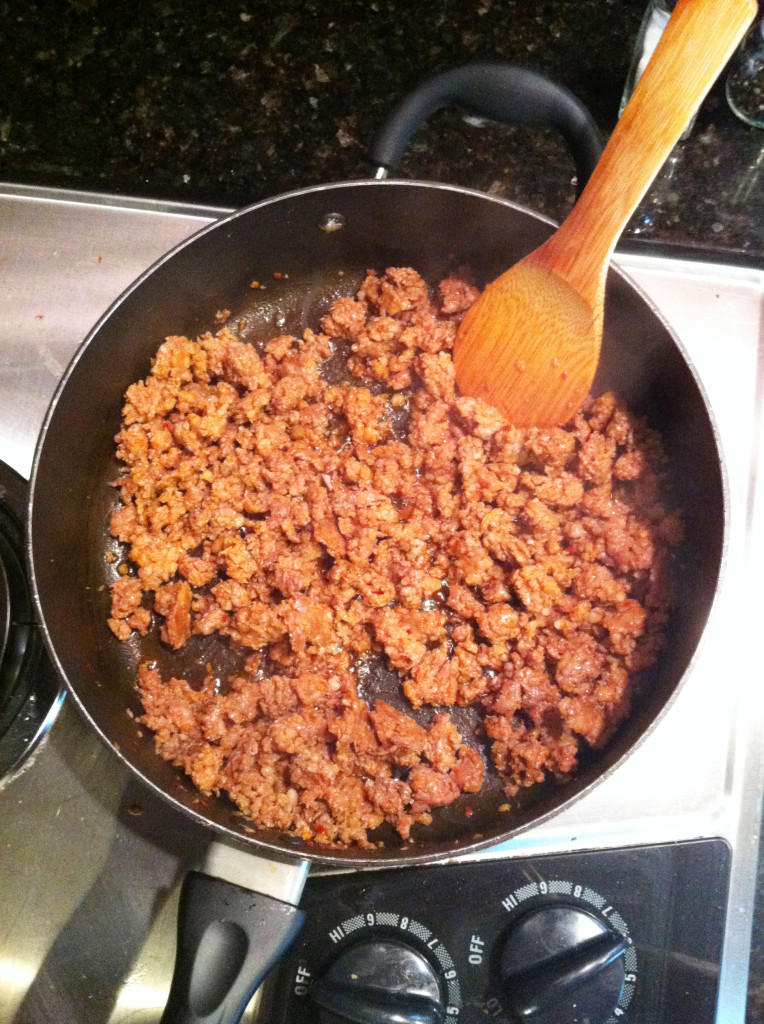 Add the spinach and stir until it wilts.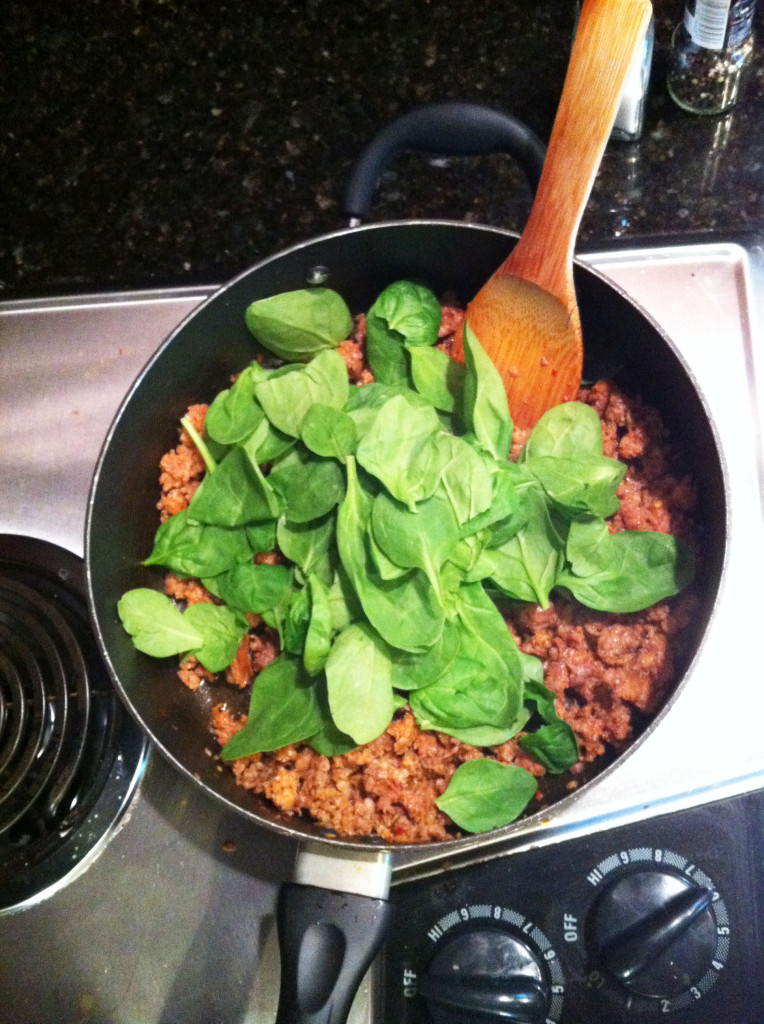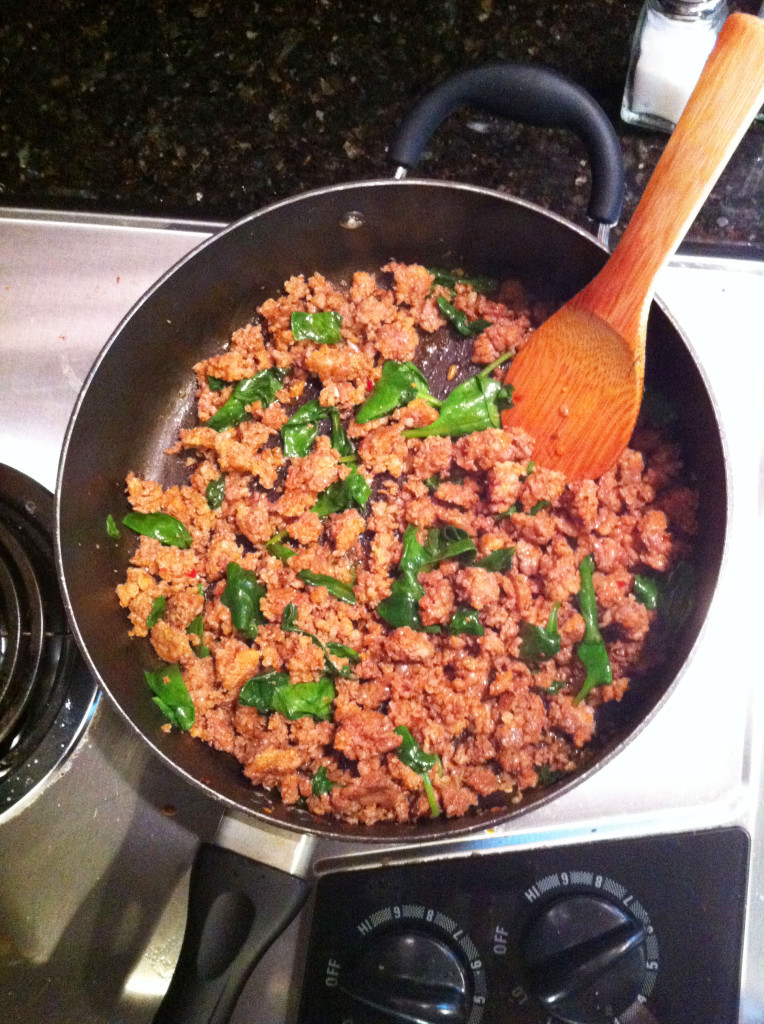 Add the eggs and a pinch of salt and pepper.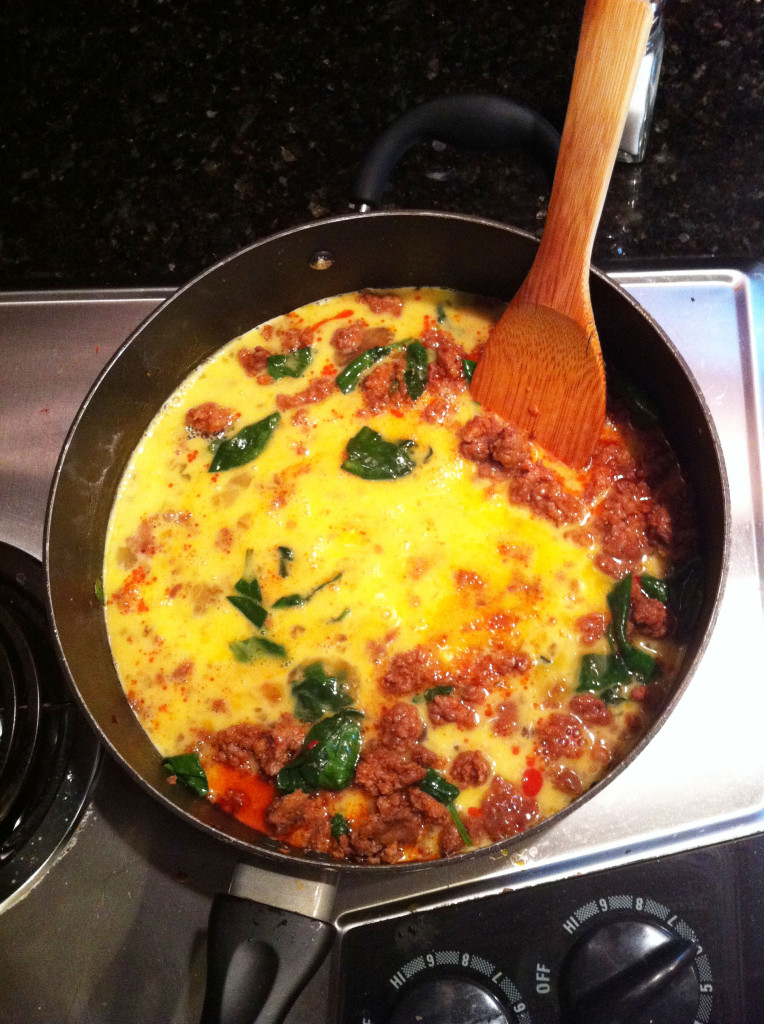 Stir every minute or two until cooked through.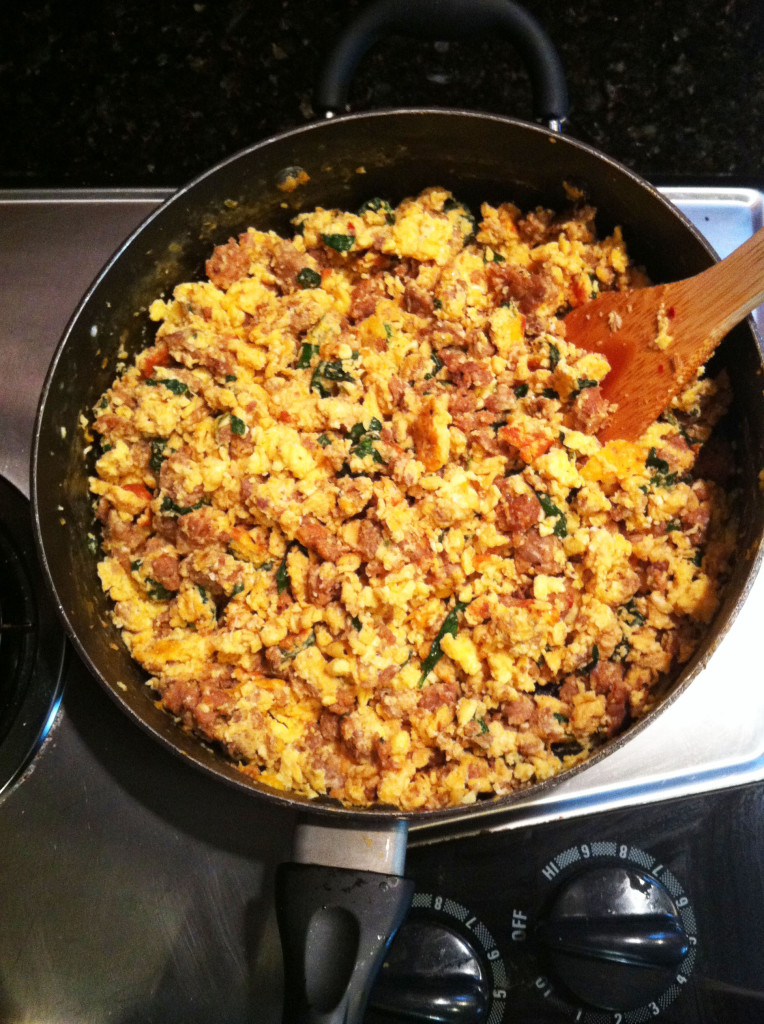 (At this point, everything will be cooked, so taste test to make sure you don't need to add more salt or pepper.)
Set a timer for 20-25 minutes to let the sausage-spinach-egg mixture cool.
(This is important if you're going to freeze the burritos.  You can use this time to clean up the kitchen, shred the cheese, and prep the foil and wax paper for the next step.  If you're planning to eat the burritos right away instead of freezing, there's no need to cool.)
Arrange 16 pieces of wax paper in an assembly line.  Place one tortilla on each piece.  Top each tortilla with 1/2 cup sausage-spinach-egg mixture and about 2 tablespoons of cheddar cheese.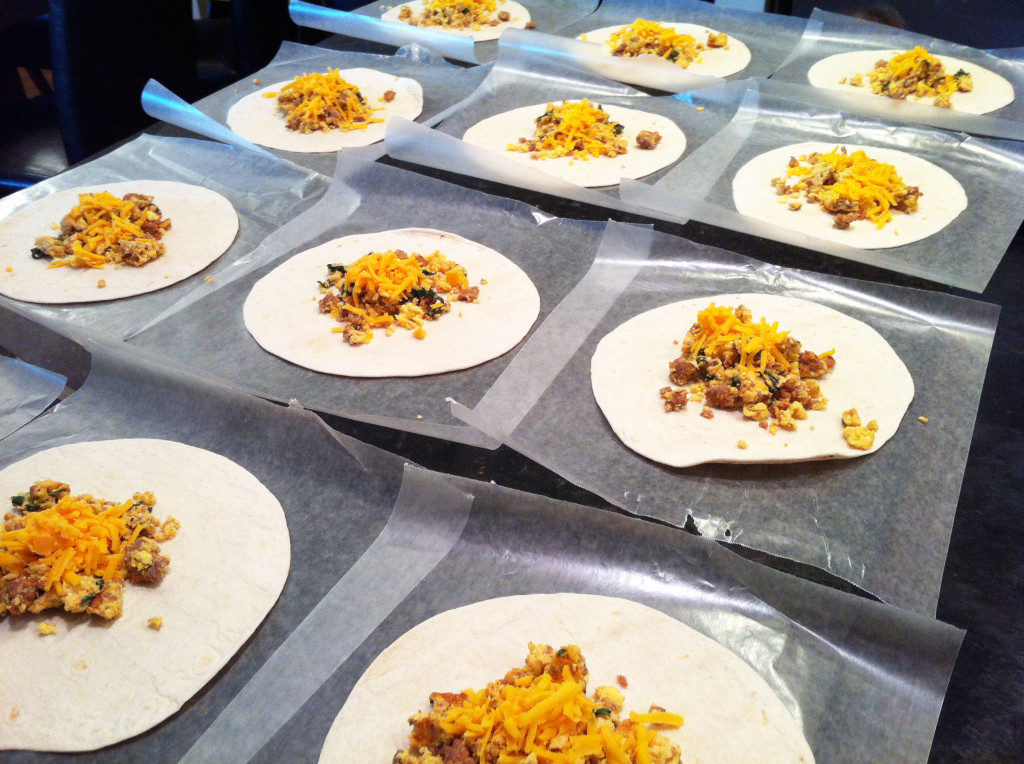 Wrap your first burrito by folding over one side length-wise, tight against the filling.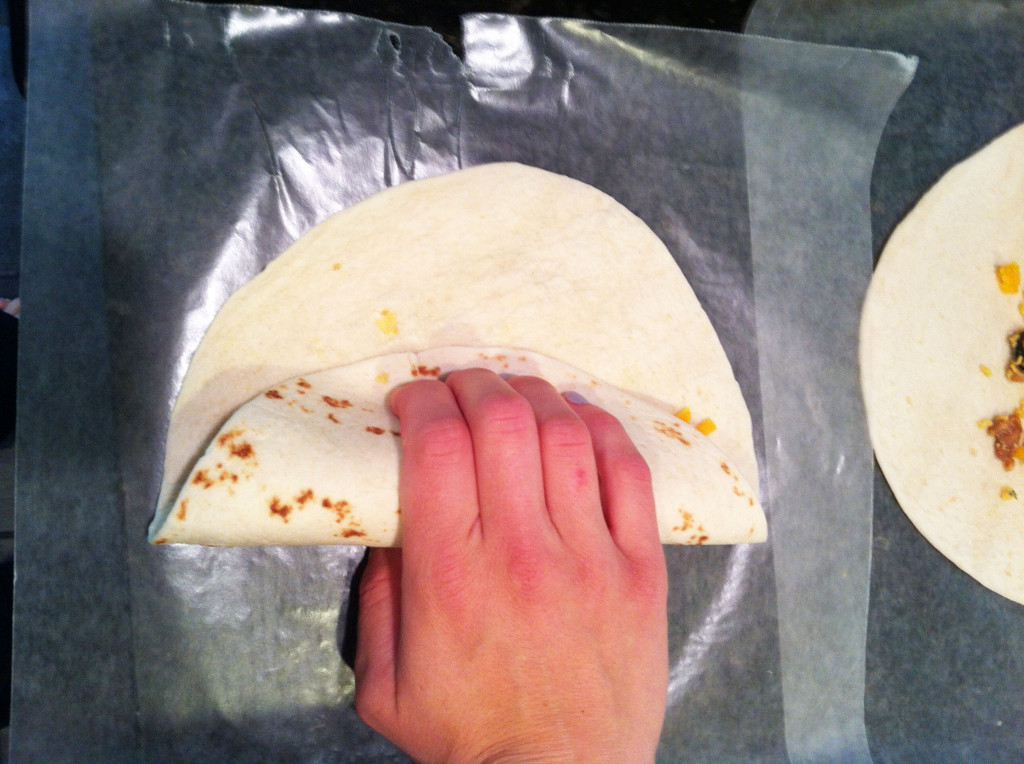 Fold in both of the small ends. (It's easier to do this when you're not trying to take a photo at the same time.)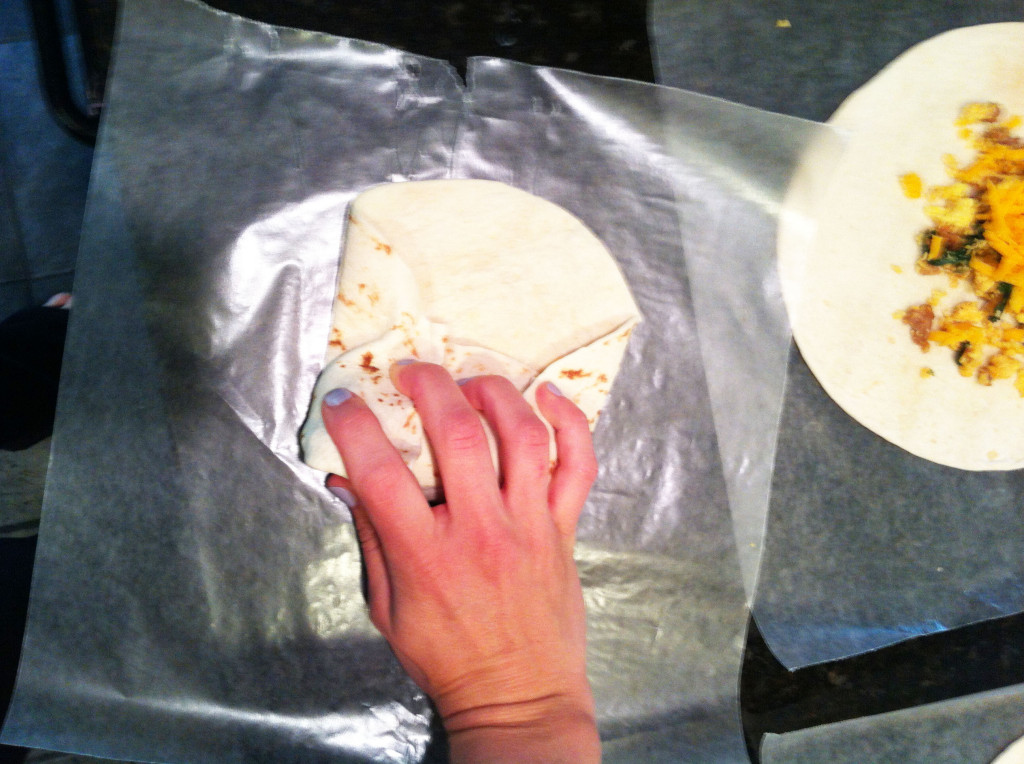 Fold over the last side.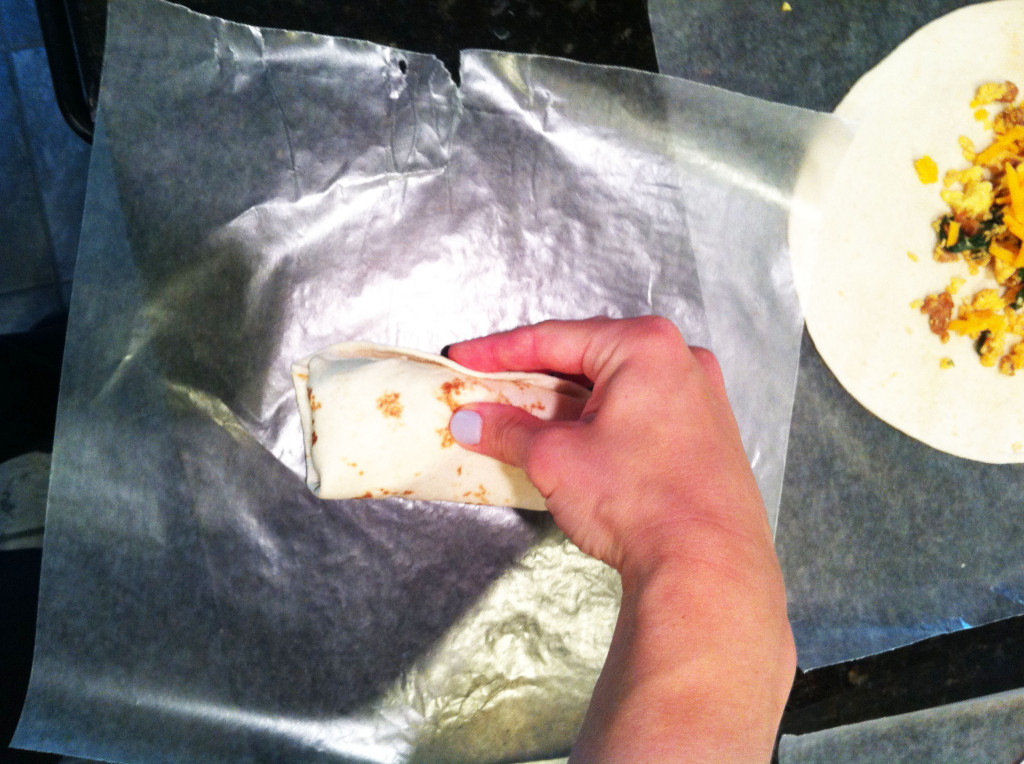 Wrap the remaining 15 burritos the same way.
Place each burrito, seam-side down on wax paper and wrap.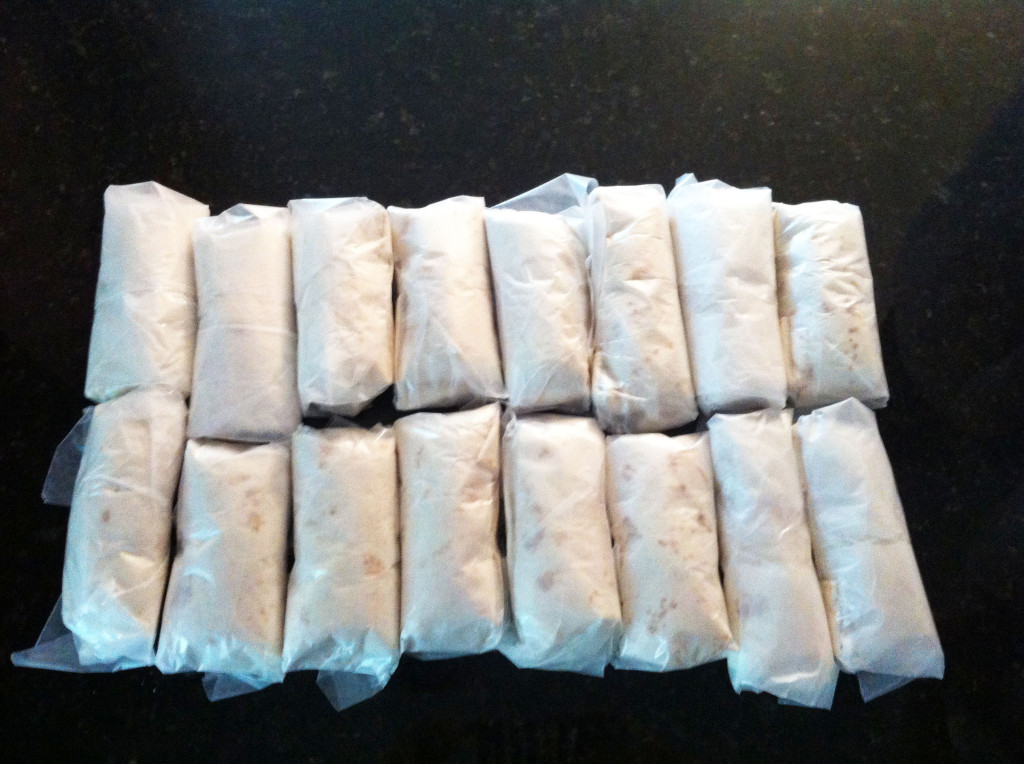 Wrap each wax paper burrito in a piece of foil.
(You can see in this photo how I wrap from the corners.)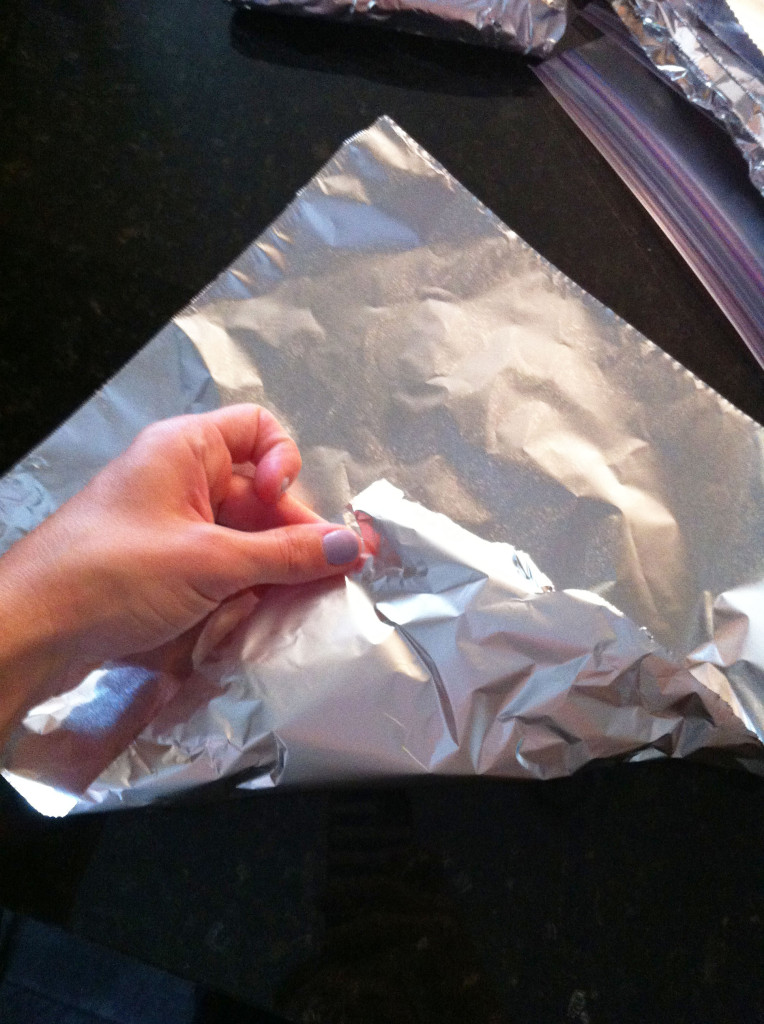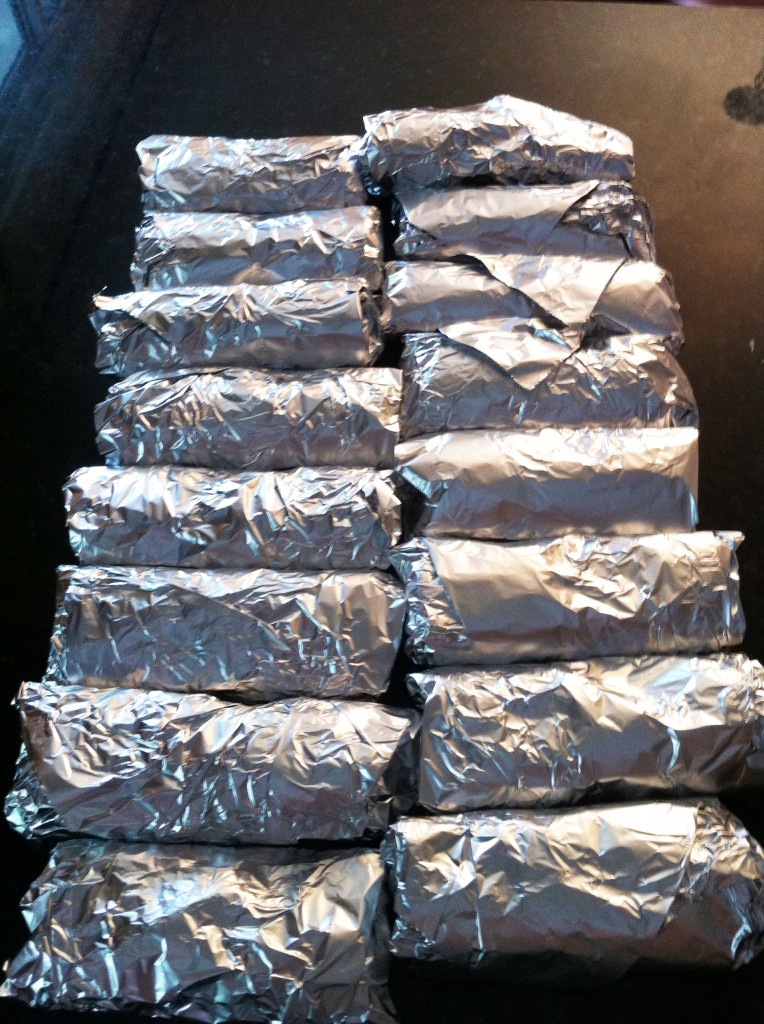 Place wrapped burritos in gallon-sized plastic freezer bags, remove as much air as possible, seal, and place in freezer.  (Can store in a standard freezer up to 3 months.)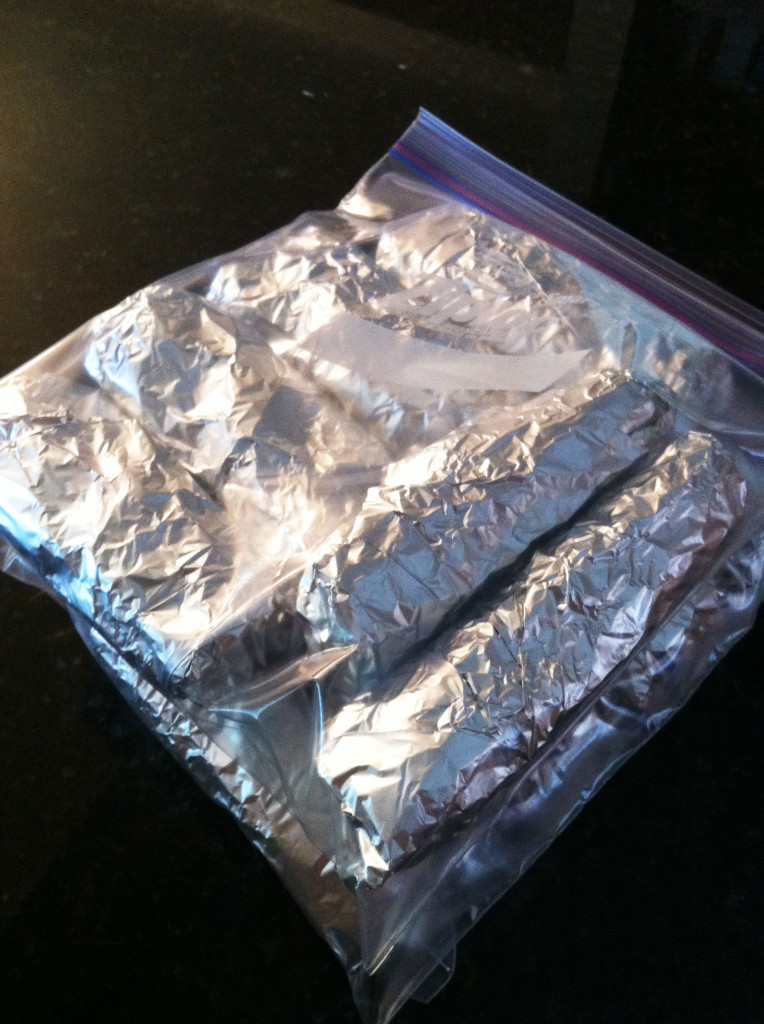 To Eat
Heat one burrito at a time in the microwave.  Simply unwrap the foil and waxed paper, wrap in a paper towel, and microwave on high for 90 seconds – 2 minutes (depending on the strength of your microwave).
Come to mama!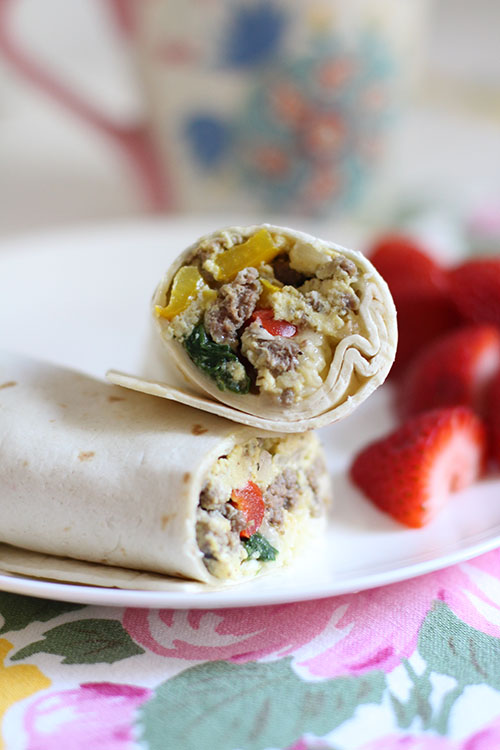 These breakfast burritos are so convenient and yummy that I think I need to make some for my next freezer meal swap with friends.  They would also be a great gift for a pregnant friend to enjoy after her baby arrives.
Question: What's your favorite quick and easy breakfast food?  
—————————-
PS Looking for more recipes that will make your life easier?  Check out my freezer and crockpot cookbooks.
PPS Stay up to date on what I'm eating by following me on Pinterest (@kellymcnelis).