I'm really into the concept of "no cook" freezer cooking.  Simply combine the ingredients and freeze!  My most recent success was a lasagna made with no-bake noodles and fresh spinach.  It was so easy to make that I made two at a time.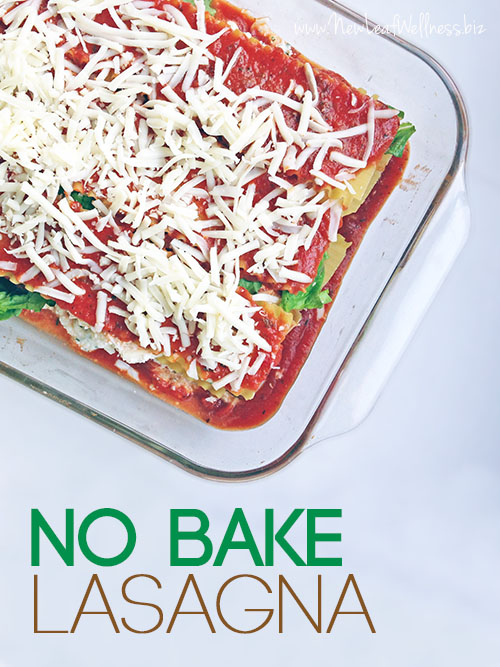 For years, I froze lasagna for holidays and birthday parties.  I'd boil the noodles, assemble everything, and then freeze.  These days, I like to assemble my freezer meals without any cooking ahead of time.
Here's why you'll love "no cook" freezer cooking too…
The recipes are very quick to prep.
There are less pans to wash after prepping your meals.
The meals cook for the first time out of the freezer and don't taste like leftovers at all.
It's easy to keep your freezer stocked with homemade meals for busy weeknights.
Sounds like a win-win-win-win to me.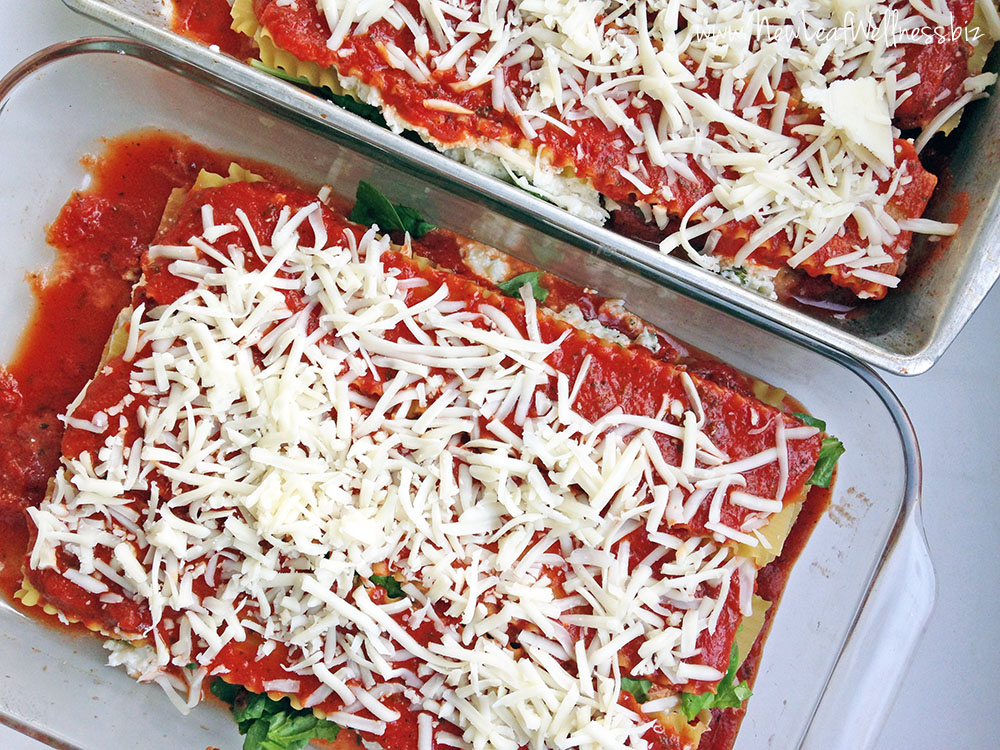 I shared a bunch of "no cook" freezer recipes in my cookbooks, and if I ever write another one, you can bet this lasagna will be in there too.  It's a meatless, cheesy lasagna made with fresh baby spinach.  Such a delicious and family-friendly meal.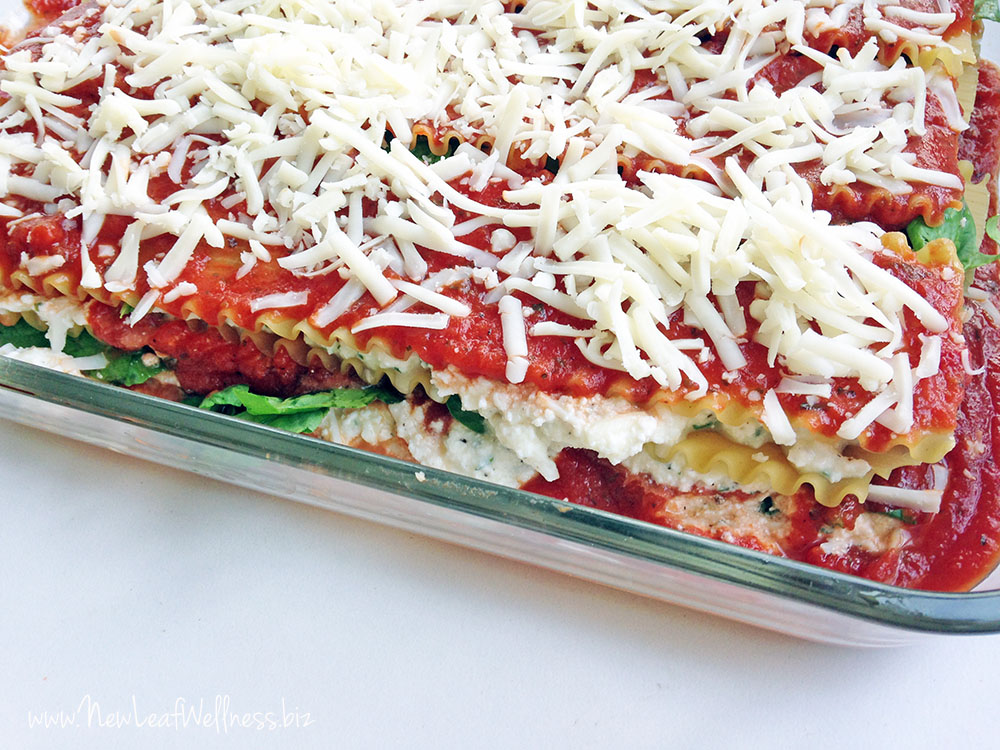 When you make this lasagna, I recommend making two at a time.  The texture of "no boil" lasagna noodles is slightly different than the kind you boil, but my whole family taste-tested this recipe and decided it was equally delicious and a wonderful time-saver.
No Cook Lasagna with Spinach
Yields: Two pans of lasagna (9×13″ each)
Ingredients
4 large eggs
30 oz container of ricotta cheese
2 cups shredded parmesan cheese
16 oz mozzarella cheese, freshly shredded and divided in half (about 4 cups total)
2 tablespoons dried parsley flakes
2 teaspoons salt
1 teaspoon pepper
45 oz jar of pasta sauce
2.5 oz fresh baby spinach, chopped (about 3 cups)
Two boxes of "oven ready" lasagna noodles with no boiling required (I used 24 noodles, about 1.5 boxes)
Directions
In a large bowl, create cheese filling by combining eggs, ricotta, parmesan, half of the mozzarella cheese, parsley, salt, and pepper.
Spread a thin layer of pasta sauce at the bottom of each pan.
Layer lasagna noodles, cheese filling, fresh spinach, and pasta sauce until you have four layers of noodles in each pan.
Top the fourth layers with remaining pasta sauce and mozzarella cheese. (Make sure to cover the entire noodles with sauce so they don't get crunchy when baked.)
To Cook Immediately
Preheat oven to 375 degrees F.  Cover lasagna with foil and bake for 40 minutes, or until center is hot.  Remove foil and bake for additional 5-10 minutes or until cheese on top is melted.
To Freeze
Cover each pan with layers of plastic wrap and foil, and freeze for up to three months.  Preheat oven to 375 degrees F.  Remove plastic wrap and replace foil.  Bake frozen lasagna 60 minutes or until center is hot.  Remove foil and bake for additional 5-10 minutes or until cheese on top is melted.