Description
This eCookbook will teach you how to prepare delicious chicken freezer meals for your crockpot.  Simply combine the meat, vegetables, sauces, and spices and freeze for up to three months.  When you're ready to eat, add a meal to your crockpot and dinner is done.
This method of easy meal prep inspired my best-selling Freezer Meals eCookbook Bundle and I'm excited to add these low fat chicken recipes to your dinner rotation.  All of the recipes were approved by my family of six and thousands of happy customers.  I know you're going to love these healthy recipes because they're so delicious and easy to make.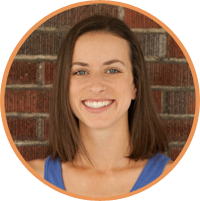 Hi!  I'm Kelly.  I'm a crockpot-loving mom of four living in Pittsburgh, PA.  After trying thousands of freezer meals myself, I worked with my husband, Andy, and cousin, Jill, to package the very best recipes into digital eCookbooks.  Over the course of five years we created healthy freezer recipes with enough different flavors, textures, and cooking methods for every night of the week. These recipes were taste-tested by our families and thousands of happy customers.  I know you're going to love the new healthy recipes in this eCookbook.
What's inside this eCookbook?
15 crockpot chicken recipes that can be prepped and frozen for up to three months
Delicious and simple recipes with 10 ingredients or less
Affordable ingredients that you can find at any grocery store
Ingredient lists that make the most of your groceries and leave little leftover to go to waste
You'll also find:
Full nutritional information for every recipe
Recipes that are formatted to print on regular 8.5×11″ computer paper
A super-organized grocery list (that's printer-friendly too!)
Color photos of the cooked meals
Cooking instructions that you can print on Avery water-resistant labels and stick to your freezer bags
Tips for preparing and cooking crockpot freezer meals safely and efficiently
Full List of Crockpot Chicken Recipes
Artichoke Chicken
Chicken Enchiladas
Chicken Spinach Alfredo
Chicken Tikka Masala
Cilantro Lime Chicken
Cranberry Chicken
Honey Bourbon Chicken
Honey Garlic Chicken
Honey Mustard Chicken
Orange Chicken
Parmesan-Crusted Chicken
Salsa Verde Chicken
Thai Chicken
White Chicken Chili
Zesty BBQ Chicken
Since the meals cook for the first time out of your freezer they taste exactly like freshly prepared meals and not like leftovers at all.  Yay!
Over 35,000 people already bought my eCookbooks and changed the way they cook.
"I am so happy that I found and purchased your eBook bundle! I have struggled for YEARS to find a way to have healthy meals on weekdays when I work tons of hours and the very last thing I want to do when I get home after 12+ hour days is cook. This is the first time in my life that I have found it "easy" to prepare very good tasting and healthy meals in very little time and it has had a truly significant impact on my overall happiness in life." -Diana
"What really sets your cookbooks aside is the level of organization and planning you put into the meal preparation process. Everything from the grocery lists, nutritional information, and freezer labels was so well thought out I was throughly impressed. It is so nice to come home after working 10-11 hours to have a meal ready to go. I don't have to look up the directions again on the Internet, I don't have to guess the calorie count, I don't have to make a a shopping list. It's all there." -Natalie
"I start work at 5:30 a.m. so your freezer meals have saved my life on so many days! They are wonderful!! We're having guests for a week and I already have super large crockpot meals in the freezer for each day so there's no stress about how to feed everyone after a day at work." -Caroline
Frequently Asked Questions
Is it safe to freeze raw meat with veggies?
Yes. If you're nervous about combining raw meat with other ingredients, let me assure you that it's perfectly safe. (Remember, people cook raw meat and vegetables together in their crockpots and ovens all the time!) The USDA Food Safety and Inspection Service explains that freezing food inactivates any microbes that are present (like bacteria, yeasts, and molds).  You will also cook the food before eating it.
Do freezer meals actually taste good?
You bet.  Since they're frozen without any cooking ahead of time, they cook for the first time out of the freezer.  That means they taste like freshly-prepared meals and not like leftovers at all.
Are the recipes healthy?
Yes.  You won't find any ingredients like condensed soup or soda pop.  I try to eat as many vegetables as possible and very limited amounts of processed foods.  The ingredients in my recipes are healthy, delicious, and sold at most local grocery stores.
How long will a freezer meal last in the freezer?
Most freezer meals will last in a standard fridge-freezer combo for at least 3 months.
How many servings are in each recipe?
It varies per recipe, but the average is six. If you are cooking for less people, split each recipe into two freezer bags and cook in a smaller crockpot (2-4 quarts).
What's an eCookbook?
All of my eCookbooks are printer-friendly pdf files. They can be read on computers, smartphones, and tablets (No special e-reader required).  They are also formatted to print on regular 8.5×11″ computer paper so you're welcome to print a copy if you want.
After making a purchase, you will be automatically redirected to a page where you can download your copy of the eBook.  You will also be emailed a copy to save to your computer.  Thank you for your support!