A lot of people have asked me for 21 Day Fix slow cooker freezer meals, so I decided to put together the ultimate 21 Day Fix slow cooker freezer meal plan. Below, you'll find 21 free delicious slow cooker recipes that can be frozen without any cooking ahead of time (container counts included), a printable shopping list, a filled out meal planning calendar, printable freezer meal labels, and more.  This is the 21 Day Fix made easy, Friends!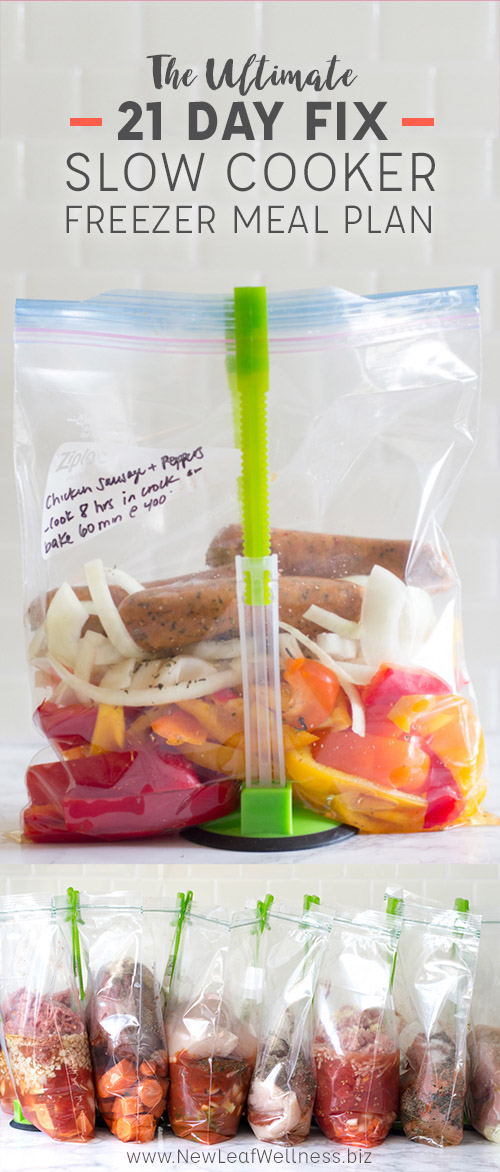 What's so great about this 21 Day Fix Slow Cooker Freezer Meal Plan?
It includes 21 slow cooker freezer recipes that your whole family is going to love (container counts included).
All of the recipes can be assembled and frozen without any cooking ahead of time.  Simply combine the ingredients in plastic freezer bags and freeze for up to three months.
The recipes are budget-friendly and delicious!
Click here for the free printable recipes, shopping list, labels, and meal planning calendar:
CLICK HERE FOR THE PDF. NO STRINGS ATTACHED.
This meal plan includes 21 delicious slow cooker freezer recipes:

(I included yellow and green side dishes, but feel free to omit or swap for something else.)
CLICK HERE FOR THE PDF. NO STRINGS ATTACHED.
Are you brand-new to slow cooker freezer meals?  Here are my tips:
Print the recipes and shopping list and go grocery shopping ahead of time.
Make the meals during a time when you won't be interrupted. (I always plan ahead so my husband can be with our four children.)
Use baggy stands, if you can, to hold the bags upright and keep your floor clean. (Not essential, but helpful.)
Fill the bags one-by-one or in an assembly line.
Add the meat last so it's the first ingredient dumped into the crockpot. (I store my meat in the refrigerator while I'm filling all of the bags and then add it right before I'm going to seal them.)
Play music, have fun, and be sure to give yourself a pat on your back when you're done.
I've tried thousands of slow cooker freezer meals myself and I'm convinced that you're going to get hooked on this method and want to keep it up beyond 21 days.  There's no easier way to make healthy and delicious dinners!  I included my family's favorite recipes as well as others from trusted 21 Day Fix blogs so your first experience will be a huge success.  (All of my notes and adaptations are included in the free printable pdf above.) Enjoy, Friends!
Thoughts or questions?  Please leave a comment below and I'll respond as soon as I can.  I'd love to hear from you. X+O, Kelly