Here are nine easy and healthy freezer meal prep sessions that I made myself.  I wrote the recipes, typed up the shopping lists, calculated the nutritional info, took photos of the cooked meals, and shared everything that I learned in life-changing, rock-your-world cookbook eBooks.  Then I stocked my freezer during weekend "prep sessions" with less than two hours and $150 – full details below!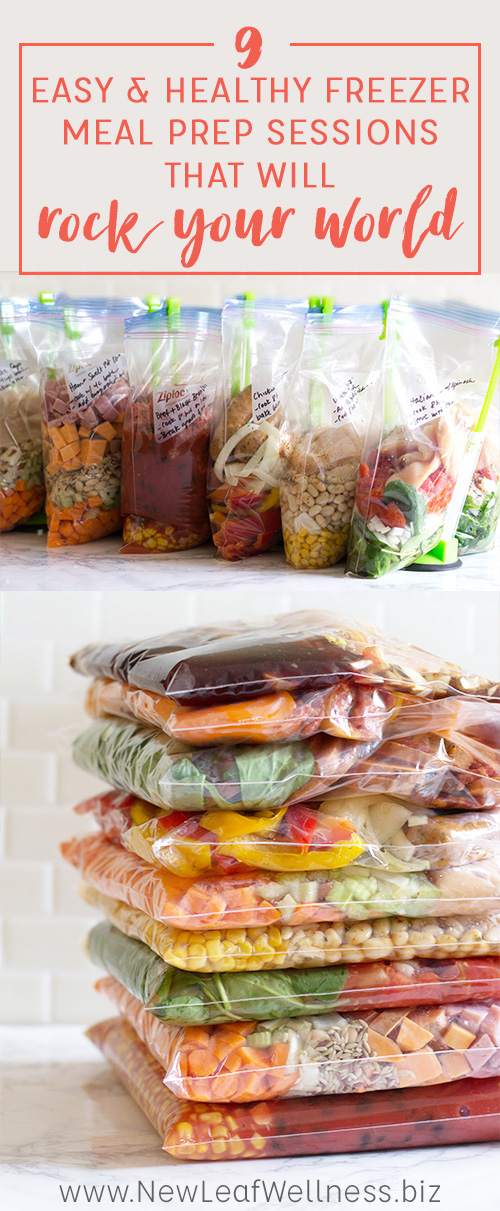 Let me stop for a minute and thank my cousin (Jill) for helping me write the recipes, my friend (Jana) for creating the shopping lists and nutritional info tables, and my husband (Andy) for designing the cookbook eBook covers and pretty designs.  I'm just a busy mom who likes to cook (and eat!).  I could never do all of this stuff myself.
What's so great about these freezer prep sessions?
There is NO COOKING ahead of time, so the meals are quick and easy to make. (I typically make 5-10 meals/hour.)
They're budget-friendly.  (Most meals cost about $10 for six servings.)
The recipes are simple and healthy.
I made every single meal myself so I can vouch that they're healthy, delicious, and easy to make.  Below, I'll go through each prep session and tell you which recipes I made, how much they cost, and how much time they took to make.  I'll also share what I love most about the meals.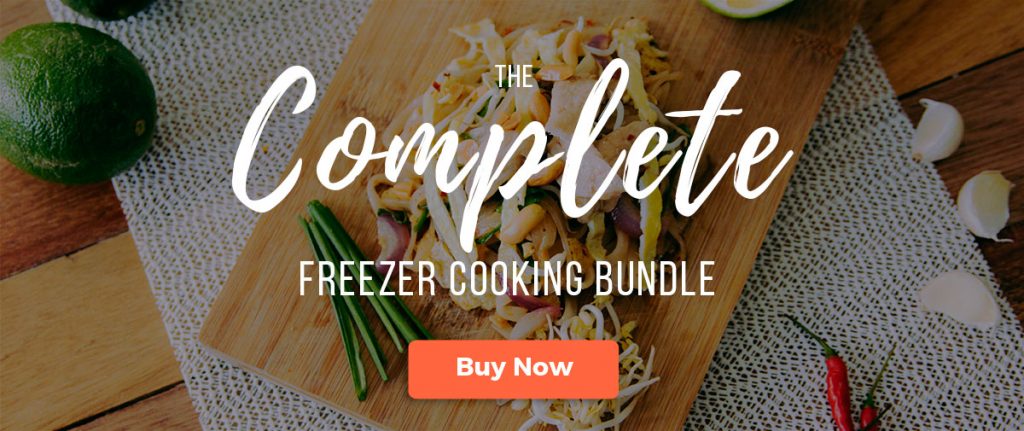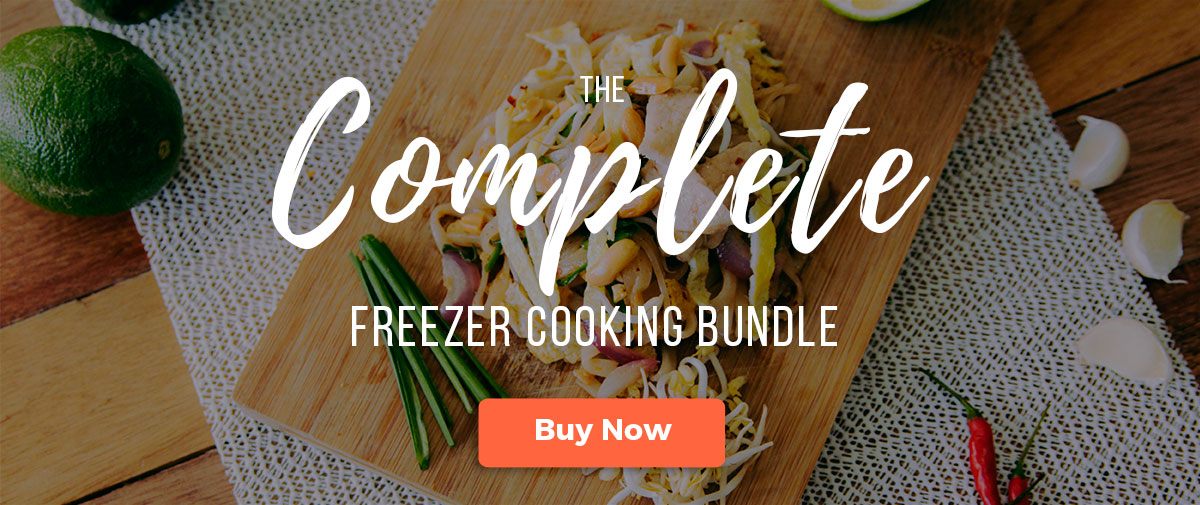 Is it safe to mix raw meat and veggies in the freezer?  You bet.  I did a lot of research when I was writing my No Cook Freezer Meals cookbook and the USDA Food Safety and Inspection Service explains that freezing food inactivates any microbes that are present (like bacteria, yeast, or mold).  That means freezing raw meat with vegetables, sauces, and spices is perfectly safe. (You can find more info on food safety here.) Enjoy, Friends!
9 Easy and Healthy Freezer Prep Sessions That Will Rock Your World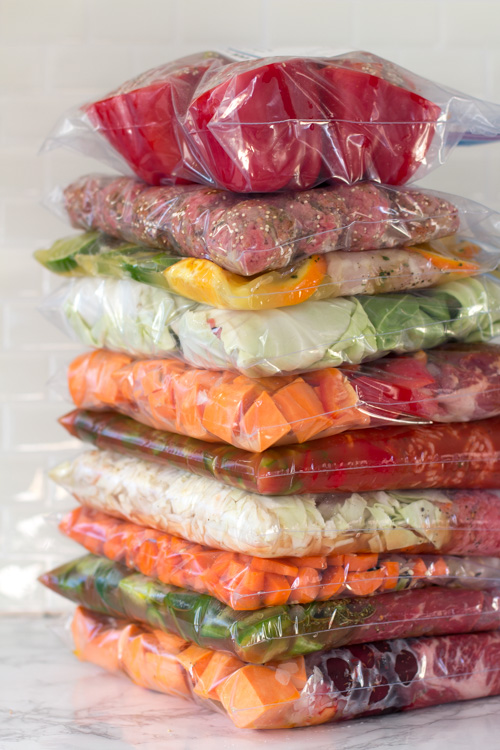 The most healthy and delicious freezer meals I've made!
Recipes include Beef and Cabbage Soup, Beef and Quinoa Stuffed Peppers (my husband's fave), Cabbage Rolls with Wild Rice, Cherry Pot Roast and Sweet Potatoes (our cookbook reviewers' favorite), Chicken and Wild Rice Soup, Citrus Chicken, Italian Meatballs, Stuffed Pepper Soup, Sweet Potato and Pork Burrito Bowls, and Tuscan Steak and Green Peppers.  I spent $150 on ingredients ($15 per meal or $2.27 per serving).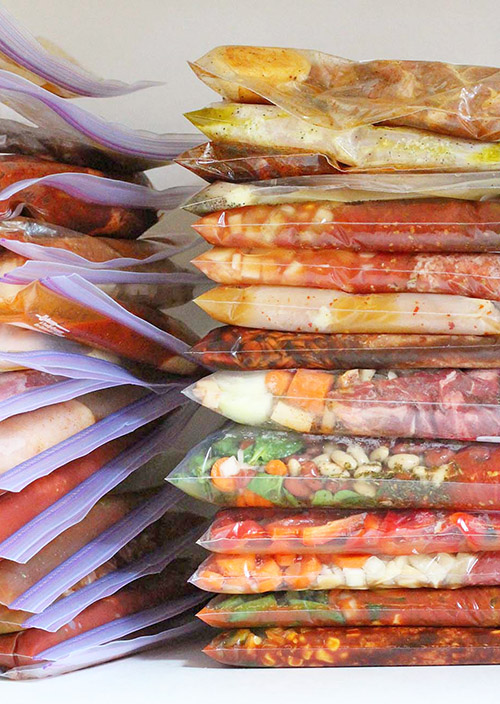 Classic crockpot recipes that are healthy and delicious!
Click the link above to see the list of all 28 recipes, but my favorites are Asian Chicken Lettuce Wraps, Chicken Taco Soup, Minestrone Soup, Pulled Pork, Shredded Buffalo Chicken, and Sloppy Joe's. I spent a total of $241 on groceries ($8.60 per meal or $1.05 per serving).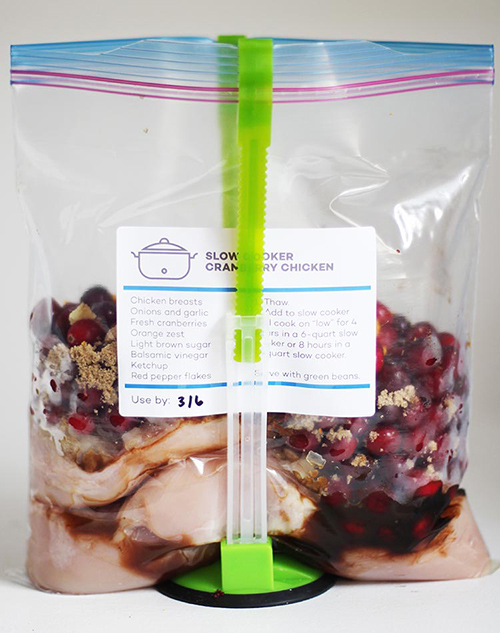 The best chicken crockpot recipes!
Recipes include Artichoke Chicken, Chicken Enchiladas, Chicken Spinach Alfredo, Chicken Tikka Masala, Cilantro Lime Chicken, Cranberry Chicken, Honey Bourbon Chicken, Honey Garlic Chicken, Honey Mustard Chicken, Orange Chicken, Parmesan-Crusted Chicken, Salsa Verde Chicken, Thai Chicken, White Chicken Chili, and Zesty BBQ Chicken. I bought organic chicken breasts in bulk from Costco to save money.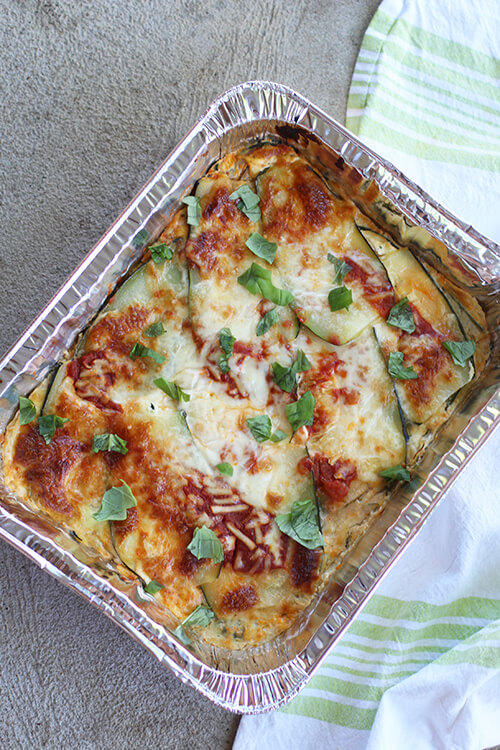 The perfect Sunday night dinners!
Recipes include Breaded Pork Chops, Cheesy Chicken & Veggie Casserole, Chicken Cordon Bleu Casserole, Jalapeno Bacon Mac 'n Cheese (SO GOOD), Roasted Chicken with Honey Lemon Carrots and Red Potatoes, Sausage & Peppers, and Zucchini "Lasagna".  I only spent $89 on groceries, including organic meat ($12.71/meal).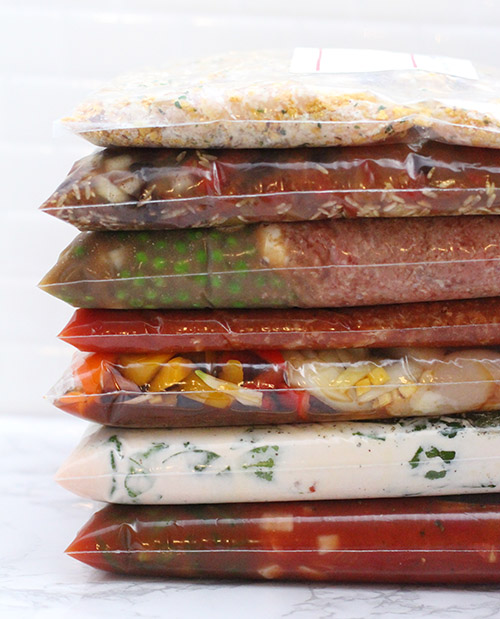 The perfect freezer meals for busy weeknights because they can be cooked in a pan or pot in 15 minutes!
Recipes include Chicken & Pepper Stir Fry, Creamy Chicken Penne, Ground Beef Stroganoff, Italian Sausage Rigatoni, Ranch Popcorn Chicken, Rice & Bean Burrito Bowl, and Turkey Burger Macaroni.  I bought all of the ingredients at my local grocery store for $128 (including the pasta needed for day-of cooking).  That works out to $18.29 per meal or $3.05 per serving.  That's more expensive than some of my other freezer recipes, but I think it's because I spent $63 on organic meat alone ($5.99-$8.57 per pound).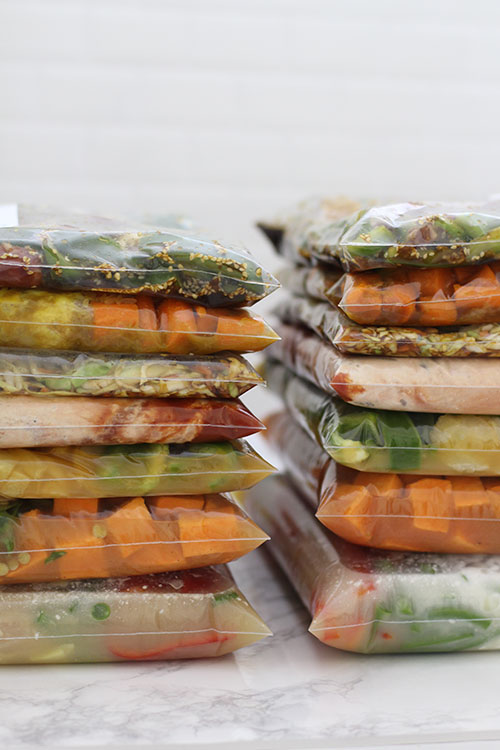 Proof your crockpot can make more than pot roasts! 
Recipes include Chinese Sweet and Sour Pork, Indian Butter Chicken, Japanese Beef Teriyaki, Korean BBQ Chicken, Lebanese Sweet Potato Lentil Chili, Singaporean Chicken Rice Stew, and Thai Green Curry Chicken.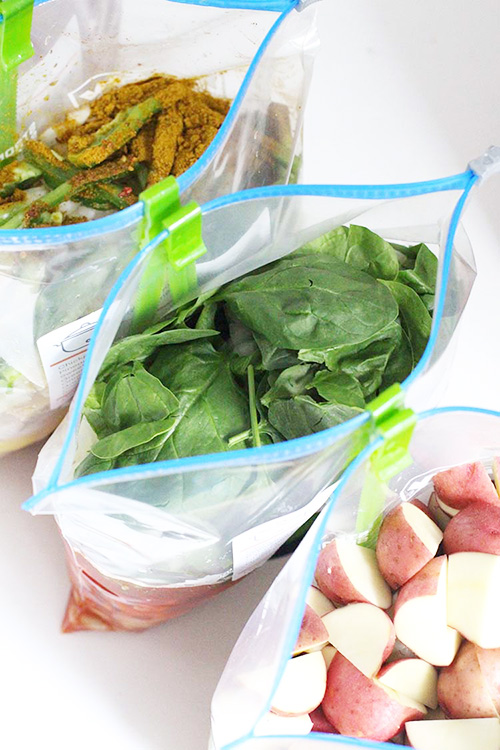 Approved by my meat-eating husband!
This session includes recipes for Black Bean Enchilada Stack, Cheesy Eggplant Bake, Mexican Stuffed Peppers, Potato Corn Chowder, Thai Pineapple Curry, Three Bean Chili, and Tuscan Tortellini Soup.  Every recipe has a "meat option" that you can add, but I omit them to save money.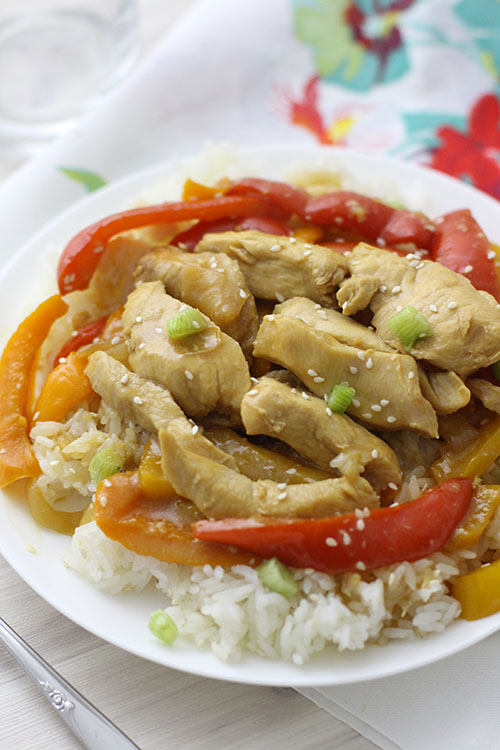 Best variety of meals, including crockpot, skillet, oven, and dessert!
Click the list above to see a list of all 31 recipes, but my favorites are Crockpot Thai Pineapple Curry, Three Bean Chili, Sweet and Sour Pork, Stovetop Ranch Popcorn Chicken, Baked Pork Chops, and Double Chocolate Cake.  YUM.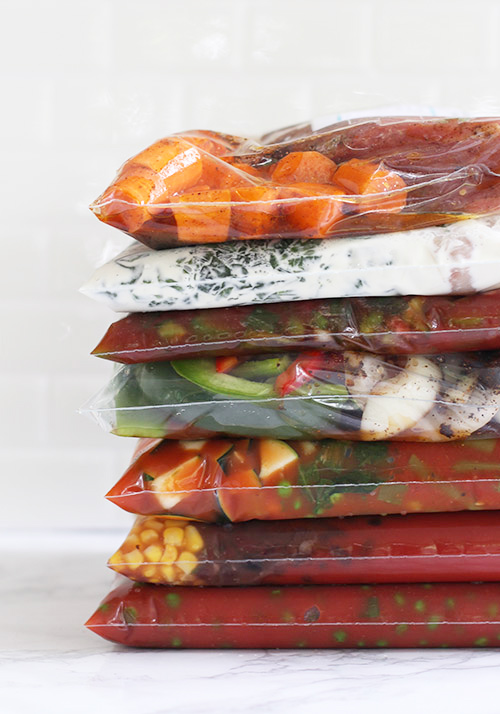 My favorite crockpot freezer recipes of all-time!
Recipes include Chili-Spiced Beef Roast and Carrots, Chicken Spinach Alfredo, Sloppy Joe's, Chicken Fajitas (these also taste great cooked on the stovetop), Super Simple Meatball Veggie Soup, Turkey and Black Bean Chili, and Chicken Curry.  I spent $65 on ingredients ($9.29 per meal or $1.55 per serving).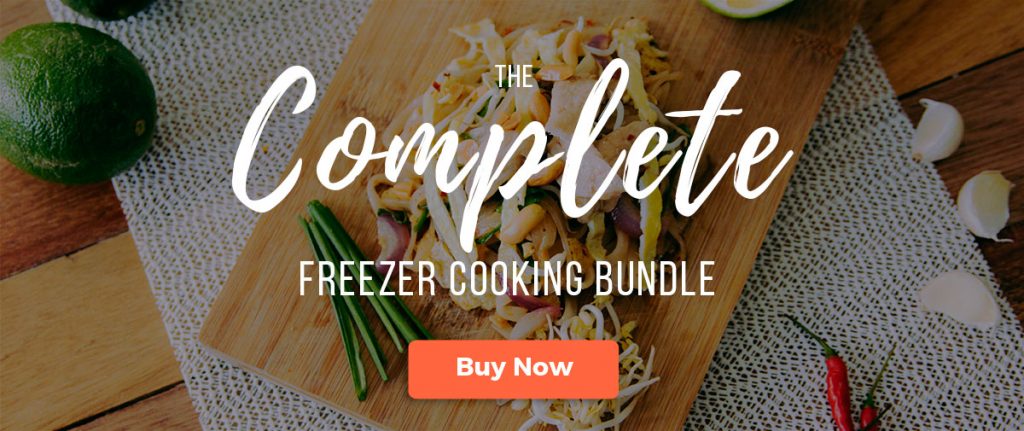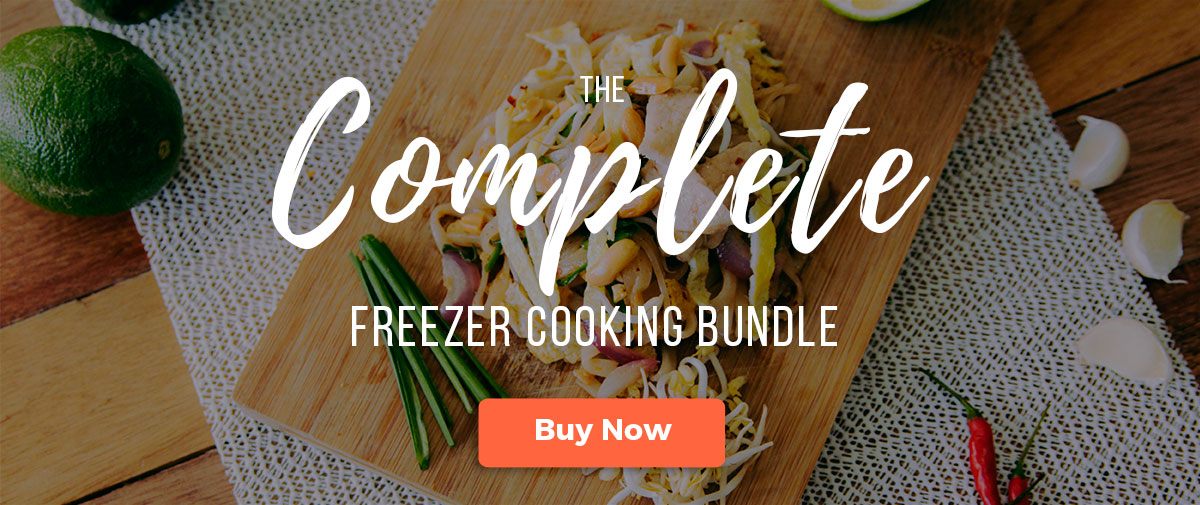 There are a lot of free recipes on my blog, but the recipes in my eBook Cookbooks undergo a much more rigorous testing process so I can guarantee that you will love them.  They also include freezer cooking tips, printable shopping lists, full nutritional information, freezer labels, color photos of the finished cooking meals, and more.  Thank you for reading my blog, buying my eBook Cookbooks, and supporting a job that I love!
Thoughts or questions?  Please leave a comment below and I'll respond as soon as I can.  I'd love to hear from you. X+O, Kelly