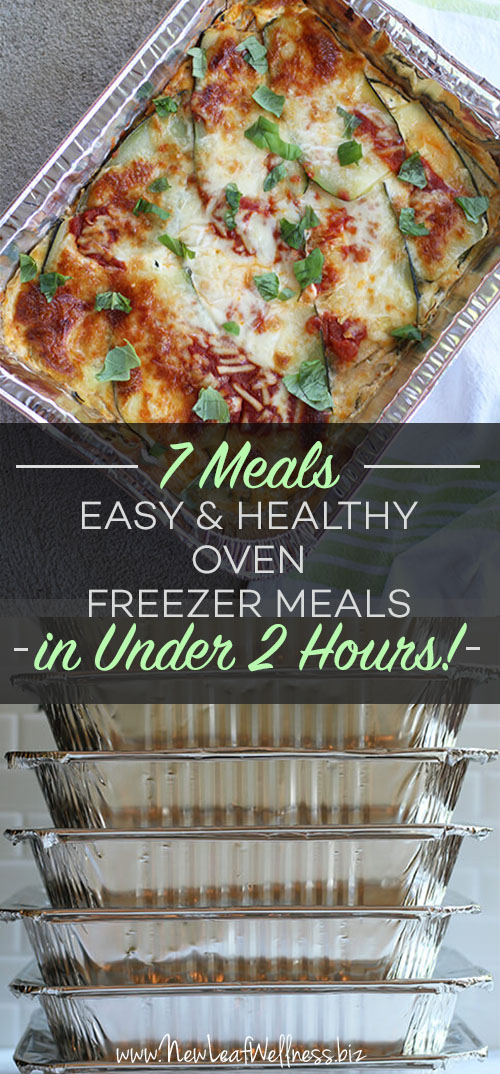 Did you know that I have eBooks dedicated to oven and stovetop freezer meals too? They're assembled just like my crockpot meals, without any cooking ahead of time. Then you cook the meals in the oven or in a pan on the stovetop.
The Oven Freezer Meals eCookbook came out in August, but I was so busy promoting my sale that I didn't get a chance to tell you how awesome it is. The weather is getting cooler in Pittsburgh, so I decided to go ahead and make all of the recipes in the eCookbook at once.
Here's what I made:
1. Breaded Pork Chops
2. Cheesy Chicken & Veggie Casserole
3. Chicken Cordon Bleu Casserole
4. Jalapeno Bacon Mac 'n Cheese (SO GOOD)
5. Roasted Chicken with Honey Lemon Carrots and Red Potatoes
6. Sausage & Peppers
7. Zucchini "Lasagna"
CLICK HERE FOR THE E-COOKBOOK WITH PRINTABLE RECIPES, GROCERY LIST, NUTRITIONAL INFO, FREEZER BAG LABELS, AND MORE.

Here were the highlights of making all 7 at once:
They only took me one hour and 40 minutes to make (less than 15 minutes per meal!).
I only spent $89 on groceries, including organic meat ($12.71/meal).
Now we're stocked with Sunday night dinners!
There are a lot of free recipes on my blog, but the recipes in my eBook Cookbooks undergo a much more rigorous testing process so I can guarantee that you will love them.  They also include freezer cooking tips, super organized grocery lists, full nutritional information, printable freezer labels, and color photos of the finished cooking meals (see below).
If you have any questions, please leave a comment below and I'll respond as soon as I can. Thank you for your support!  XO, Kelly