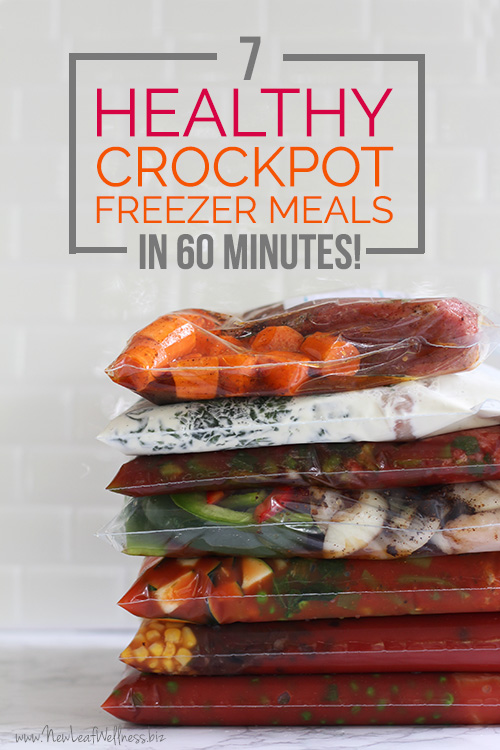 My baby took a nap on Sunday afternoon, so I had a chance to prep seven crockpot recipes for the freezer.  After traveling for a month it felt so good to be back in my kitchen.  I was sick of eating out so much and tired of feeling overwhelmed in general.  It only took me an hour to make all seven meals and now I feel like I'm ahead for once. Yay!  
Here's what I made:
Chili-Spiced Beef Roast and Carrots
Chicken Spinach Alfredo
Sloppy Joe's
Chicken Fajitas (these also taste great cooked on the stovetop)
Super Simple Meatball Veggie Soup
Turkey and Black Bean Chili
Chicken Curry
CLICK HERE TO SEE THE RECIPES IN MY COMPLETE FREEZER COOKING BUNDLE
These are our favorite crockpot freezer meals of all-time!!!  I usually pick new recipes for my freezer prep sessions, but this time I used our favorite recipes from my Complete Freezer Cooking Bundle and I'm so excited about them.  These are literally the most delicious, amazing, healthy recipes I've ever frozen for my crockpot (and that's saying a lot because I've spent FORTY-THREE Sundays making freezer meals over the past two years!!).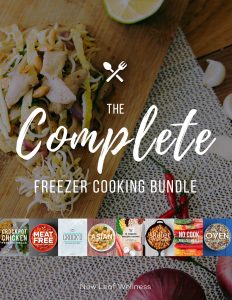 What's so great about these crockpot freezer meals?
They're easy to make. (I made seven in an hour, which works out to less than 9 minutes per meal.)
They're budget-friendly. (I spent $65 on ingredients, which works out to $9.29 per meal or $1.55 per serving.)
They're healthy and delicious!
I've made these specific crockpot freezer recipes SO MANY TIMES over the years. They're delicious and fool-proof, and I'm 99.9% positive that you'll love them too. This would be a great group of meals to make before the busy back-to-school season.
CLICK HERE TO SEE MY COMPLETE FREEZER COOKING BUNDLE

If you're brand-new to crockpot freezer meals before, here's how I make them:
I buy the groceries ahead of time and label my freezer bags. (I print the labels on Avery stickers or regular computer paper and tape to the bags with clear shipping tape.)
I get out all of the ingredients and put them on my kitchen counter, except for the meat – which I leave in the fridge until the last-minute.
I start by chopping all of the fresh veggies and putting them in the bottoms of the bags.
Then I focus on one recipe at a time, adding its canned goods and spices in the middle of the bag so they won't get lost when I dump the meal into the crockpot.
I add the meat to the tops of the bags (so it's the first ingredient dumped into the crockpot), seal the bags, and stack them in the freezer.
So easy!  Most freezer meals will last at least three months in the freezer but we eat ours right away.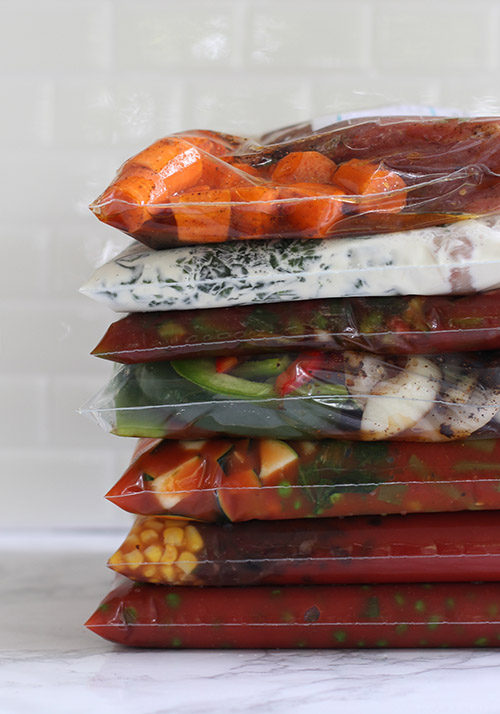 To eat: Thaw overnight in the refrigerator or in the morning in water.  Add to the crockpot and cook for 4-6 hours in a 6-quart crockpot (this one is my favorite) or 8-10 hours in a 4-quart crockpot.  Serve with a side of rice or fresh bread and dinner is done.
Thoughts or questions?  Leave a comment below and I'll respond ASAP. xo, Kelly