After a busy holiday season with too many cookies, I'm excited to get back to eating like normal.  We just released our new Clean Eating Crockpot Freezer Meals eCookbook, so I decided to pick my 10 favorites and make them all at once.  These are our favorite super healthy and delicious recipes.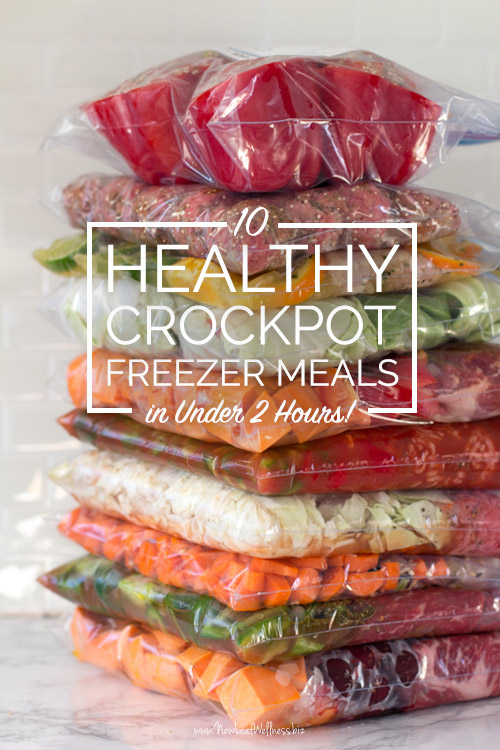 Here's what I made:
1. Beef and Cabbage Soup
2. Beef and Quinoa Stuffed Peppers (my husband's fave)
3. Cabbage Rolls with Wild Rice
4. Cherry Pot Roast and Sweet Potatoes (our cookbook reviewers' favorite)
5. Chicken and Wild Rice Soup
6. Citrus Chicken (yum!!)
7. Italian Meatballs
8. Stuffed Pepper Soup
9. Sweet Potato and Pork Burrito Bowls
10. Tuscan Steak and Green Peppers (my personal favorite)
All of the recipes were from my brand-new Clean Eating Crockpot Freezer Meals eCookbook (Also available for a discount in my best-selling Complete Freezer Cooking Bundle).  None of the recipes required any cooking before freezing, so they were very easy to make.  Now we're stocked with healthy meals for busy weeknights!
CLICK HERE FOR THE E-COOKBOOK WITH PRINTABLE RECIPES, GROCERY LIST, NUTRITIONAL INFO, FREEZER BAG LABELS, AND MORE.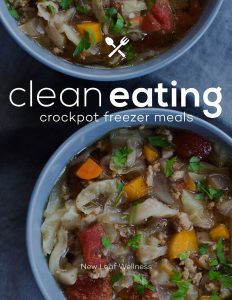 What's so great about these 10 crockpot freezer meals?
▪ They're super healthy and delicious!
▪ They can all be frozen without any cooking ahead of time. (I made all 10 meals and cleaned up my kitchen in less than 2 hours, which works out to less than 12 minutes per meal.)
▪ They're budget-friendly. (I spent $150 on ingredients, which works out to $15 per meal or $2.27 per serving.)
These recipes were taste-tested by my family, my cousin Jill's family, my parents, and a bunch of women who like our Facebook page, so I'm 99.9% sure that you're going to love them. These are the perfect meals to make for a healthy new year.
There are a lot of free recipes on my blog, but the recipes in my eBook Cookbooks undergo a much more rigorous testing process so I can guarantee that you will love them.  They also include freezer cooking tips, super organized grocery lists, full nutritional information, printable freezer labels, and color photos of the finished cooking meals (see below).
CLICK HERE FOR MORE INFO OR BUY NOW
If you have any questions, please leave a comment below and I'll respond as soon as I can. Thank you for your support!  XO, Kelly