*This post has been updated for 2021
Are you looking for new recipes to try this month? I've got you covered. I came up with a list of 12 crockpot recipes that are super easy to throw together in the morning. If you're motivated, you can even prep and freeze all of them this weekend (full shopping list below!).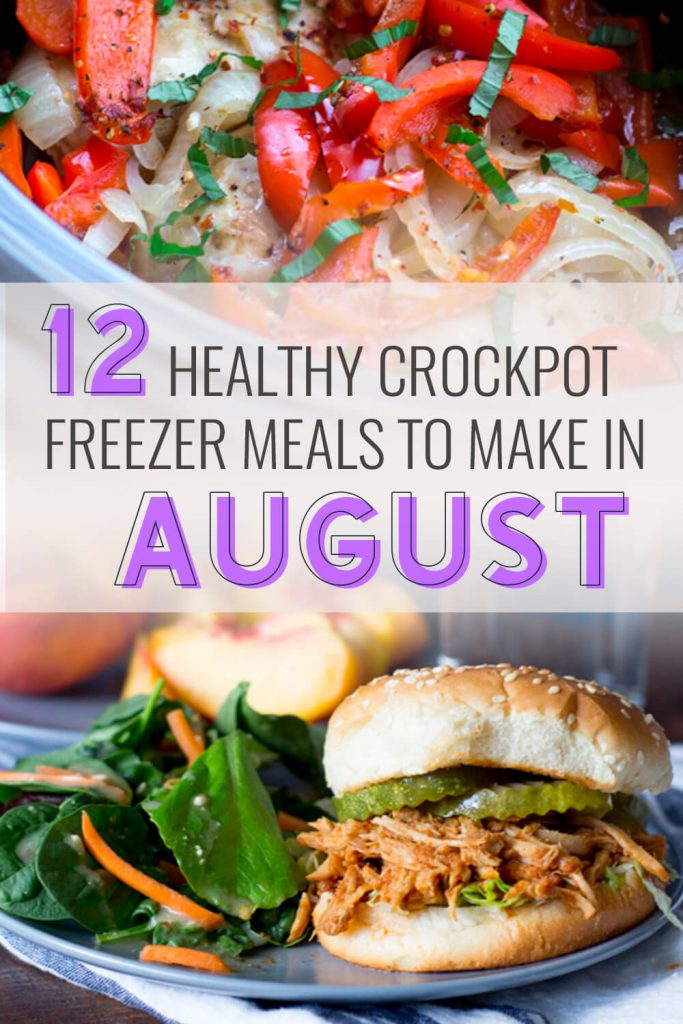 Summer is winding down, but we still have some activities to cross off our summer bucket list.  My 6-year-old gets her cast off tomorrow and we need to have more fun with water – like using our sprinkler, slip 'n slide, and neighborhood pool as much as possible. We also need to have a lemonade stand and I promised my girls they could have their first sleepover with a friend.  Am I crazy?
Instead of stressing over dinner, I'm going to rely on these healthy crockpot freezer meals.  We've tried almost all of these recipes before and they're all super easy, yummy, and family-friendly.  I'm getting excited just thinking about them.
What's so great about these recipes?
They're healthy. (Most include veggies that are in season right now, like corn, green beans, peaches, peppers, tomatoes, and zucchini)
They're delicious!
They can be frozen without any cooking ahead of time. When you're ready to eat, thaw in your refrigerator or in the morning in water and then cook in your crockpot like normal. (They can be frozen for at least three months, so if you don't eat all of them this month you'll have healthy meals on-hand for back-to-school.)

My August meal plan includes 12 healthy crockpot freezer recipes:
Bonus Recipe: Peach Dump Cake! This is the best summer dessert.  Add peaches, cake mix, and butter to your crockpot and turn it on.
Click here for the free printable recipes, shopping list, and meal planning calendar:
CLICK HERE TO VIEW AND SAVE THE PDF. NO STRINGS ATTACHED.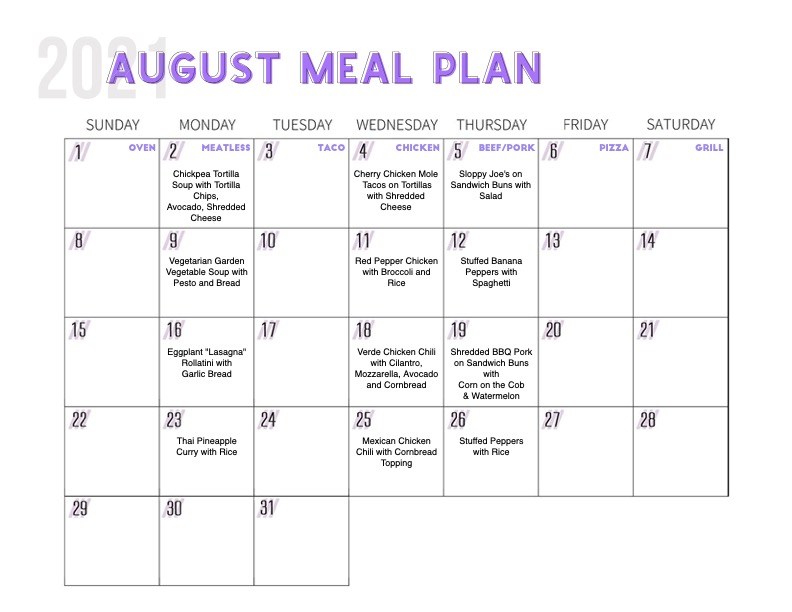 How do I meal plan?
If you look at the meal planning calendar above, you'll see that I picked a "theme" for each day of the week and then found seasonal crockpot recipes that would match the theme.  (For example, an Eggplant "Lasagna" on Meatless Monday.) In addition to following the themes, I made sure to include a variety of tastes and textures during the week so it wouldn't feel like we were eating the same thing every night.
My husband, Andy, added text boxes to the calendar, so you can swap the meals to fit your schedule, delete the meals you don't want to make, or be an over-achiever and fill out every single night.  Enjoy the rest of your summer, Friends!
Thoughts or questions?  Please leave a comment below.  I'd love to hear from you. XO, Kelly