This post has been updated for 2021
Are you looking for new recipes to try this month? I've got you covered. I came up with a list of 10 crockpot recipes that are super easy to throw together in the morning. If you're motivated, you can even prep and freeze all of them this weekend (free shopping list below!).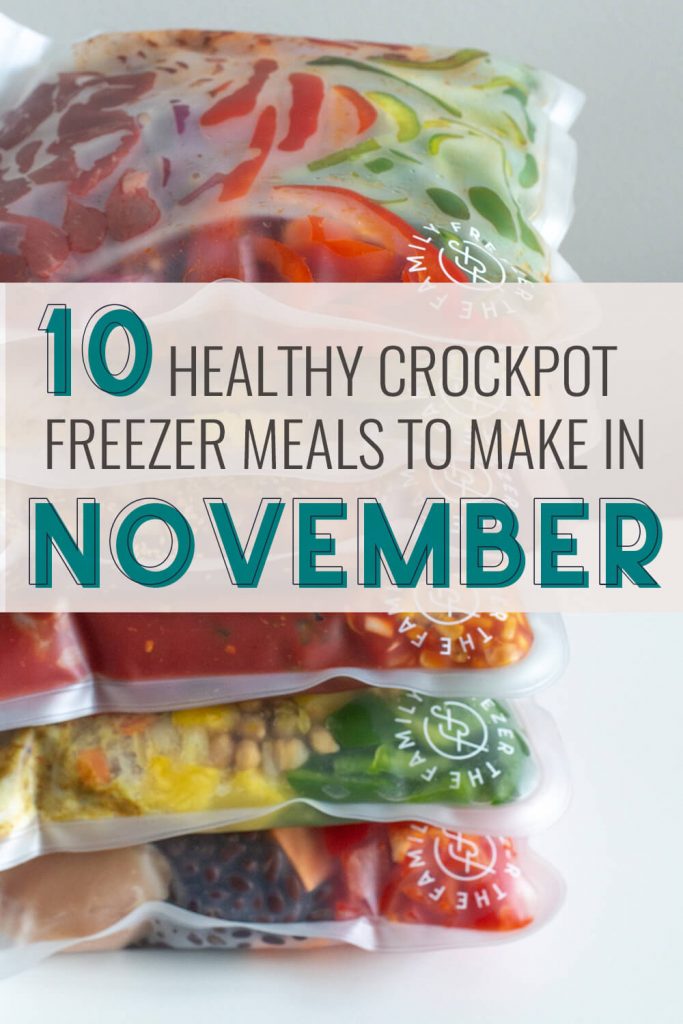 We're in the midst of birthday season over here. One of our daughters had a birthday in October, and we have another in November, December, and January. I guess I better start planning ahead for the holidays.
To keep our dinners simple, I put together a list of 10 easy and healthy crockpot recipes that we love.
What's so great about these recipes?
They're healthy. (Most of them include seasonal veggies like carrots, cauliflower, cabbage, leafy greens, or sweet potatoes.)
They can be frozen without any cooking ahead of time. That means they're very quick and easy to prep and cook for the first time later. (No "leftover" taste.)
They're delicious! (I tried all of them myself.)
10 Healthy Freezer Crockpot Meals to Make in November
Italian Chicken with Baby Spinach from the time I made 30 freezer meals from Costco
Korean BBQ Chicken from my Freezer Meal Cookbooks and shared for free below
Beef and Cabbage Soup (even my husband likes this and he's not a big cabbage guy)
Meatball Soup with Lots of Veggies (perfect detox after thanksgiving)
Pork Roast with Cinnamon Applesauce
I tried all of these recipes myself, but they don't all have their own blog posts, so click here for the free printable recipes and full shopping list:
CLICK HERE FOR THE FREE PRINTABLE RECIPES, SHOPPING LIST, AND MEAL PLANNING CALENDAR. NO STRINGS ATTACHED.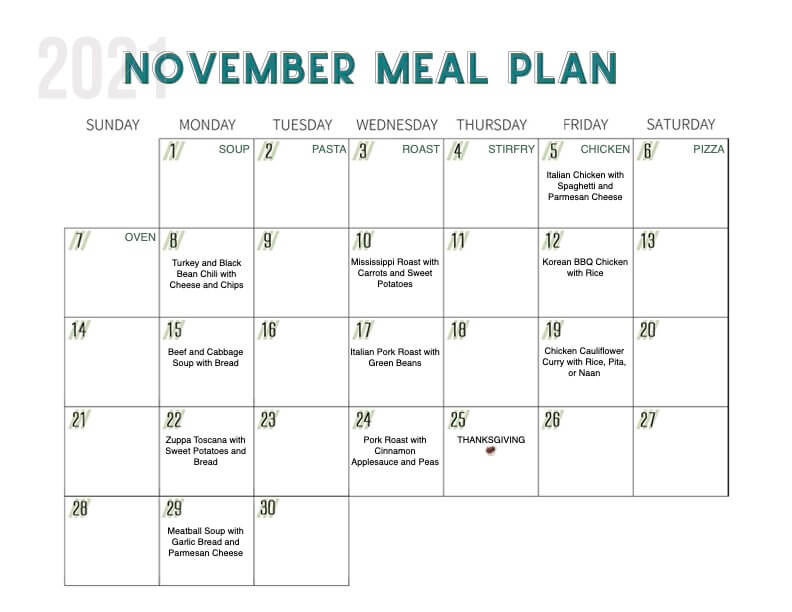 If you look at the calendar above, you'll see that I picked a "theme" for each day of the week and then found seasonal crockpot recipes that would match that theme.  (For example, Turkey Black Bean Chili on a "Soup/Chili Monday".) I also included a variety of tastes and textures so we wouldn't feel like we were eating the same thing everyday.
My husband, Andy, added text boxes to the calendar, so you can swap the meals to fit your schedule, delete the meals you don't want to make, etc.  I hope your November is full of family, fun, and good food, Friends!
Thoughts or questions?  Please leave a comment below and I'll respond as soon as I can.  I'd love to hear from you. XO, Kelly