Are you quarantined because of the Coronavirus? Here are 14 healthy crockpot meals you can make (or freeze) with ingredients that are probably already in your kitchen. No extra trips to the grocery store required!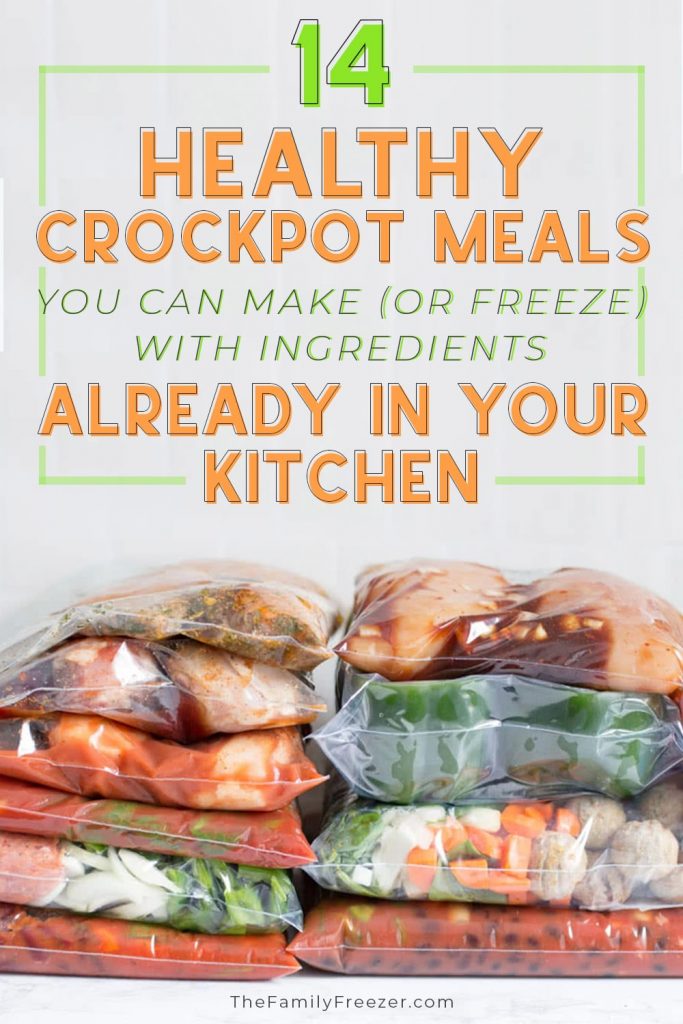 What's so great about these recipes?
No fancy ingredients needed. You most likely have what you need on-hand. I tried all of the recipes myself and added notes below with substitutions that work well.
Cook fresh or freeze. Want to stock your freezer with homemade dinners? Every single one of these recipes can be assembled (raw) in a gallon-sized freezer bag and frozen for up to three months.
They're healthy and delicious!
14 Healthy Crockpot Meals You Can Make (Or Freeze) With Ingredients Already in Your Kitchen
Chicken Recipes
1. Apricot Ginger Chicken. Six ingredients only! Feel free to substitute ground ginger and garlic powder for fresh and serve with frozen green beans or peas.
2. Cool Ranch Chicken Tacos. This is the most popular recipe on my blog because it's simple, flavorful, and works with almost every diet.  It's basically chicken breasts cooked with packets of taco seasoning and dry ranch seasoning (store-bought or homemade).
3. Honey Lime Chicken from Sweet Peas and Saffron. Also great in the Instant Pot or Oven.
4. Shredded BBQ Chicken.Once you try this homemade BBQ sauce, you'll never want to buy the jars again.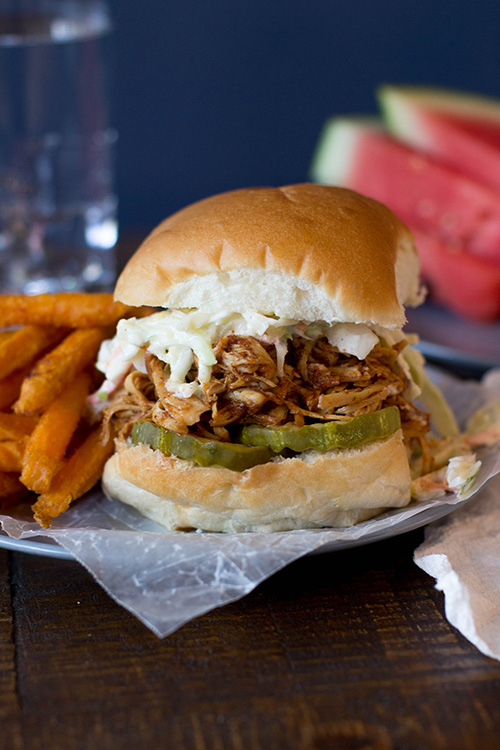 5. Buffalo Chicken Sliders from Meal Plan Addict. Cook for 12 minutes in the Instant Pot (as directed) or in your crockpot for 4-6 hours on low.
6. Salsa Verde Chicken. Only five ingredients, including chicken breasts, salsa verde (or regular salsa), corn, black beans, and cream cheese. Serve with rice for a family-friendly dinner.
7. Chicken Tikka Masala. Delicious enough to be featured in one of my cookbooks, this crockpot chicken tikka masala recipe is made with canned tomato sauce and heavy cream.  It's a fan-favorite.
Beef Recipes
8. Simple Taco Soup. This is one of my favorite healthy crockpot recipes made with ground beef. If you don't have ground beef, you can substitute ground turkey, ground chicken, chicken breasts, or an extra can of beans.
9. Beef and Broccoli. Yum! Add fresh or frozen broccoli florets during the last 45 minutes of cooking for an al dente crunch.
10. Party Beef (or Pork) Roast.  This is a simple recipe made with grape jelly, ketchup, and allspice. For the main protein, I like two pounds of a boneless beef chuck roast, pork roast, or meatballs.
11. Meatball Veggie Soup. – This soup features the easiest and most delicious broth ever, made with a combination of pasta sauce and chicken broth (who knew?!). I've made this soup a million times, a million different ways. Try ground beef or ground sausage and/or any combination of fresh or frozen vegetables you like (spinach, green beans, carrots, etc.).
Vegetarian Recipes
12. Minestrone Soup. This soup is basically a combo of every vegetable you have on-hand with seasonings, broth, and pasta.
13. Lasagna Soup from 30 Handmade Days. Made with those leftover lasagna noodles at the back of your pantry.
14. Coconut Chickpea Curry. I love this creative and delicious recipe. If you prefer meat dishes, you can sub chicken breasts for the chickpeas.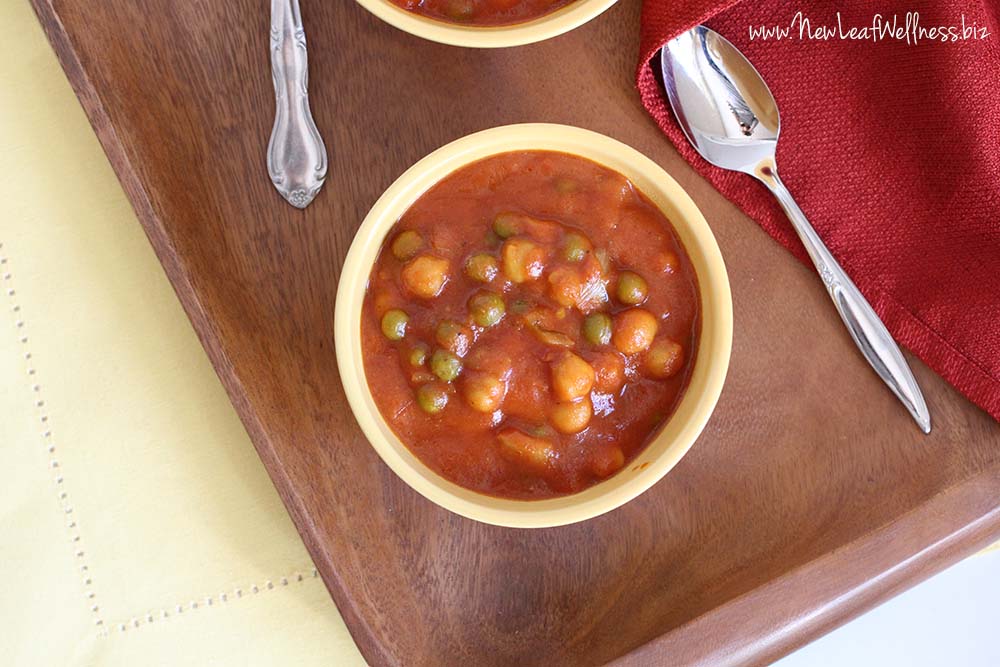 Thoughts or questions? Leave a comment below and I'll respond as soon as I can. xoxo, Kelly