I'm back with the perfect summer crockpot recipe…shredded BBQ chicken!  It's an easy and delicious dinner for busy weeknights or big crowds.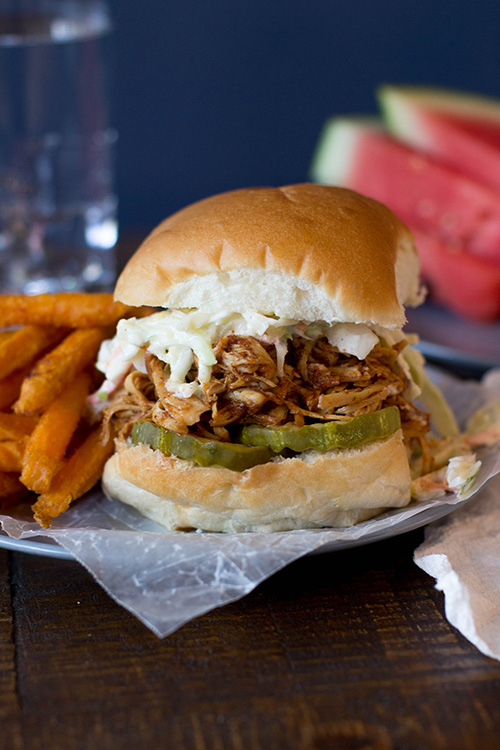 I apologize for not blogging as much this summer, but I'm trying to focus most of my time on my family because they make me so happy.  Relaxing, swimming, and sunshine are the best.  Summer, can you stay forever?
I made this crockpot shredded BBQ chicken recipe last week, and knew it needed a place on my blog.  I've been making it for YEARS.  It was actually in one of my very first cookbook eBooks, but the book has been retired and is no longer for sale, so here you go.
What's so great about this recipe?
It's super easy to make and I always have the ingredients on-hand.
It's made in the crockpot and an be prepped ahead of time and frozen for up to three months.
It's sweet, tangy, and absolutely delicious. Yum!
Crockpot Shredded BBQ Chicken Recipe
Yields: 8 servings
Ingredients
2 pounds boneless skinless chicken breasts
1 cup ketchup
2 tablespoons Worcestershire
1 tablespoon light brown sugar
1 tablespoon chili powder
2 teaspoon curry powder
1 teaspoon hot sauce
Directions
Add all ingredients to your crockpot and cook on "low" setting for 6-8 hours.
Shred chicken and stir.
To Freeze and Cook Later
Label a gallon-sized plastic freezer bag with the name of the recipe, cooking instructions, and "use-by" date.
Add all ingredients, remove as much air as possible, seal, and freeze for up to three months.
When ready to eat, thaw overnight in the refrigerator or in the morning in water. Follow cooking instructions above.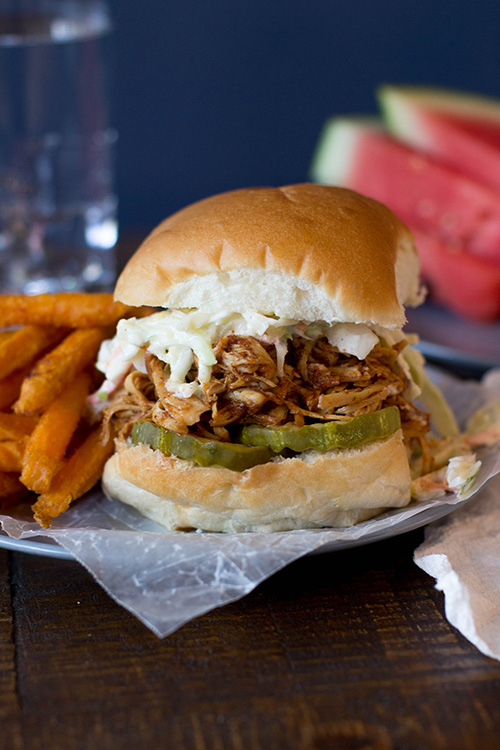 Serve on sandwich buns with homemade mango coleslaw:
16oz bag of shredded green cabbage and carrots (coleslaw mix)
1 mango, peeled and shredded (about one cup)
1 cup mayo
1 tablespoon honey
1 teaspoon apple cider vinegar
1/2 teaspoon salt
1/4 teaspoon pepper
Mix all ingredients in a large bowl. If you want, you can prepare the day ahead of time and store in the refrigerator.
Thoughts or questions?  Please leave a comment below.  I'd love to hear from you. XO, Kelly