A lot of people have asked me for Whole30 slow cooker freezer meals, so I decided to put together the ultimate Whole30 slow cooker freezer meal plan. Below, you'll find 30 free delicious slow cooker recipes that can be frozen without any cooking ahead of time, a printable shopping list, a filled out meal planning calendar, printable freezer meal labels, and more.  This is Whole30 made easy, Friends!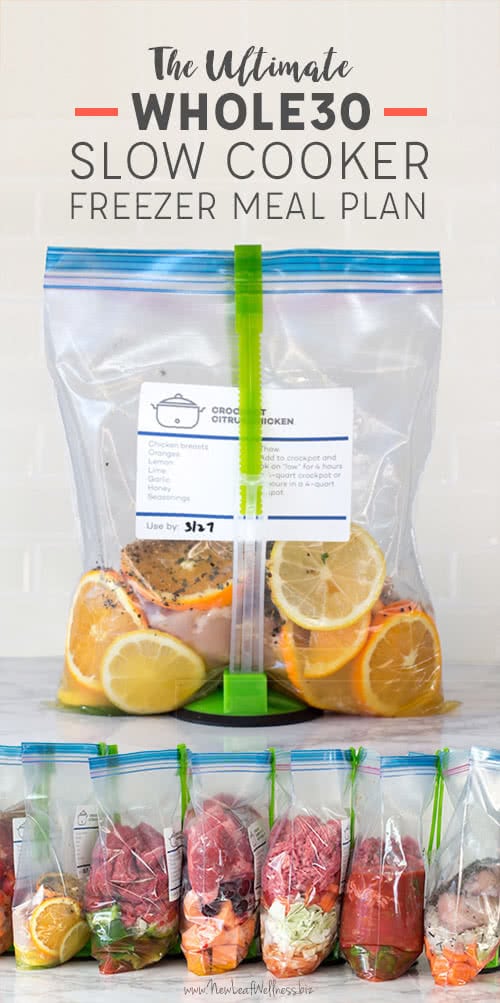 Click here for the free printable recipes, shopping list, labels, and meal planning calendar:
This meal plan includes 30 delicious slow cooker freezer recipes:
Spiced Butternut Squash Soup from my Clean Eating Crockpot Freezer Meals Cookbook
Paleo Chili from Natasha Red
Citrus Chicken
Cherry Pork Loin with Sweet Potatoes
Spaghetti Squash with Marinara Sauce (add ground beef for extra protein)
Green Chile Chicken from Maria Makes
Turkey Chili (make with bell peppers instead of black beans/corn)
Thai Chicken
Steak Italiano Marinara
Spicy Beef Curry Stew
Vegetarian Minestrone Soup
Pork Carnitas from Maria Makes
Chicken Chili
Italian Lemon Chicken adapted from Money Saving Mom (You can cook in crockpot or oven)
Beef and Cabbage Soup
Thai Pineapple Curry (sub green beans for chickpeas)
Chicken Tinga from Thirty Handmade Days (omit the brown sugar)
Pulled Pork Chili from PaleOMG
Lemon Pepper Chicken
Beef and Vegetable Soup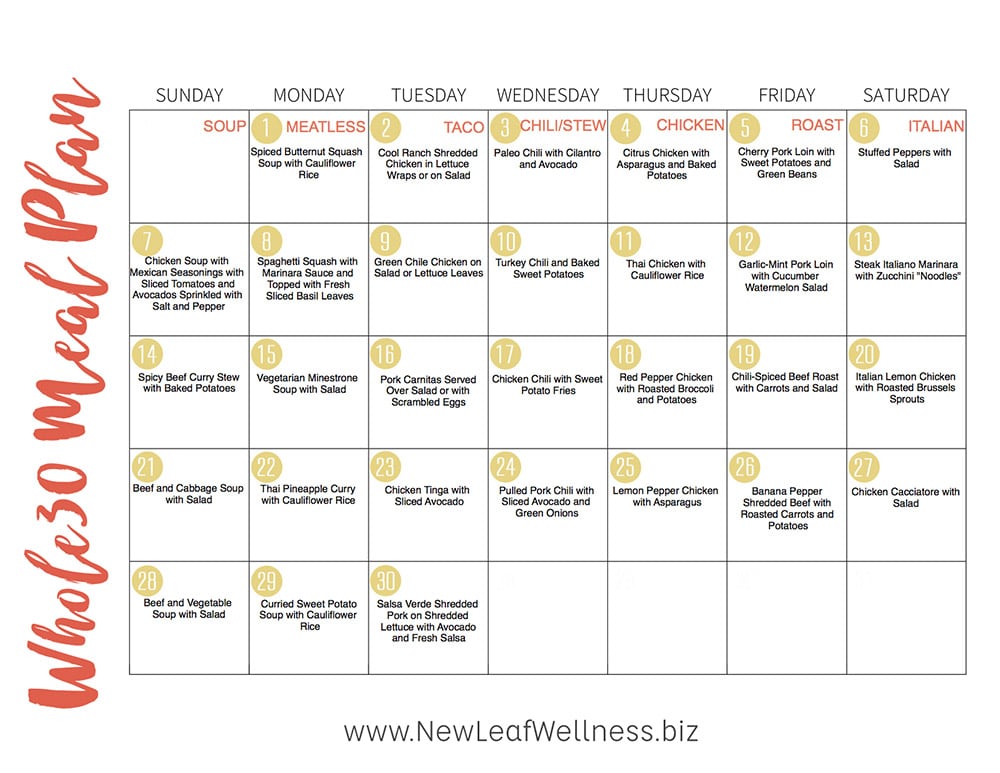 What's so great about these recipes?
There's no cooking required ahead of time so they're super easy to make.  Simply combine the ingredients in plastic freezer bags and freeze for up to three months.
They cook for the first time out of the freezer and don't taste like leftovers at all.  Yay!
You can save money by buying the ingredients in bulk.
If you're intimidated by Whole30, you're going to love this meal plan because everything is made in your SLOW COOKER.  The recipes are delicious and basically fool-proof.  I've made thousands of slow cooker freezer meals myself and the recipes above are easy, tasty, and healthy.

More tips for success with Whole30:
Plan ahead!  You can use the shopping list to buy the ingredients for all 30 meals and prep them on a Sunday afternoon.
Most of the recipes have 4-6 servings, so eat the leftovers for breakfast or lunch the next day.
Supplement with easy side dishes that are Whole30-approved, like salads and cauliflower rice (buy the frozen stuff at Trader Joe's or make your own.)
For more information, visit the Whole30 website or buy the Whole30 cookbook on Amazon.  I also thought this post on Jay's Baking Me Crazy was helpful because it includes specific brand suggestions that are Whole30-approved.
Thoughts or questions?  Please leave a comment below and I'll respond as soon as I can.  I'd love to hear from you. X+O, Kelly