Here are 25 freezer meals that don't require any cooking ahead of time.  That's right.  NO COOKING.  Simply combine the meats, vegetables, sauces and spices, and freeze!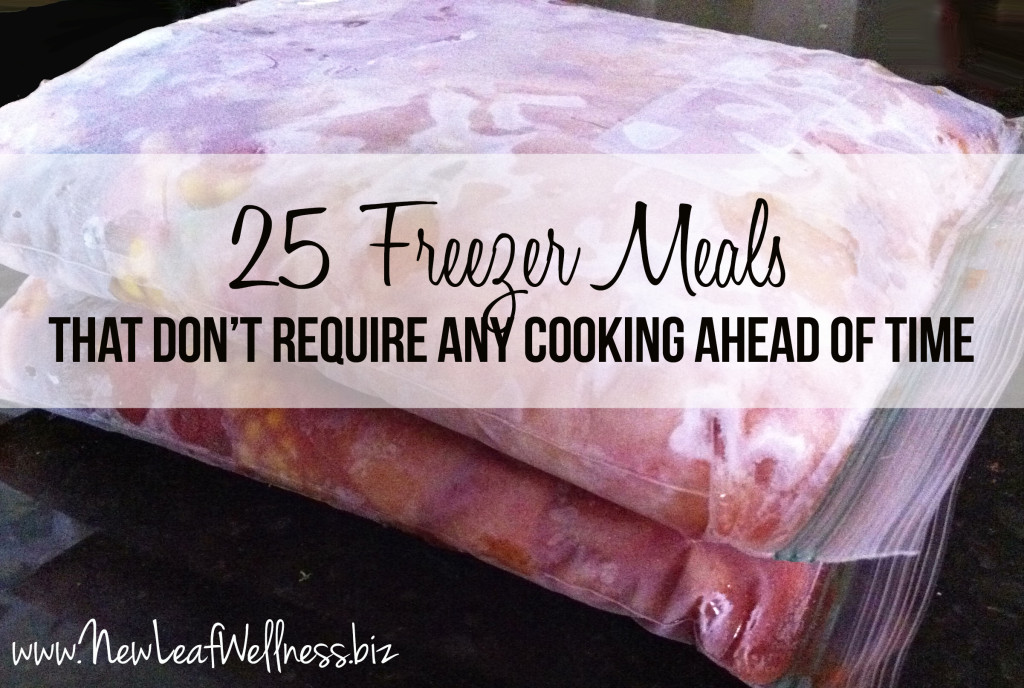 Since none of these freezer meals need to be cooked before freezing them, the prep process is super fast.  They're the perfect recipes for busy moms who struggle to get dinner on the table, let alone stock their freezers too.
Prep a couple of these freezer recipes while your kids are napping (or watching TV) or set aside a few hours on the weekend to stock your freezer.  Whatever works for you.
All of these freezer meals cook for the first time in your slow cooker or oven.  That means they taste just as good as freshly-prepared meals – not like leftovers at all!
Curious how it all works?  Check out the recipes below!
Twenty-Five Freezer Meals that Don't Require any Cooking Ahead of Time
Slow Cooker Chicken Chili
Garden Vegetable Soup
Beef Roast with Carrots
Slow Cooker Party Pork
Slow Cooker Cranbery Pork Roast
Shredded Pork Tacos
Slow Cooker Shredded BBQ Chicken
Ginger Garlic Chicken
Slow Cooker BBQ Pork
Slow Cooker Pork and Sauerkraut 
Chicken Fajitas
Slow Cooker Chicken Curry
Slow Cooker Curried Pork Chops
Chicken Enchiladas
Ham & Veggie Breakfast Strata
Vegetable Barley Soup
Mexican Chicken Calzones
Slow Cooker Spicy Pepper Beef Roast
Breakfast Oatmeal
Spiced Carrot Bread
Oatmeal Chip Cookies
Slow Cooker Sweet & Spicy BBQ Chicken
The recipes without links are from my Complete Freezer Cooking Bundle.
If you're brand-new to freezer cooking, check out my freezer meal tips to learn how to convert a regular recipe to a freezer recipe.  My freezer-to-slow cooker tips are also very helpful.
Happy quick freezing, Ladies!
—————————-
PS For more recipes and tips, you can find me on Pinterest @kellymcnelis.