Do you want to eat healthier this year?  Stock your freezer with healthy crockpot meals!  Here are 17 crockpot recipes that I've tried myself that don't contain any added sugar.  Free printable recipes and shopping list below.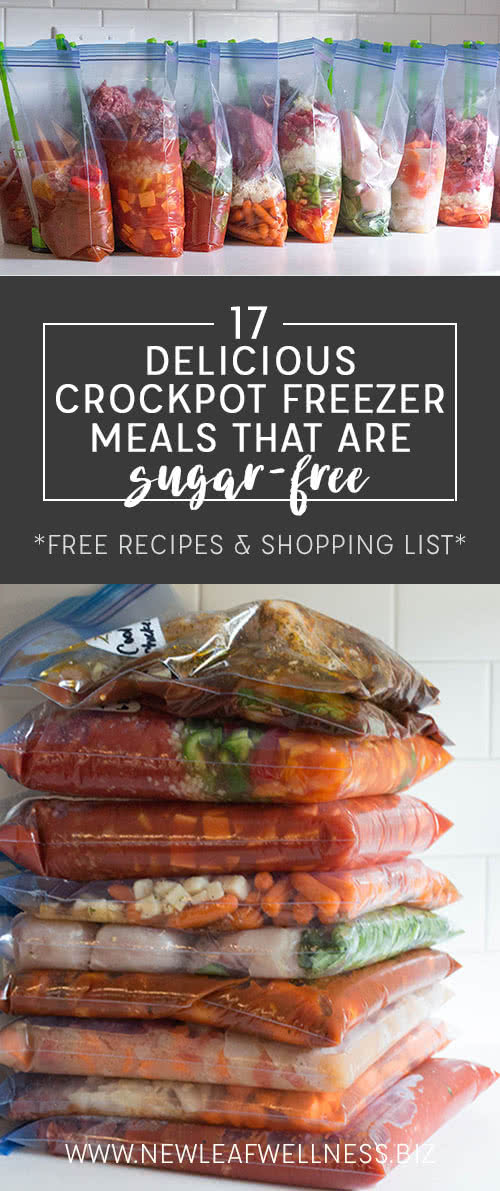 Why crockpot freezer meals?
There's no cooking required ahead of time so they're super easy to make.  Simply combine the ingredients in plastic freezer bags and freeze for up to three months.
They cook for the first time out of the freezer and don't taste like leftovers at all.
I can save money by buying the ingredients in bulk.
I have four little kids, so I don't have a lot of time to cook. (My fifth baby is due the end of this month!) I've made hundreds of crockpot freezer meals over the years and I don't think I would be sane or healthy without them.  Since I've tried so many recipes myself I thought it might be helpful to share our favorites that are sugar-free.  I'm even including a free printable with all of the recipes and a full shopping list.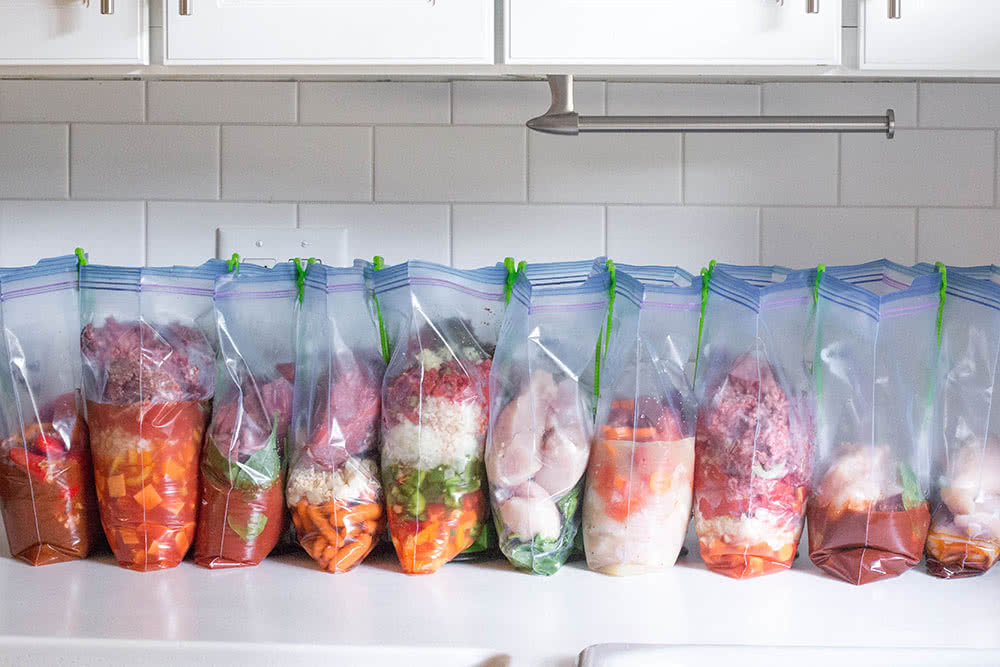 If you're following a sugar-free diet, make sure to read the ingredient list on canned goods and sauces to make sure no sugar is added. (The blog Pinch of Yum has an awesome sugar-free product guide with photos of nutritional labels and how to identify sugar on them.)
I've tried every single one of these recipes myself and can vouch that they're healthy, delicious, and easy to make.  Enjoy, Friends!
17 Delicious Crockpot Freezer Meals That Are Sugar-Free
If you're motivated to prep and freeze all 17 at once, here's a free printable pdf that explains exactly how I assemble and cook each meal (it even includes a full grocery shopping list!):
CLICK HERE FOR THE FREE RECIPES & SHOPPING LIST. NO STRINGS ATTACHED.
Thoughts or questions?  Please leave a comment below and I'll respond as soon as I can.  I'd love to hear from you.  xoxo, Kelly